Entertain Guests After the Sun Goes Down with an Outdoor Heater
Outdoor heating is slowly catching on as we all attempt to lengthen our summers and thwart the early nip in the air. Each of us long to spend more and more time outside enjoying the fresh air of fall, which proves tricky once the temperatures shift and dip. There are effective solutions to this problem with Warmzone's line of outdoor heaters. You can install a fire pit or simple plug in a free standing portable outdoor heater and prolong your summer and fall nights under the starts.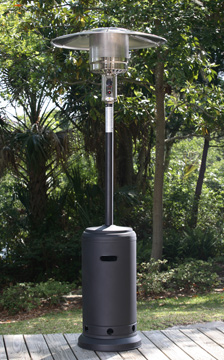 Outdoor entertaining is more popular than ever and more hosts/hostesses want to create a comfortable, relaxing atmosphere for their guests. Outdoor heaters can give much needed time to an evening under the stars. Wine and dine your guests as the sun sets and the air takes on the cooling temperatures of dusk. You can light your fire in your fire pit for a glowing, more intimate setting or fire up your stand alone outdoor heaters and let guest mingle beneath their cast off warmth. Jackets and evening wraps will not be in demand since your overall atmosphere will have a warm and cozy feel to it thanks to your outdoor home heating products from Warmzone.