Radiant Floor Heating is Silent and Efficient
Forced air furnaces can be loud and inefficient and exacerbate allergies. People still use them and enjoy the heat they provide, but perhaps they don't know there is a better way to heat your home. After reading this, you will be able to say that you now know about radiant floor heating and the silent, efficient ways it can heat your home. If you've ever wanted to quiet the gentle roar of your furnace, lower dust and cut energy costs; you might just find the answer to all those conundrums lies with radiant heated floors.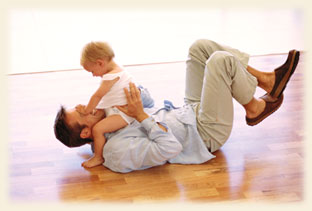 Radiant heated floors are efficient and affordable for all homeowners now. The heat cables generate radiant heat using minimal energy yet producing powerful heating output. The radiant heat warms objects in your room so the warmth permeates everything not just trying to force warm air over cold air. The heating cables are warmed beneath the surface of your floor using power, but are relatively sound free as they go about their heating business. People with radiant heated floors comment that they enjoy how silent the systems operates compared to a rushing, gushing furnace kicking out artificially heated air through inefficient ducts, often through poorly insulated parts of your home. Radiant floor heat offers silent, efficient, affordable heat.