Radiant Heat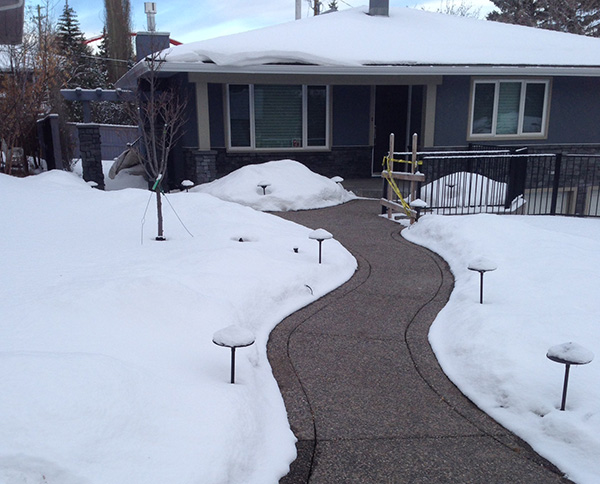 Radiant heat has been very popular in Europe and other parts of the world for many years, but is still a relatively new concept to most residents in the United States. The goal at Warmzone is to conveniently provide clear, unbiased information through our website and friendly professional radiant heat consultants to objectively guide you to the ideal radiant heat system for your needs. Our radiant heat experts listen and learn about your project before offering sincere, non-biased recommendations based on your specific requirements and budget. Warmzone radiant heat solutions are commonly used for everything from small, custom remodeling projects to large commercial radiant heat applications.
Warmzone provides complete hydronic and electric radiant heating solutions for indoor and outdoor applications. While hydronic radiant heat technology was initially the most widely used in North America, the features of electric systems have resulted in the burgeoning popularity of electric radiant heat. Warmzone offers a wide variety of the most proven, energy-efficient electric radiant heat solutions available.
Warmzone's expertise and product testing provides you with a valuable asset in your search for a reliable radiant solution, saving you from weeks of research. Experienced Warmzone experts take the time to understand your needs and propose a radiant heat solution that is truly the best system for your needs. We have formed relationships with companies worldwide that we consider to be the best in their class. We take pride in offering the highest quality, most proven products at the best prices available - all in a quick and convenient manner. If you're considering radiant heated floors, roof de-icing or a heated driveway or sidewalk, you won't find a more knowledgeable, helpful and friendly staff than that at Warmzone. Warmzone is located in Salt Lake City, Utah, at the foot of the majestic Wasatch Mountain range.
Overview of Radiant Heat Expertise
Heated Driveways and Snow Melting Systems
Warmzone is a leading provider of radiant driveway heating and snow melting systems. For decades, Warmzone has been providing the industry's most trusted and proven snow melting system components and system design and support services. ClearZone® heating cable is the most popular snow melting solution offered by Warmzone, and is easy to customize and install. The heat cable is available in rolls or pre-spaced in mats, making installation quick and easy. During installation, installers can work directly with Warmzone electricians and designers to have any questions answered and ensure the systems are installed correctly, and according to warranty guidelines.
Radiant Floor Heating
Warmzone offers the largest selection of the industry's most trusted electric and hydronic floor heating solutions. One aspect that differentiates Warmzone from competitors is the diverse product offering of radiant floor heating systems. From heat cable and mats to thin film and self-regulating polymer heating elements, customers can be assured of finding the radiant heat system to best suit their specific floor type, layout, and heating needs.
Roof De-icing and Gutter Trace Systems
Warmzone offers several top-tier roof de-icing and gutter trace solutions. There are many options when it comes to installing a roof de-icing system, and Warmzone will walk you through the benefits of each technique. Self-regulating roof heating cable can be used to line the gutters and downspouts, facilitating runoff and protecting gutters from heavy ice buildup. The heat trace cable can also be "zig zagged" along the roof's edge to help prevent dangerous ice dams from forming.
One of the most recommended roof de-icing systems is Warmzone's low-voltage RoofHeat STEP. This unique system features an advanced low-voltage, self-regulating polymer heating element that can be installed discreetly under shingles (or metal roofs) along the roof's edge and in valleys. This efficient roof de-icing system is one of the most popular and effective methods for preventing water damage as a result of ice dams. The low-voltage roof heating system is a trusted favorite among installers, used for residential and commercial properties across the country.
Pipe Trace Systems
Warmzone also offers self-regulating heat cable for pipe trace systems. The various cables can be used for freeze protection as well as process temperature maintenance. Pipe trace systems are used in large production facilities as well as commercial and residential structures.