ComfortTile Radiant Floor Heating Applications
ComfortTile Electric Heated Floors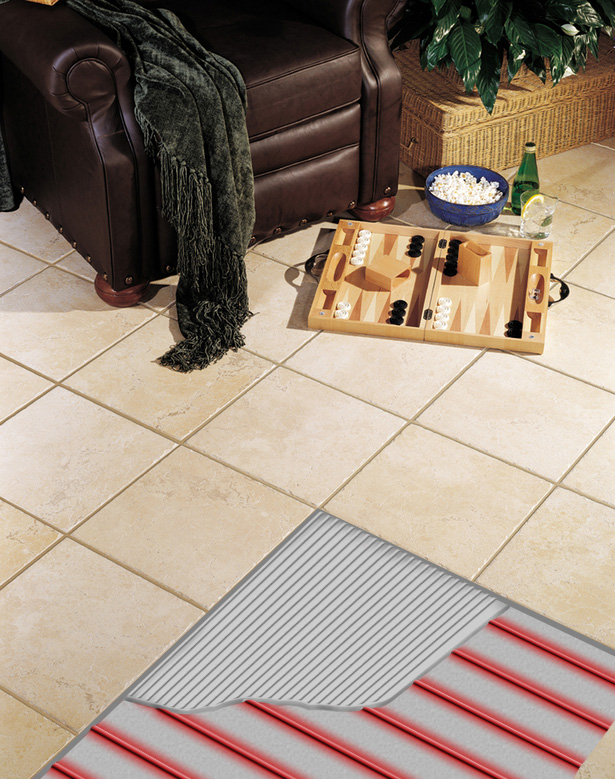 ComfortTile® electric floor heating systems are designed for easy installation under most types of floor surfaces to provide comfortable, even floor heat. The system is a proven leader, and has been installed in homes throughout Northern America for decades. The heat cable is especially well suited for heating ceramic tile, vinyl tile, marble and stone floors, but can also be used for a wide range of other applications. The heated floor systems provide efficient room heating and virtually eliminate the transmission of dust, allergens and other airborne particulate matter associated with forced-air systems. ComfortTile is available off the spool or in convenient, easy-to-install mats (below).
ComfortTile Radiant Floor Heating Mats
The ComfortTile floor heating mat features thin heating cable that is pre-spaced and affixed to a flexible mesh. The mesh includes an adhesive backing so it can be rolled out and secured to the subfloor quickly and easily. The convenience of ComfortTile floor heating mats helps to save money by reducing installation time and ensuring proper cable spacing, as well as providing a way for installers to quickly secure the mats to the substrate. (For installation instructions and how to make turns with the mats refer to your installation manual or our How to Install Heated Floors web page.) Available in a variety of lengths, the floor warming mats are 18-inches wide and pre-terminated for use with 120V and 240V.
ComfortTile Radiant Floor Heating Cable
Free standing ComfortTile cable is also available in various lengths off the spool. The thin, flexible heating cable makes it ideal for installing floor heat in small, odd shaped areas. When installing the ComfortTile cable, you'll also receive

cable strapping, allowing you to secure and properly space the floor heating cable. The plastic straps are affixed to the subfloor, and the cable is run through the channels provided by the reliefs on the strapping.
Because the heating cable is only about ⅛-inch in diameter, installing the system results in minimal floor buildup. The hot and cold lead junctions are uniquely designed to make them virtually foolproof. The ComfortTile electric floor heating system is one of the most proven and popular radiant heating systems on the market, and is highly efficient and easy to install.
Luxurious Warmth and Advanced Control
ComfortTile floor heating systems come complete with a GFCI protected thermostat and strapping to secure and properly space the cable. All sizes and adjustments of cable spacing and coverage can be made on site. The twin-conductor heating cable is made with premium materials, enabling the ComfortTile heat cable to provide superior floor heating performance and fast response times.
ComfortTile floor warming systems combine the highest comfort levels and reliability with maximum efficiency. It's a proven technology that's safe, reliable and energy efficient.