System Components and General Overview
Both electric and hydronic heated driveway systems utilize an activation device that allows the system to be fully automated. An aerial snow sensor or a pavement-mount sensor acts as "the brain" for the system. The snow sensor detects temperature and precipitation, and activates the system when conditions warrant. The system runs for a short time after the storm to ensure the driveway surface is dried before it shuts off. In addition to being fully automated, radiant heated driveways also include manual override capabilities. Maintenance-free ClearZone driveway heating systems are energy-efficient and feature a rapid response time; meaning that they generally heat the driveway surface quicker than water-based (hydronic) radiant heating systems.
How Much Do Heated Driveways Cost?
How much does it cost to purchase and install a heated driveway? Firstly, it's important to know there is no "one-size-fits-all" solution for heating driveways. Warmzone custom designs each system to best meet the specific needs of the application, so prices will vary. However, there is some general information we can provide to give potential buyers a better idea of the expenses. Below is a formula for determining how much energy a heated driveway uses, and calculating what its operating costs may be as well.
A typical residential heated driveway system consists of the heating cable, auto snow sensor (with manual override), contactor panel, and shipping costs. For all the components and resistance cable to heat an 800-square foot driveway the costs may range between $5,540 and $7,393. These prices reflect a square footage cost range from $6.52 to $8.69 per square foot. For a price estimate of your project, fill out our free quote form or contact Warmzone at 888-488-9276.)
Remember, radiant snow melting systems are easy to customize, so homeowners have several options to choose from. One affordable option is to heat two 24-inch wide tire tracks instead of the whole driveway. This brings installation and operation costs down considerably. Call and talk with a radiant heat expert to learn more.
Warmzone is happy to work with your installer to provide free training and support. We may also be able to recommend installers in your area who have successfully installed radiant heating systems in the past.
How to Determine the Operating Cost of an Electric Heated Driveway
Radiant snow melting systems are specially designed for the specific demands of the average temperature and snowfall of their location. Therefore, no two radiant heat systems are exactly alike; however, there is a formula that can be used to help you determine the approximate operating cost of a snow melting system.
General Guidelines to Determine a Heated Driveway's Operating Cost

1.

Determine the total square footage of the area that will be heated. (The average American home has an 800-square foot driveway.)

2.

Multiply the square footage by the heat required (37 watts per sq. ft. for residential). This will give you a total for the watts per square footage required.

3.

Divide this number by 1,000 to convert to kilowatts.

4.

Look up the kilowatts-per-hour rate from the local power utility company.

5.

Multiply the total watts-per-square footage by the watts-per-hour. This gives you the cost-per-hour of usage for the snow melting system.

6.

EXAMPLE (for an 800-square foot driveway): 800 (sq.ft.) x 37 (watts) = 29,600 (total watts).
29,600 divided by 1,000 = 29.6 kw per hour (This is what the power company will charge you per one hour of operation.) The average utility rate is .12 cents, therefore: 29.6 x .12 = $3.55. The heated driveway cost of operation would be $3.55 per hour.
NOTE: Heating cables and mats are rated in total watts. If the snowmelt system is intended for a commercial application, then you would multiply the total square footage by 50 watts to get the total wattage required.
The operating cost of an automated snow melting system is typically less than that of hiring a professional snow removal service. Radiant heat can also help to extend the life of concrete driveways and keeps them from being subjected to abrasive snow removal methods or harsh snowmelt chemicals or salt. Safety is particularly important for business owners who wish to avoid costly litigation due to personal injuries caused by slick ice. Visit our ClearZone snow melting page to learn more about Warmzone snow melting systems. Because radiant heat systems are so easy to customize, you may be surprised at the many snow melting options that are available.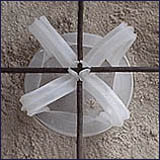 As you may suspect, it is easier to install an embedded heated driveway during the new construction process. For concrete snow melting systems, the heating cable is laid out over the area to be heated and secured to the remesh with zip ties. To ensure that the heat cable is not pushed down to the ground during the concrete pour, sturdy plastic chairs such as Mesh-Ups® should be used. These small supports are attached to the remesh to keep it from sinking during the heavy concrete pour. This way, the heating cable remains within a couple of inches from the surface - as recommended - when the concrete is poured. Whether installed in concrete or any other medium, Warmzone heated driveway systems are energy efficient and easy to customize.
The Versatility of Heated Driveways
In addition to heating concrete and under stone pavers, Warmzone also carries heat cable that is designed specifically for hot asphalt installations. This heat cable features a more sturdy external cable jacket to withstand temperatures up to 460°F for 10 minutes. The heat cable is laid out over the area to be heated and asphalt is then applied over the cable.
Electric snowmelt systems can be easily customized and installed in just about any type of layout. Be sure to consult with a radiant heat expert (888-488-9276) to determine which system is best for you. Both electric and hydronic driveway heating systems have their advantages. Speaking with a Warmzone radiant heat expert will help you determine the best system for your needs.
Reasons for Installing a Heated Driveway
Of course, one of the most obvious benefits of a heated driveway system is the elimination of shoveling or plowing snow from your driveway. Automated radiant snow melting systems are poised to activate when needed 24/7, so safety is enhanced by reducing the potential for injuries because of slick, icy surfaces. Peace of mind is also a factor, knowing that your driveway will be automatically cleared, regardless of the weather conditions. Installing a heated driveway can also add significant value to your home, help preserve the life of your driveway, and avoid damage to the bordering landscape by eliminating the use of harmful salts and snowmelt chemicals.
---
Helpful Links and Information