Industry Leading Customer Support Services
YOU'RE NOT ALONE. Experienced, Dedicated Professionals Guide You Through the Installation Process.
One aspect that differentiates Warmzone from other radiant heat providers is that Warmzone has a dedicated staff of installation support professionals who stand ready to assist you during your project installation. You can speak to a radiant heat electrical expert or system designer whenever you have questions during the installation. Our installation professionals and radiant heat system designers are committed to making the process as easy as possible for you.
Warmzone also offers free installation training for all the various installations, including snow melting systems, roof de-icing, floor heating, and even pipe trace applications. We'll provide you with the training you need, as well as guide you through the installation process if you have any issues or questions. With Warmzone, you're never alone. You'll have a partner who is with you throughout the entire purchase and installation process.
We make the process of purchasing, designing and installing a radiant heat system easy. We understand that even after you complete your free installation training course, you still may have questions during the installation. Warmzone has a staff of dedicated support professionals who stand ready to assist you during the installation. We provide installation support to help ensure that you can proceed with confidence, and that the system is installed correctly and performing as expected. You purchase more than a radiant heat system when you work with Warmzone.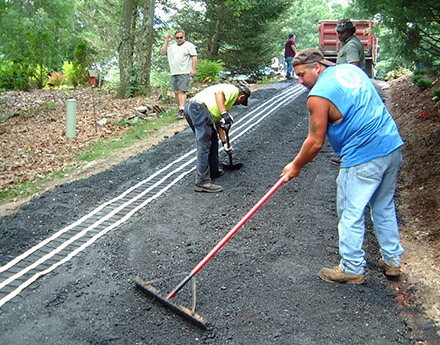 Warmzone carries only the most trusted and advanced radiant heat system products and components, and our experts will be happy to evaluate your needs and guide you through the selection process to determine the ideal system and design that will work best for you. Once a system that meets your needs and your budget is chosen, our team of professional designers can create a detailed AutoCAD® layout of your system. Warmzone radiant heat system designers are among the best in the business. Your layout will include the exact positioning of the heating elements and system components, and all the technical specs, power requirements and electrical information needed by your electrician. Every detail will be addressed prior to any installation taking place.
Industry Leading Installation Support Services
After receiving your free installation training, you can begin the installation with confidence. However, we understand that each installation brings its own set of unique challenges, so if you have a question during the install, you can call and speak with one of our technical support experts who will assist you with electrical questions or any issues you may have. Our professionals are seasoned radiant heat experts who understand all aspects of the installation of these systems. They'll gladly work with you throughout the installation process if you need.
Many other companies claim to offer installation support, yet this typically means that they have their salesperson assist you with questions. But sometimes you need the expertise of a seasoned system designer or electrical expert. That's why Warmzone maintains a staff of professionals who are dedicated specifically to assisting customers with technical issues during the installation. A radiant heating system is only as good as its installation, so having an experienced professional at your disposal throughout the installation process can be invaluable. When it comes to comprehensive customer service and installation support, Warmzone is second to none.
Warmzone prides itself on its reputation as a leader in offering the best customer service and support in the industry. From free consulting and installation training to professional system design and personal technical support during the installation, Warmzone proudly leads the way when it comes to genuine customer service. For more details, call a radiant heat expert today at 888-488-9276.