Constant Wattage Heat Cable Systems
A Convenient, Affordable De-icing and Heat Trace Solution
If you're looking for a quick, easy solution for general roof de-icing or pipe trace applications, constant wattage heat cable may be the answer for you. The cable is a versatile, reliable solution for various roof de-icing and pipe tracing applications.
Constant wattage heat cable features a parallel heating core that produces uniform thermal output over its entire length. Using a single power point, you can easily configure and install a heat tracing system in the field as short as a few feet or as long as several hundred feet. Warmzone's constant wattage heat cable has outstanding electrical and thermal properties, and can be used for most chemically hostile environments.
Constant wattage heat cable from Warmzone® comes pre-assembled and ready to install. The cable can be quickly and easily installed along rooflines and in gutters and downspouts to prevent ice buildup and facilitate runoff. The cable can be used to keep water flowing on roofs and gutters in temperatures as cold as -40°F (-40°C).
In addition to keeping icicles and gutter ice at bay during the winter months, the heat cable is commonly used for pipe freeze prevention and process heating. For pipe trace applications, constant wattage cable is more commonly installed for process heating and velocity flow control of heavier materials like honey, wax, or other viscous material. The heat trace cables are ideally suited for applications where a particular watt density is required at all times.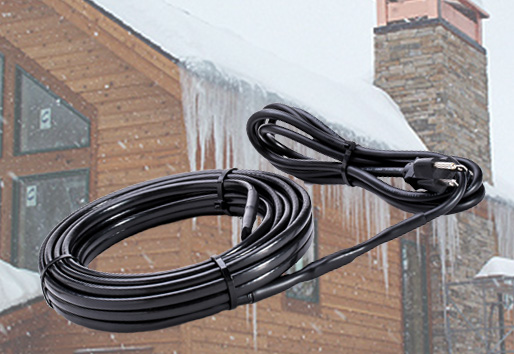 Unlike self-regulating heat cable that alters its heat output depending on temperature changes, the power output of constant wattage heat cable (wattage per linear foot), remains the same across its entire length. The cable is not susceptible to inrush currents. This property makes constant wattage the cable of choice for users looking to ensure that ambient temperature conditions will not affect the heat output of the de-icing cable.
The de-icing and heat trace cables operate on 120 volts AC, with an optional energy saving thermostat available. (Constant wattage cable requires a temperature controller or it will burn itself out due to its high heat ability.) The PLCW kit is easy to install, and is available in several cable lengths to accommodate various roof and gutter sizes.
Warmzone radiant heat experts stand ready to assist you with your roof de-icing, pipe trace, or radiant heat needs. Email us or fax us (801-948-7599) a plan or sketch of your roof and we will be happy to provide you with some options that are specific to the needs of your unique project. Warmzone also includes complete radiant heat system design services as well as providing expert recommendations and an accurate price estimate.
For more details about our free installation training, technical support, or professional roof de-icing system design services, call a roof heating expert today at 888-488-9276.