Protect Roofs with Roof De-icing Systems
An Affordable Option for Heating Roof Edges, Gutters, Valleys and Downspouts
To best remove snow and ice from roof gutters, downspouts and edges, Warmzone's durable self-regulating heat cable is one of the most recommended roof heating solutions available. The RoofHeat radiant heat cable is effective for roofs, gutters and drainpipes, and is capable of keeping your home or business safe from costly ice and water damage, frost erosion and dangerous falling ice.
The RoofHeat roof and gutter heating cable is extremely effective and energy efficient. The cable is UL recognized under the Appliance Wire Classification (file E 76498) and meets the requirements of the NEC (National Electric Code) Section 426. The cable is comprised of rugged, durable outer construction to withstand winter's harsh conditions. The self-regulating cable also features an irradiated conductive core that increases the heat output as the outside temperature falls and decreases the heat output as the temperature rises. This unique construction makes it durable, safe, and extremely energy efficient.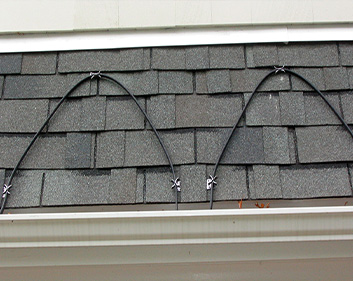 Warmzone roof heating systems are controlled by automatic sensors that detect temperature and precipitation to activate the snowmelt system when necessary. Warmzone roof de-icing systems have been installed in most cold regions around the country and are still the most effective and discreet for roof de-icing and gutter trace applications.
Determining the best heat cable, thermostat and sensor (activation device) depends in part on the size, type and construction of the roof, and also on the overall requirements of the particular installation.
Roof heating systems can be customized to accommodate just about any roof type and configuration. The RoofHeat roof and gutter heating cable may also be combined with other recommended Warmzone systems, such as the low-voltage RoofHeat STEP de-icing system, to create an optimal roof de-icing solution. Warmzone designers carefully evaluate each project without assuming that one system will be the optimal solution. Together, with a Warmzone electrician, they create a customized system to accommodate your specific snow melting needs as well as your budget. For more details about our professional design services and roof de-icing solutions, call a roof heating expert today at 888-488-9276.