Protect Roofs with Low-voltage Roof De-icing Systems
A Trusted, Industry Leading Roof De-icing Solution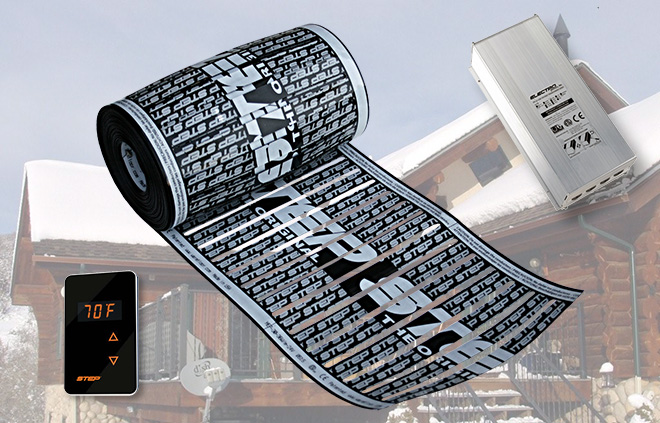 The thin, flexible, semi-conductive polymer heating element can be discreetly secured under the shingles or roofing surface. The low-voltage heating element is polypropylene fused during fabrication to achieve water proofing and protection from alkaline or salt damage. It can be nailed or stapled through, further making installation quick and easy.
Each RoofHeat transformer steps down high voltage to low voltage (60 V or less) while controlling a specific section of the roof de-icing system. The individual control boxes are the source for monitoring the power and output to the heating element to ensure safe, accurate, and efficient performance.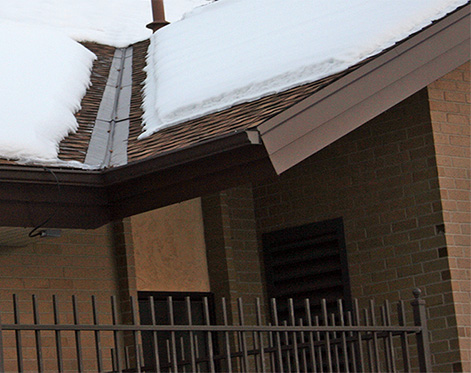 An activation device/snow sensor detects precipitation and temperature to automatically trigger the control panel when conditions warrant. After receiving the signal, the controller then sends power to the heating element, activating the radiant snowmelt system and heating your roof.
A Closer Look at the Roof Heating System
Warmzone's low-voltage system has proven to be a favorite among roofing professionals throughout the country. The electric roof de-icing systems contain three main components: the heating element, power unit, and controller / activation device (thermostat).
The Low-voltage Heating Element
RoofHeat STEP radiant heat systems are used for melting ice and snow under shingle roofs. Our heating elements vary in width and are very effective for roof de-icing. The flat heating element is installed underneath the shingles. Our radiant heat specialists can help determine which roof heating element is best for your application. Images of various roof heating elements can be viewed on the Roof Heating Installation page. The lightweight heating element is available in rolls that are 3, 6, 9 or 12-inches wide. The element is easy to install and can be cut to size on the job site. It can be nailed or stapled through, making installation quicker and easier than other traditional roof heating systems.
The roof heating system is self-regulating, which means that when the ambient temperature rises, the electrical resistance increases and the consumption of electricity decreases, preventing the element from overheating and ensuring energy-efficient operation.
The Power Unit
Each individual power unit controls a specific section of the de-icing system. The transformer of this low-voltage system steps down high voltage to low voltage (60 V or less), and monitors the power and output of the heating element under the roof to ensure safe, optimal performance. This system heats your roof evenly to melt snow and ice, protecting your roof from ice damage.
The RoofHeat STEP Touch Thermostat (Activation Device)
This advanced thermostat is the activation device of choice for the RoofHeat STEP low-voltage roof de-icing system. The thermostat is beautifully designed for simple two-control functionality for ease of operation and features a 3-digit, auto-dim LED display. The Touch sensor controls are maintenance free and the unit is perfectly suited to work seamlessly with all Warmzone radiant heat systems. The versatile unit works with snow melting, roof de-icing, and floor heating systems, and is capable of interfacing with smart home systems. All settings are stored in permanent memory for instant recovery in the event of a power failure (no batteries are needed). For more information and technical specs, please refer to the product literature (see links below).
While the STEP Touch Thermostat is the recommended activation device for the STEP low-voltage system, the roof heating system can also utilize an aerial-mount activation device. A variety of options exist, to please speak with one of our radiant heat experts to determine the best configuration and controls for your system.
Email us or fax us a plan or sketch of your roof (801.948.7599), and we will be happy to provide you with some options that are specific to the needs of your unique project. Warmzone also includes complete radiant heat system design services as well as providing expert recommendations and an accurate price estimate.
For more details about our professional design services and roof de-icing solutions, call a roof heating expert today at 888-488-9276.