FoilHeat - Thin, Reflective Floor Heat
An Affordable Option for Laminate, Engineered Wood, and Floating Floors
The FoilHeat radiant floor heating system features a thin heating element designed primarily for use under laminate, engineered wood, glued hardwood and other floating floors. The principle advantages of using FoilHeat include ease of installation, rapid response time, and uniform heating of your laminate flooring. The materials, design and construction used in FoilHeat ensure that it remains free from the problems of 'hot-spots' or localized heating, which can sometimes happen with lower quality radiant floor heating systems.
The FoilHeat floor heating system is one of the best values for installing radiant heat under a variety of flooring types. It is relatively simple to install and can be cut on site to fit custom-shaped areas. (However, remember to only cut the foil mat, do not cut or damage the actual heat cables.)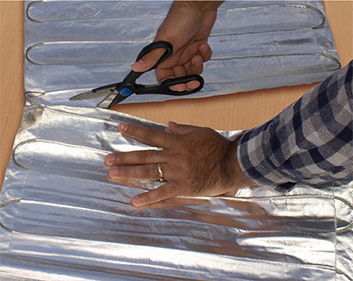 Because of the quality of materials and rugged construction of FoilHeat, it is a proven durable and versatile floor heating solution for heating several different floor types, ranging from hardwood and laminates to carpet. The heating element is connected to a power-supply cable, which exits the laminate mat from one corner. The power lead is a flat, thin two-core flexible cord, consisting of two insulated conductors with a metal sheath and an outer sheath. FoilHeat mats are available in predetermined lengths to meet a variety of project dimensions.
FoilHeat is an efficient heated floor system and features easy installation. The under floor heating system consists of the foil heating mats and advanced digital thermostat that includes a 15-amp GFCI breaker and floor sensor for accurate programming. Call a Warmzone representative to learn more about the available thermostat options.
When it comes to customer service and support, Warmzone is an industry leader. Our customer services include free installation training, professional system design, and technical support for your installer during the installation. For more details, call a floor heating expert today at 888-488-9276.