Low-voltage FloorHeat STEP System Components
The Power Unit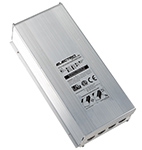 The power unit, together with the step-down transformer, converts line voltage to low voltage. The advanced circuitry in the power unit regulates the system, ensuring safe, accurate, and optimal performance.
Because FloorHeat STEP operates on low-voltage it does not require a ground fault switch. For typical applications, the system is normally connected to a 24-volt transformer, but FloorHeat can also be powered by solar or wind-power sources. The FloorHeat STEP radiant floor heating system is maintenance free, easily zoned and extremely energy efficient.
The Activation Device
Warmzone floor heating thermostats are 100 percent automated, allowing you to save energy as well as have the radiant floor heating system activate and shut off when desired. You can program the floors to warm just before you get up each morning and then shut off as you leave for work. Then the system can activate again, just prior to you returning home from work.
Thermostats with an in-floor sensor (to measure floor temperature) and thermostats with ambient sensors (that detect room temperature) are available from Warmzone.
Warmzone's STEP Touch® Thermostat saves energy and allows you to maintain the radiant floor heating system to the desired temperature level. FloorHeat STEP is self-regulating and cannot overheat; therefore it is as if you had a sensor over the whole floor surface. Although the heating system does not require a control unit, except for an on/off switch, the ideal floor heating solution is to install a thermostat and external sensor.
The Touch Thermostat can be used in conjunction with the regulator on the STEP Power Supply, with the STEP AC Controller or with a DC Controller.
The Heating Element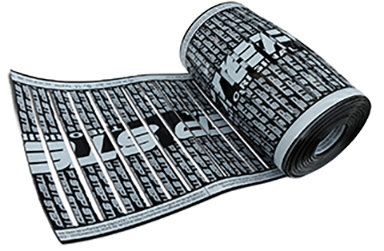 Manufactured in the United States (ISO 9001 certified manufacturer), the FloorHeat STEP radiant heating element is a unique, low-voltage, flexible polymer heating element that comes in different widths. The element features a thin profile and can be cut on site; and because the heating element is self-regulating, it is very efficient. When the ambient temperature rises, the electrical resistance in the heating element increases, lowering the consumption of electricity. As the element gets warmer, less electricity passes through it, ensuring that the FloorHeat system will not overheat, making this one of the safest, most energy-efficient systems on the market.
The flexible polymer heating element is also not affected by weight loads or people walking on it during the installation. The versatile floor heating panel is commonly used for renovation as well as new construction projects, and because of its thin profile, there is no need for any floor buildup. The FloorHeat STEP system can be installed to effectively warm all types of floors, including, tile, stone, hardwood, laminate, resilient and carpet, etc. The low-voltage radiant heating element makes FloorHeat STEP an excellent radiant heating choice for safely heating hardwood floors. This same polymer heating element is also used for roof de-icing applications, and is one of the few - and best - solutions for heating metal roofs.