HeatShield Insulated Floor Heating Systems
Electric Radiant Floor Heat Made Easy
The reflective HeatShield floor heating insulation panels consist of a ½-inch thick polystyrene insulation panel covered with thin, specially profiled aluminum. The insulated panel maximizes downward insulation and the aluminum reflects heat from the ComfortTile® heat cable upward to the floor, reducing energy consumption and optimizing the overall efficiency of the floor heating system. The lightweight panels provide one of the most efficient systems for heating laminate and floating floors.
Installation is made simple with the HeatShield panels. The pre-formed channels for the heating cable ensure accurate spacing and facilitate quick installation without the use of mortar and thinset, helping to minimize costs while helping to ensure a fast, clean and relatively easy install.
Radiant Heat for Engineered Hardwood Floors
HeatShield floor heating insulation panels feature lightweight aluminum insulation panels, resulting in no significant increase in your floor's weight load. The panels create a barrier between the subfloor and the new engineered wood (or other floor surface) to eliminate energy loss and reflect the heat directly up into the room where you can enjoy it.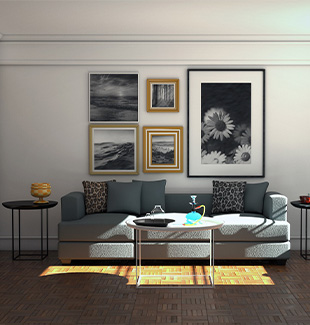 Radiant Floor Heating for Laminate Surfaces
HeatShield panels provide the ideal, easy-to-install solution for heated laminate floor surfaces. The design is so efficient that you typically may run your floor heating system for shorter periods of time, which translates into an additional cost savings for you.
Advanced Radiant Floor Heating Design
The insulated aluminum HeatShield panels conveniently snap together across the length of the floor. Simply lay the insulation panels down over the subfloor and snap them together, using the small plastic locking keys that are provided with the system. The HeatShield floor heating system is designed to be used with the trusted ComfortTile heating cable — without the need for any thinset or mortar. Lightly press the heating cable in the pre-engineered grooves of the panels and then install your new flooring. For custom shaped rooms, HeatShield panels can be easily cut with a standard table saw or jig saw.
HeatShield panels differ from other underlayment products because lightweight insulation is built into the aluminum panels. So in addition to the specially profiled aluminum that maximizes heat distribution and efficiency, the panels create an insulated barrier between the colder subfloor and the heated floor surface, so the panels act as insulation as well as reflective heat sources. The combination of an insulated subfloor and a heat-conducting surface ensures optimum heat is delivered up through the floor. The proven system serves as a giant radiator, spreading heat evenly across the room. HeatShield floor heating systems mark a dramatic improvement over traditional radiant heated floor methods by not allowing heat to escape down into the subfloor, or cool temperatures "stealing" heat from the heating elements. For more details, call a floor heating expert today at 888-488-9276.