Features and Specs for Radiant Floor Heating System Thermostat
Smart Interaction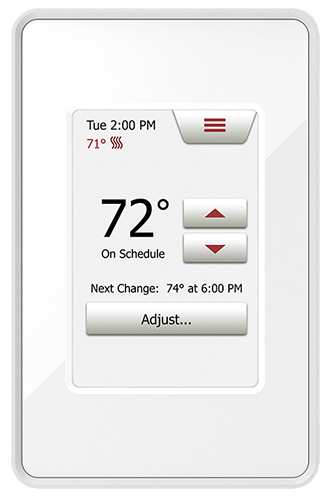 The interaction for the TOUCH thermostat and TOUCH thermostat with WIFI capability is based on a "touch" color screen, making control smart and easy. An entire screen is designed for every action, and therefore programming, schedule override, or setup becomes much easier for both the installer and end user.
Smooth Programming
Thermostat programming is now based on 6-event days, copying one day schedule to any other day with a single operation. Any schedule override is just a touch away, until the next event for a number of hours or days in the future, or until next time you change your mind. The TOUCH thermostat is delivered with a default schedule.
Power Logging
Follow the thermostat power consumption in the energy log. Logging of the last 24 hours is saved in high resolution, but logging history is also stored in the thermostat. Power logging is easily stored to your computer by use of our QR technology.
QR Code Provides Support on a Whole new Level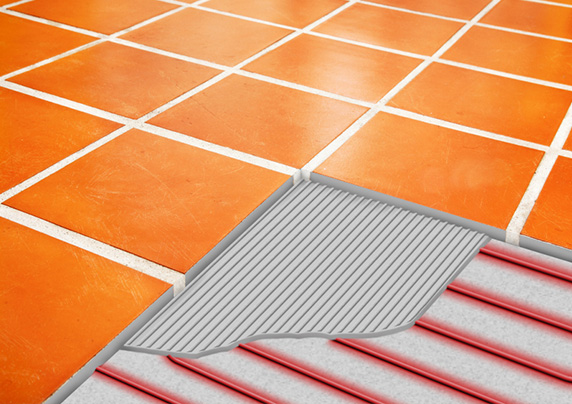 Thermostat settings and energy log can be monitored on any device with web access. Just scan the QR code from the thermostat and view data on a web site. The new, smart and interactive manual provides the details of what you can do with the thermostat. The QR code can also be forwarded to a supporter, shortening downtime on "what is" explanations and jumping directly to "what to do".
Easy Installation
Just connect the wires, turn on the power and follow the wizard. There is no need to remember special settings, the thermostat pre-sets the installer wizard and the user wizard ensures a fast and smooth process. Thus, no unintended heating before you are ready - a check question ensures that.
Smarter Control of the Power
By default, the thermostat controls ambient temperature and protects the floor against overheating. The default floor sensor can be replaced by any floor sensor. The floor protection fits laminate/wood, tile, concrete or wherever lower maximum temperature is required. If you want the heating to start at a given time, or at a given temperature at a specific time - we call it early start. If you want the heating to stop if you start cooling, but to start if it passes the threshold - we call it open window.
For more details about Warmzone's floor heating system thermostats, please call us today, at 888-488-9276.
Thermostat Features

Simple To Use: 3.5-inch color screen with easy interactive touch control.
Easy Programming: Thermostat programming is based on 6-event days. Copy one day schedule to any other day with a single operation.
Track Power Function: Track power consumption and save it to a PC.
Export Function: Thermostat settings can be exported to web page for support.
Compatibility: Universal compatibility with existing floor heating sensors.
Versatile: Suitable for all types of floors, including: tile, laminate, stone, concrete, wooden, etc.
Battery Backup: 5-year battery backup of clock and calendar.
Warranty: 2-year manufacturer warranty.

Technical Data

Temperature Range:
5° to 40°C/+41°F to 104°F
Temperature Limit Range:
5° to 40°C/+41°F to 104°F
Ambient Temperature Range:
32 to 104°F (0 to +40°C)
Floor protection laminate/wood:
82°F(27.5°C)
Floor protection tile:
88°F(31.0°C)
GFCI:
Class A (5mA trip level)
Housing:
IP20
Supply Voltage:
120/240 Vac, 50/60Hz
Max Load:
15A Maximum (resistive load)
Max Power:
1,800W at 120 Vac; 3,120W at 240 Vac; 3,600W at 240 Vac
Dimensions (H,W,D):
5.1 x 3.2 x .8-inches (130 x 82 x 20mm)
Wall box (H,W,D):
3 x 3 x 2-inches
Display:
3.5 inches, 65k color
Touch:
Resistive
Approvals:
CSA, UL
Warranty:
Two years
Warmzone floor heating system thermostats are among the industry's finest. For details, please contact a radiant floor heating system expert today, at 888-488-9276. We'll be happy to go over the different control options and answer any questions you may have.