RoofHeat STEP - Low-voltage Roof De-icing Systems
General Information About Warmzone's Low-voltage Roof Heating System
The low-voltage roof de-icing system is one of the most effective systems for keeping roof areas clear of snow and ice. The thin, self-regulating polymer heating element can be discreetly installed under shingles and metal (standing seam) roofs. The semi-conductive heating panels are available in different widths, so they can be installed along the roof eaves as well as in roof valleys and even gutters.
RoofHeat STEP low-voltage systems are relatively easy to install. The panels are laid out over the area to be heated and then the bus wires are connected. Transformers are used to step down high voltage to low voltage (60 V or less) while controlling a specific section of the roof de-icing system. These individual control boxes are the source for monitoring the power and output to the heating element to ensure safe, accurate, and efficient performance. The advanced TOUCH thermostat is recommended for controlling the roof heating system. Warmzone's low-voltage roof de-icing systems have been providing effective snow and ice melting for residential and commercial properties for nearly two decades.
For more details about the low-voltage roof heating systems, contact a friendly roof heating expert today, at 888.488.9276.
General Features and Installation Tips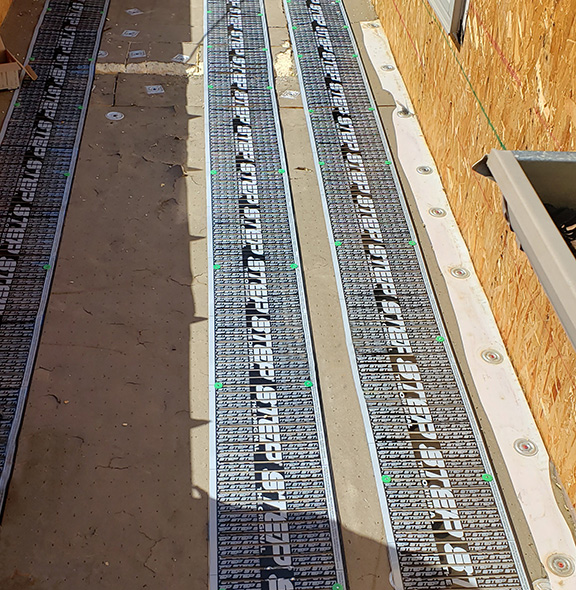 Even though the heating elements are self-regulating, they should not touch, cross, or overlap. at any point.
The heating element can be easily cut to the desired length on site.
The heating element can be bent up to 90 degrees to fit roof valleys, or almost any contour or crease.
RoofHeat STEP is a low-voltage product and should only be energized via the supplied power packs.
Do not exceed the maximum run of material as indicated in the design details from Warmzone.
This product should only be installed in accordance with local and national codes, ordinances, trade practices and manufacturer instructions.
Heating elements should be installed in temperatures between 40°F and 140°F (4°C to 60°C).
In cold conditions, the polymer heating element can be stiff and brittle, and therefore must not be bent or folded. Rolled up heating elements may be energized for a short period of time to make them warm and softer, but they must be constantly observed to avoid overheating while in the roll.
Installation of Roof De-icing System Components
RoofHeat STEP radiant roof heating and de-icing systems contain three main components: The step-down transformer, polymer heating element, and the STEP Touch thermostat (activation device).
Specially Constructed Low-Voltage Heating Element: The thin RoofHeat STEP heating element is polypropylene fused during fabrication to achieve water proofing and ensure that the panel is protected against UV rays and other potential physical damages.
To expose the two longitudinal bus braids, cut the plastic on each side of the braid with scissors or make a score in the plastic, front and back, with a knife.
Bend the element where the cut is made and pull off the corners to remove the surplus of plastic. Make sure that the bus braid is not cut or damaged; should this occur, re-cut the element and re-strip the bus braids.
Connect the bus braid to an extension wire, #12AWG (4 mm2) PVC insulated, stranded tinned copper wire, 105 C, 600V. Crimp the joint using the recommended tinned copper connectors and crimp tool. IMPORTANT: Check that the connections are secure. NOTE: Using components not recommended by the manufacturer will void the warranty.
Warmzone radiant roof de-icing systems are fairly easy to install when compared to other radiant roof heating systems. A qualified electrician should be able to easily install the system. Roofing contractors should be able to install a majority of the system before having an electrician hook up the power. In addition to our free installation training and complete system design services, Warmzone also provides technical support five days a week. Radiant heat product literature such as installation manuals and system diagrams are also available online on our product literature page.
Click the REQUEST QUOTE button to submit your information and receive a free roof de-icing quote. For more information and free consulting, call a radiant heat expert toll free at 888.488.9276.
In order for us to provide you with an accurate estimate, we will need to know the dimensions of the area you wish to heat. Email us or fax us (801.948.7599) a plan or sketch of your roof, and we will be happy to provide you with some options that are specific to the needs of your unique project. We will also include expert recommendations and an accurate price estimate. (Warmzone includes complete radiant heat system design services with each system sold.)
When it comes to customer service and support, Warmzone is an industry leader. Our customer services include free installation training, professional system design, and technical support for your installer during the installation. For more details, call a roof heating expert today at 888.488.9276.