The Best Roof De-icing Options
Gutter Heat Trace Solutions
Warmzone radiant roof heating and gutter trace cables are durable, self-regulating cables that help to protect the structural integrity of your roof by melting heavy snow and ice from gutters, valleys and downspouts. These roof de-icing systems can be easily installed in existing roofs to prevent icicles, ice buildup, and ice dams. Radiant roof heating systems are a great investment that not only enhance safety, but also protect structures and can enhance the lifespan of your roof.
In addition to Warmzone's popular self-regulating heat trace cable, pre-terminated self-regulating heat cable is also available. This convenient roof de-icing solution is ideal for heating problem areas along your roofline. The pre-terminated de-icing cable comes pre-assembled with the option of a 6-foot standard or GFCI power plug. The de-icing cable is available in 50, 75, and 100-foot lengths. You may also choose to use constant wattage heat cable. The de-icing cable comes ready to use. Just install the cable in gutters, downspouts, or areas where you need and then plug the cable in. The durable cable can be used to keep water flowing on roofs and gutters in temperatures as cold as -40°F (-40°C). To learn more about radiant roof heating and roof de-icing options, call Warmzone today.
---
Heat Roof Eaves and Valleys
The principle roofing concern among homeowners is to prevent costly ice dams from forming. These ridges of ice along the roof eave cause runoff from higher on the roof to pool behind the ice dam. Over time, the water repeatedly freezes and thaws. Water seeps into every tiny crevice, and then expands when it freezes. This can eventually threaten the integrity of the roof. In worst cast scenarios, water ultimately seeps into the home where it can cause water damage as well as result in mold and mildew.
Applying a roof de-icing system along the roof edges to prevent these dams from forming is the most common roof heating application. Warmzone offers two of the most effective systems on the market for heating roof eaves. Low-voltage RoofHeat™ STEP systems feature a thin, polymer heating element that can be installed directly under shingle or metal roofs, providing the ideal discreet roof heating solution. This proven low-voltage roof heating system is perhaps the most popular roof de-icing system on the market.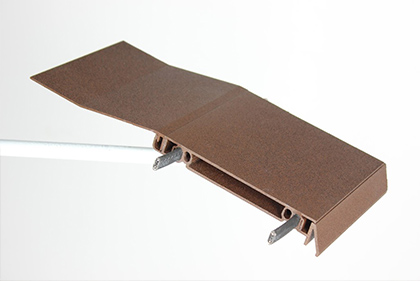 Another highly effective solution for keeping roof edges free from snow and ice is the attractive RoofHeat Panels system. The roof heating panels feature attractive aluminum panels that are easily installed along the roof edges (or in valleys). Each panel contains pre-engineered channels where self-regulating heat cable is routed. This efficient design results in maximum heat transfer across the panel. The panels feature a 30-year Kynar finish, available in a wide variety colors to complement the look of your existing roof. The panels can be used on different roof types, including shingle and standing seam (metal) roofs. Warmzone's roof heating panels can also be installed to heat roof valleys. The systems are available in a variety of sizes, with panels ranging in width from 6-inches (for heating valleys) to 48-inches.
You can also combine a heat trace system for heating gutters and downspouts with the panels of low-voltage systems. For more details about these or other roof de-icing solutions, call a roof heating expert now, at 888-488-9276.
---
Heat Specific Problem Areas on Your Roof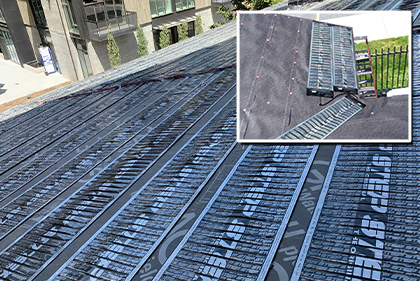 Every roof is different, and therefore poses its own unique set of challenges when it comes to problems caused by snow and winter weather. In addition to ice dams, other problems include heavy ice buildup in shaded valleys, gutters, or downspouts. In many cases, the roof itself may not have any issues when it comes to winter weather, but perhaps you routinely have to deal with one or two trouble spots.
Self-regulating roof de-icing cable is the most affordable and popular roof heating solution. Heat trace cable gives home and business owners the flexibility of heating small or custom shaped areas. Pre-terminated heat cable is also available. This convenient roof de-icing option can be installed in gutters, downspouts, or along roof edges and then plugged in to melt the snow and ice. Constant wattage cable can also be installed and plugged in. This easy, do-it-yourself solution can be ideal for eliminating ice from trouble spots on your roof.
The low-voltage heating elements can also be installed to heat roof valleys and even gutters. The thin, self-regulating heating element comes in a variety of widths, giving homeowners the flexibility to efficiently heat specific areas on the roof.
All of Warmzone's roof de-icing systems are versatile, and designed to withstand the harsh winter environment. Regardless of your roof heating needs, Warmzone professionals will work with you and custom design the ideal system for your de-icing needs.
---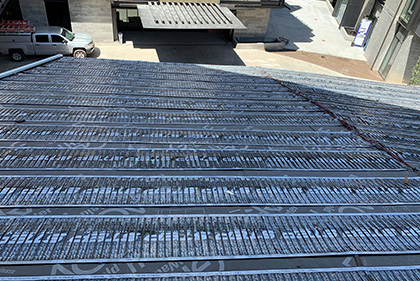 Warmzone's low-voltage system has proven to be a favorite among roofing professionals for both commercial and residential roof de-icing applications. These systems can be safely installed under shingles or metal roofs to provide discreet roof de-icing for roof eaves, valleys, and even entire roofs.
Heating your entire roof is not a common roof heating application, but it is still used. While most structures in cold weather climates that receive a lot of snowfall feature steep roof grades, buildings with flatter roofs need a more comprehensive roof heating solution. Heating the entire roof can be extremely beneficial because it eliminates snow and ice buildup, and protects the structural integrity of the roof, reducing the chance of water damage inside the structure. The low-voltage system keeps entire areas free of snow and ice.
The system uses transformers. Each transformer steps down high voltage to low voltage (60 V or less), and monitors the power and output of a specific section on the roof. Warmzone roof de-icing systems are fully automated and maintenance free. The systems are typically controlled by the TOUCH thermostat, and advanced activation devices. The thermostat is beautifully designed for simple two-control functionality for ease of operation and features a 3-digit, auto-dim LED display. All settings are stored in the unit's permanent memory for instant recovery in the event of a power failure (no batteries are needed). Other control options are available as well. Call and speak with a roof heating expert to learn more about the many roof heating system options and system components that are available.
For more details about the many custom roof heating options or our professional design services and installation training classes, call a roof heating expert today at 888-488-9276.