Attractive, Energy-Efficient Roof Heating Panels
A Trusted, Industry Leading Roof De-icing Solution
The attractive roof heating systems feature self-regulating heat cable that is channeled into an aluminum panel designed for maximum heat transfer. Each of the heated roof panel systems is elegantly designed to offer the best protection while increasing both the curb appeal and value of a home. Plus, they are carefully engineered to be extremely energy efficient, minimizing costs in the winter season while keeping your home safe from dangerous ice buildup. No matter what style of roof you're working with, our heated roof panels are versatile, efficient, and stylish solutions for combating the buildup of snow and ice on roof eaves and valleys.
Each panel is coated with a durable finish and is designed to complement the aesthetics of your home. When mounted to your roof eaves and/or valleys, the roof heating system eliminates ice and snow in those areas, enhancing safety and reducing the risk of winter damage.
Heating Metal and Standing Seam Roofs
The heated rib system is conveniently and very effectively used on standing seam roofing. The heated RIB panel is designed to easily attach to each rib to create an open channel and allow melted snow to flow easily off the roof. Self-regulating heat cable is safely routed through the panel and completely protected by the aluminum RIB system. (The heated ribs are available in steel, aluminum, copper, cold roll, etc.) This design virtually eliminates the possibility of ice damage from slides that can stress or pull the heat cable off the roof. Home and business owners can also combine the RIB roof heating panel system with an engineered snow retention system for added protection against slides. The heated RIB system keeps the aesthetically pleasing look of the original standing seam roof while preventing ice dams from forming. All of the roof heating panel systems come standard with a durable 30-year Kynar finish to match the customers' most desired looks.
Heat Roof Valleys
The 4 and 6-inch valley heating panel is an efficient method to control any ice dams that form within valleys, preventing runoff. Effectively clearing both sides of the valley between 6-10-inchs. The SFP-V panel allows water to safely flow from the valley without the possibility of refreezing over unheated portions of the roof. The heated panel system provides an aesthetically pleasing look to any structure while keeping a more efficient and cleaner method to eliminate ice dams in valleys or dormers. All SnoFree™ Panel (SFP) systems come standard with a durable 30-year Kynar® finish to match most desired looks.
Warmzone's SnoFree Panel system for heating roof valleys is one of the best roof heating solutions on the market today. The panels conduct heat efficiently to provide a remarkably effective means of melting snow and ice to protect your roof. The roof heating system typically melts snow on each side of the panel to create a significant clearing for runoff to eliminate buildup resulting in dangerous overhanging ice and destructive ice dams.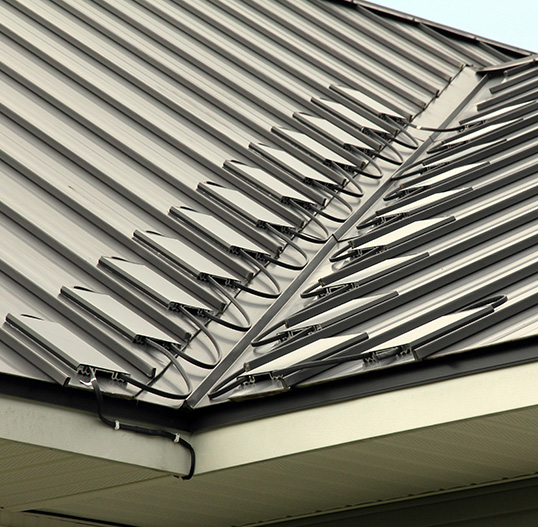 Roof Heating Panel System Components
HEATING ELEMENT - The heating element consists of Warmzone's proven self-regulating heat cable that is installed in the pre-engineered channels within the aluminum panel to heat the aluminum and melt snow and ice from your roof eaves and/or valleys and gutters.
The roof heating panel system is an ideal solution for keeping roof edges and valleys free of snow and ice buildup. And all SFP systems come standard with a durable and attractive 30-year Kynar finish to match most desired looks and complement the look of your home.
ACTIVATION DEVICE - This can be an aerial-mount snow sensor or a ground-mount sensor (in the pavement). The snow sensor automatically signals the contactor panel when it detects specific weather conditions, activating the system by power being sent to the heat cables.
CONTACTOR PANEL - The controls include line and load terminal blocks and operating contactors. The control unit features manual override capability to provide snow and ice melting for all outdoor applications. (Can be upgraded to include GFEP protection.)
Warmzone includes free installation training as well as technical support and professional system design services. For more details about our professional design services and industry leading roof de-icing solutions, call a roof heating expert today at 888-488-9276.