Warmzone Hydronic Floor Heating Systems
Trusted Hydronic Floor Heating Solutions
The first modern radiant floor heating systems were hydronic systems, which featured heated liquid that circulated under the surface of the floor. Radiant heating was first used by ancient Chinese populations as well as the ancient Romans, but naturally, there have been significant developments in the technology since those early days.
As the initial technology behind modern-day heated floors, hydronic systems have been the most popular means of floor heating. However, the advancements and advantages of electric floor heating systems have made electric heated floors another popular option, both for interior and exterior applications.
There are several options when it comes to hydronic floor heating systems. Advanced, lightweight aluminum RAUPanels™ and Infloorboards have become the latest and most effective materials for hydronic floor heating systems. Other technologies such as concrete mass called Gypsum Concrete or "Gypcrete" are also not uncommon.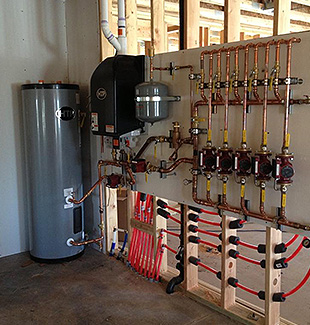 RAUPanel (aluminum) and Infloorboard (modular board) feature panels with readymade grooves for the PEX tubing, so rather than embedding the hot water tubing in the concrete slab, the PEX tubing is laid in the channels of the pre-cut panels. Panels with aluminum are typically recommended as the most effective hydronic underlayment system because of the aluminum's reflective properties and light weight.
Warmzone hydronic floor heating systems are designed to provide rapid response, optimal performance and ease of installation. The effective low-profile systems are an excellent alternative to joist heating and poured thermal mass applications. The RAUPanel system consists of 3/8-inch RAUPEX pipe, extruded aluminum panels for strength, and wood return bends. The aluminum panels offer high conductivity with a low profile and a low mass, and eliminate the need for structural reinforcement. Warmzone systems are easy to install, and require less job site preparation and installation time.
Warmzone offers different types of hydronic radiant heating systems to best match our customers' applications. Our goal is to match your individual needs with the best system at the best price. We understand that there isn't a universal radiant heating system out there that is an ideal fit for every project, but there is an ideal system for every project. Because of our relationship with the top manufacturers, we are able to offer the widest selection of proven, top-quality radiant heat solutions at the lowest prices available.
Professional Mechanical Engineering and Design Services
As the preeminent hydronic design and mechanical engineering firm, Warmzone exceeds simple "design" services for radiant heat systems. After evaluating your radiant heat needs, our professional design staff will produce a comprehensive layout of the system that is best suited for your needs.
Given Warmzone's extensive floor heating products, thermostats and controls, and expert engineering and design services, you can be assured that you will receive the most efficient and reliable hydronic floor heating system at the best price possible. Call for more information about these advanced, affordable hydronic floor heating systems (888-488-9276).