Warmzone Hydronic Floor Heating Systems
Trusted Hydronic Floor Heating Solutions
Warmzone utilizes the most advanced and trusted controllers on the market for its hydronic floor heating (and snow melting) systems. OJ Electronics and tekmarNet® controls are known among building professionals across the globe, with both OJ and tekmarNet being considered as the gold standard manufacturers of hydronic radiant heat system controllers. Warmzone designers will custom design your system, using the best controls and components for your specific needs. We work with the best hydronic system engineers in the industry, and will work closely with you throughout the installation process and provide technical support for your installers if they need.
How Does the Hydronic Radiant Heating System Work?
Warmzone's advanced controls coordinate all the devices in your hydronic floor heating system to provide a level of energy savings, comfort and convenience not possible with stand-alone controls. You also have the option to program your floor heating system so that you can efficiently heat your home according to your schedule.
| | | |
| --- | --- | --- |
| | | |
| Hydronic Floor Heating Thermostats and Wiring Center | Hydronic Heat - Boiler Controls | Hydronic Heat Zone Controls |
Notable Features
Cooling groups provide a heat/cool interlock between thermostats.
The outdoor sensor enables the system control to anticipate the heating requirements for the building.
Thermostats communicate with the house control to improve comfort through indoor feedback.
One-touch adjustment of every thermostat is made possible with a user switch.
Simple schedules can be entered into a single timer and used by the entire system.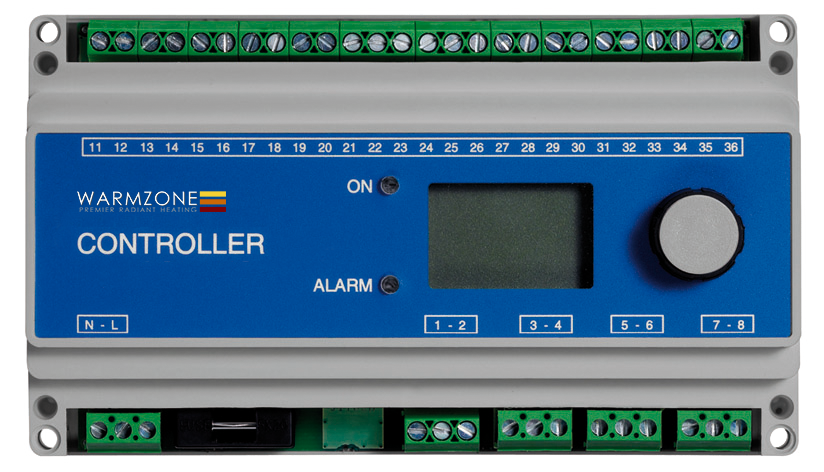 There are several options when it comes to heating your home with a hydronic floor heating system. Warmzone designers and hydronic system engineers will work closely to create the ideal heating solution for your home or business. To consult with one of our floor heating experts, call Warmzone today, at 888-488-9276.
In addition to Warmzone's expertise and vast selection of custom floor heating systems and components, we offer unparalleled customer support services. These industry-leading services include free installation training, technical support for installers during the installation, and professional system design and engineering. We stand by our customers throughout the installation process and offer our decades of experience to help ensure that the system is installed correctly and the customer is satisfied. If you would like to know more about our design capabilities and support services, please call 888-488-9276 today.