RetroHeat Floor Heating Systems
Add Radiant Heat to Your Existing Floors
Seeing the need for homeowners who wanted to add radiant heat to their homes, but didn't want to undergo major remodeling or pull up their existing floors, RetroHeat was designed specifically for installing the luxurious comfort of radiant heat under existing floors by accessing the floor from below. If you're looking to warm some of your home's current floors, and you have open access to your floor joists, you too can enjoy the comfort and efficiency of radiant heat in your home. The RetroHeat system can be installed to heat a variety of floors, but is most commonly used to heat tile, hardwood, laminates and even carpeted flooring.
RetroHeat is a unique floor heating system that utilizes a near paper-thin heating element (0.16-inch thick) that is effective for warming virtually all types of flooring. When installed correctly, the heating elements provide enough heat to warm rooms or supplement the existing home heating system.
When installing RetroHeat, the lightweight "film" heating panels are cut to the required length and then installed between the floor joists. The panels are available for joists in 12, 16, and 24-inch widths. (Measurements are taken from the center of once joist to the other, not the distance between the joists.) After installing the thin heating panels, the electrical connections are made and common batt insulation is installed over the heating element. The insulation greatly enhances the energy efficiency by virtually eliminating heat loss and directing all the warmth upward through the floor. The under floor radiant heat system is UL approved and carries a generous 25-year warranty.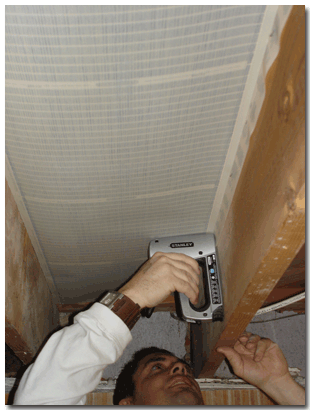 RetroHeat for All Types for Floor Surfaces
The RetroHeat floor heating system is one of the best values for installing radiant heat under any existing floor surface, including laminates, hardwood, carpet, and more. If you're looking to add radiant heat to your home, this is an option worth checking out. You may be able to enjoy radiant heat in your bathroom, kitchen, bedroom, or living room if you can access your floor joists from below.
Despite the thin, lightweight properties of the RetroHeat heating element, the system is remarkably effective as a primary heating source for some rooms, but it is typically installed to complement the home's existing heating source. RetroHeat is also relatively easy to install. The innovative system is a popular choice for homeowners looking to add extra comfort in some rooms or problem areas that have notorious cold spots - without having to undertake costly, major remodeling projects. If you can access your floor joists through your basement or crawl space, you have an affordable option for adding radiant heat to your home. Heating panels are available for joists with different widths, and the installation is not difficult. While most ambitious DIY homeowners can install the heating panels and insulation, a qualified electrician must wire the system. (This ensures that the warranty remains valid.)
Energy efficient, maintenance free, and easy to use, the Warmzone RetroHeat radiant floor heating system is an affordable system for heating your home's existing floors. Call a floor heating expert today to learn more, at 888-488-9276.