Radiant Heat Under Tile Floors
Add Luxurious Warmth to Your Ceramic Tile Floors
To most effectively heat tile floors, ComfortTile heating cable is the most highly recommended radiant floor heating system. The system is very versatile, and the heat cable can be installed on a variety of subfloors, including: plywood, concrete, pre-stressed concrete panels, Prodeso® crack isolation membrane, or any floor surface compatible with the adhesive. Depending on your subfloor, thinset or mortar is applied directly over the heat cable, followed by the installation of the tile.
ComfortTile floor heating cable is a premium floor heating cable, and can be purchased on spools as well as in mats. The floor heating mats feature heat cable that is pre-spaced and affixed on a flexible adhesive-backed fiberglass mesh that can be rolled out for quick, easy installation. The mats heat an area 24-inches wide and are available in a variety of lengths. ComfortTile floor heating systems feature pre-terminated, twin-conductor heat cable for use with 120 and 240 volts.
For the best results when installing radiant heat under tile, the following floor heating systems have proven to be the most effective.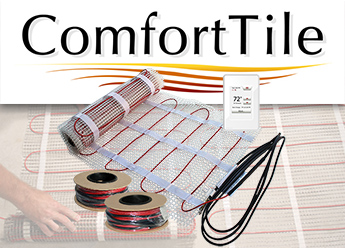 ComfortTile Radiant Heating Systems
ComfortTile floor heating cable is just ⅛-inch in diameter, so there is very little floor buildup as a result of installing this floor heating system. ComfortTile heat cable is available on spools as well as in mats. While the ComfortTile heat cable off the spool allows great flexibility in terms of installing radiant heat in small, custom shaped areas, the ComfortTile mats speed up the installation process in large areas. The CT mats can be quickly and easily rolled-out over the area to be heated and secured to the subfloor. The mats feature heat cable that is pre-spaced on a durable adhesive-backed mesh that secures the cable to the subfloor. The proven ComfortTile floor heating system is an industry leader and comes with a 25-year warranty. In addition to being ideal for heating tile floors, ComfortTile is extremely versatile and can also be used to heat virtually all types of floor surfaces, including marble, slate, laminates, and hardwood.
If you're installing tile over a concrete subfloor, another outstanding option is to install the In-Slab™ floor heating system. This industry-leading solution features a rugged, thick heating cable that is embedded directly in the concrete slab. The cable warms the entire slab, warming the tile floor above it. In-Slab floor heating systems give homeowners an affordable, and highly efficient floor heating system that can be used to heat a variety of floor types installed over concrete. Hydronic heating systems can also be used to heat tile floors.
Heating Existing Tile Floors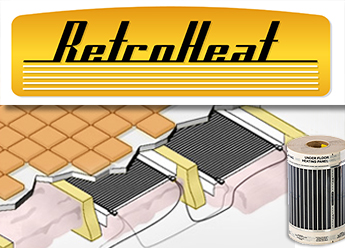 If you'd like to add the comfort and efficiency of radiant heat to your existing floors, Warmzone has the system that allows you to do this. If you have access to the floor joists under your existing tile floors, you can retrofit your floors with the comfort of radiant heat by installing the RetroHeat® radiant heating system. There's no need for major remodeling, or to tear up your existing floors. This unique floor heating system utilizes a thin heating element that is thinner than a credit card (just 0.16-inches thick).
The RetroHeat floor heating element is stapled up between the floor joists. Common batt insulation is then installed over the heating element to efficiently direct all of the heat upward to warm the floor - and the room. The RetroHeat system provides an affordable option for installing radiant heat under existing floors - eliminating the need - and expenses - to tear up your old floor. The only stipulation to install this system is that you must be able to access the floor joists from below, either through a crawl space or basement. If you do have access to the joists, then this system is the affordable option for you.
Whether you're heating tile floors or other types of flooring, Warmzone has the proven radiant floor heating systems to help you achieve your heating needs. Energy efficient, maintenance free, and easy to use, Warmzone radiant floor heating systems offer an affordable, practical means for adding the luxurious warmth of radiant heat to your home. Call a floor heating expert today to learn more, at 888-488-9276.