Snow Melting System Pre-Installation Tips
Guidelines for Preparing to Install an Electric Driveway Heating System
A. Never cut or alter the heating element/cable. Heat cable is listed as an appliance and cannot be shortened to make it fit in a particular area. Excessive cable (or cable in the mat) can be consumed by decreasing the OC (on-center) spacing or by routing the cable around the perimeter, being sure to keep within the heated area. Minimum spacing is 2-inches, center-to-center.
B. Heat cables must never touch, cross or overlap or the cable will burn out in that section because of excessive heat. Minimum spacing is 2-inches (center-to-center) between the heat cables.
C. Heating cable/mats should never cross or pass through an expansion joint. Special precautions should be made if the heating cable is to be placed under a control joint. (Tooled or cut joints are not to exceed 1¼-inches in depth.) The heat cable must be at least ¾ to 1-inch from the bottom of the control joint.
D. Great care should be used when working around the heating cables or mats. Shovels, trowels, rakes and other sharp tools can damage the cable. Avoid unnecessary walking on cable.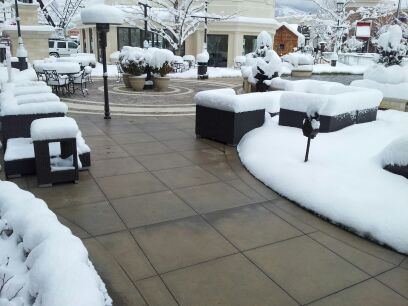 E. The heating cable or mat should never sit in standing water, and should be embedded as soon as possible after being laid out. The ends of the cable and cold lead should be bagged or protected from water infiltration until connected in a waterproof J-box.
F. All of the heating cable / mat must be embedded, including the splice and 6-inches of the cold lead. The splice should not be subjected to excessive strain or bending.
G. Circuit breakers should be deactivated during the spring and summer months to prevent unintended activation of the snowmelt system. All heating cables or mats should be checked for continuity and resistance prior to being embedded. Do not install heating cables or mats if the ambient temperature is below 10°F.
Please refer to your installation manual when installing a radiant heated driveway / snow melting system. The information on this page is only intended to serve as a general outline of the installation process and should not be used as a substitute for your system's installation literature.
For more details, call and speak with a friendly snow melting system expert today at 888-488-9276