The ClearZone snow melting system is an industry-leading snowmelt solution that features the finest system components and heating cable. However, it is important to note that having the premier components of a snow melting system is only part of the solution. The key is for the system to be installed properly. To facilitate this, Warmzone not only includes free installation training, but professional system design services. You'll receive a detailed layout of the system that includes all the electrical information for your electrician, including the proper load calculations, the number of breakers, and breaker sizes, etc. In keeping with Warmzone's commitment to offering the best customer service in the industry, free technical support is also provided.
Reasons to Invest in an Electric Snow Melting System
EASY TO INSTALL - The installation of the ClearZone snow melting system is not labor intensive. In fact, due to its simple design and single-point connection (only having to connect one end of the cable because the other end is self-terminated), it is installed in a fraction of the time and cost of other, more elaborate systems without sacrificing quality. The system can be installed in concrete, hot asphalt, and under pavers.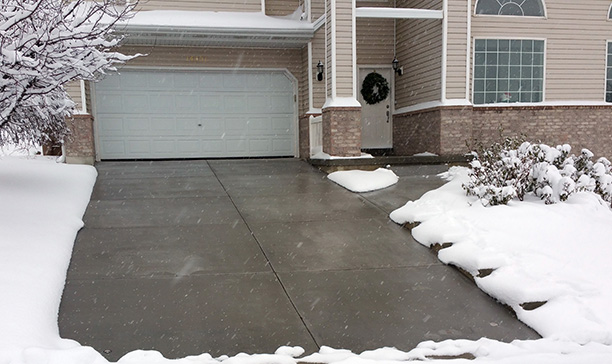 TOP PERFORMANCE - The ClearZone system features a fast response time and produces 35-50 watts per square foot, depending on the design of your system. The system melts snow and ice on almost any surface quickly and efficiently.
ENHANCES SAFETY - Radiant snow melting systems dramatically enhance the safety of your property during the winter season. The automated systems help to eliminate the possibility of personal injuries (and subsequent litigation) due to slipping on dangerous ice and snow. Keep steps, entryways and parking areas clear of ice and protect your family or your customers from slip-and-fall injuries.
COMPLETE SYSTEM DESIGN LAYOUT - Warmzone professionals carefully design each system. Unlike many radiant heat providers, Warmzone includes complete radiant heat system design services with every snowmelt system sold. You'll receive a detailed, professional layout of the system upon request, so you can expect to have all the information regarding the proper cable layout, component placement, materials, load calculations, breaker sizes, number of breakers, and other specs of the project prior to any installation taking place.
NO COSTLY MAINTENANCE - Many radiant heat systems available today also involve unexpected maintenance costs, leading some homeowners to feel the pangs of buyer's remorse. However, Warmzone electric snow melting systems have NO moving parts, making them reliable, easy to install, and maintenance free. With Warmzone snow melting systems, there's no need for yearly checkups or maintenance.
NO MECHANICAL ROOM NEEDED - With Warmzone electric snow melting systems you do not need to dedicate a room or space in your home / garage for equipment. Unlike hydronic heating systems that require a boiler, manifold, and pumps, the Warmzone CZ snow melting systems utilize a small UL listed wall-mounted control unit and pavement-mount or aerial-mount snow sensor. The efficient system operates silently, and is fully automated.
ENERGY EFFICIENT / MINIMAL OPERATION TIME - Warmzone's snow melting systems are among the most efficient systems available (with 99% of all energy goes to snow melting). ClearZone systems operate cleanly on renewable energy, feature very rapid response times and operate only when needed. Because of the high efficiency of Warmzone electric snowmelt systems, the job is accomplished quickly. ClearZone systems typically run about 30% less than many other radiant snow melting systems.
LOW OPERATION COSTS - Of course, operating expenses depend on local utility costs, but estimating using national utility rates, you can typically melt snow on a 300-square-foot area for around $1.52 for each continuous hour of operation. Snow melting systems typically only run for a few hours per snowstorm, and leave your driveway free of snow and ice.
FULLY AUTOMATED - ClearZone snow melting systems are fully automated. The automated system features a highly advanced snow sensor, contactor panel and heating element. The snow sensor (either aerial-mount or pavement-mount) detects precipitation and temperature. If precipitation is detected and the temperature is below the set point of 39°Fahrenheit, the sensor signals the master controller to send power to the heat cable. The snow melting system's automated devices ensure that the unit operates only when needed, activating just before a storm hits and then shutting off shortly afterwards. The ClearZone snowmelt system is a proven, energy-efficient system with trusted, reliable performance. The activation device also features manual override capability.
ADDED VALUE AND ENVIRONMENTALLY FRIENDLY - Installing a radiant heated snow melting system can extend the life of your driveway. Radiant heat eliminates the need for trucks and snow plows that scrape your driveway as well as the need for corrosive snow melting chemicals. Salt and snow melting chemicals also destroy grass and other nearby vegetation, so an environmentally friendly radiant heated driveway operating on renewable energy will help to keep your yard looking healthy, and you won't have to worry about salt and chemical runoff from your property.
INSTALLATION SUPPORT - Warmzone provides customer service that is second to none. In addition to providing one of the most comprehensive online radiant heat information resources and professional consulting services, Warmzone has radiant heat experts on hand to assist you during the installation process of your snow melting system. You'll receive top-notch customer service before, during, and after the sale.
WISE INVESTMENT - Installing a radiant snow melting system is an excellent long term investment in your home. An electric snow melting system quietly and efficiently keeps your driveway and walks free of ice and snow, and can increase the resale value of your property.
---
Database of Installers
Warmzone has a growing network of experienced contractors across the country, so we may be able to recommend a reputable installer in your area. Call us toll free at 888-488-9276 to learn more.
---