ClearZone Electric Heated Driveway Components
ClearZone Radiant Heating Cable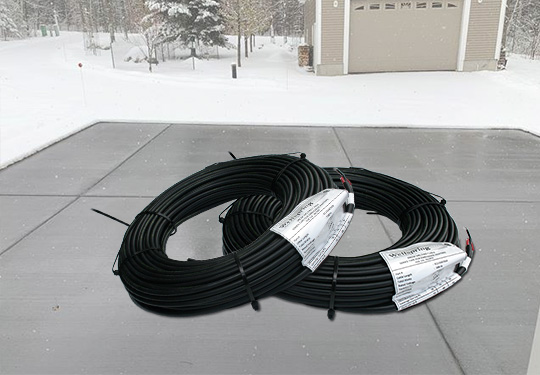 Warmzone's ClearZone radiant heating cable is a proven, industry-leading cable that has been installed in a wide variety of commercial and residential snow melting applications throughout Northern America. The single-point connection, twin-conductor cable consists of Fluoropolymer insulation and polyolefin jacketing, providing flexibility and durable protection. The heat cable is rated at 220°F and has a minimum 10-year warranty. ClearZone heat cable is UL listed and can be safely installed in fresh concrete pours and under pavers. A special asphalt heating cable is also available. The rugged heat cable is constructed specifically to withstand the extreme temperature and demands of hot asphalt installations. It is rated for temperatures of 460°F (240°C) for up to 10 minutes.
ClearZone snow melting cable is designed to produce 30-50 watts per square foot and is one of the most trusted heating cables in the industry and features one of the quickest response times of any snow melting system on the market. Durable and versatile, ClearZone snow melting heat cable can be installed in virtually all mediums and snow melting applications. The freestanding cable is particularly well suited for laying out to heat small or uniquely shaped areas. Warmzone houses a staff of professional radiant heat system designers who can easily custom design your system to meet your specific snow melting and budget needs.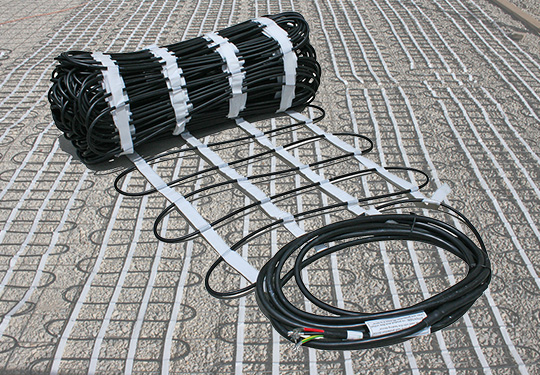 ClearZone Radiant Heating Mats
The ClearZone snow melting mat is among the most effective and easy-to-install radiant snow melting solutions available. The ClearZone heating mat comes with the same quality CZ heat cable, but is pre-spaced and delivered in rolls so it can be rolled out for quick and easy installation while providing proper spacing of the cable to ensure optimum performance. The mats heat an area 2-feet wide.
Designed to be the most durable and versatile heating cable for automated heated driveway systems, the ClearZone radiant heating mat is an ideal solution for virtually any standard shaped outdoor snowmelt application. To make turns with the heating mats simply cut the white tape and turn the mat accordingly. (Be sure to never cut or damage the heat cable.) For more details on installing snow melting mats, view our ClearZone Snow Melting Mats Data Sheet, located on our Documentation page or visit our Installation How-to's web page and click on the Heated Driveway and Snow Melting links.
Warmzone also includes complete professional system layouts and customer support services, including free installation training and technical support. For more information about ClearZone heating cable or mats, call a Warmzone representative today at 888-488-9276.
Snow Sensor Activation Device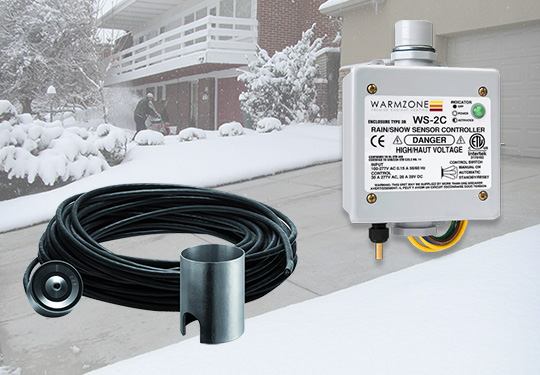 Warmzone offers a variety of premium controllers and activation devices. Having state-of-the-art controls helps to ensure the efficiency and ease of use for each system. The ClearZone radiant snow melting systems come standard with the industry's most trusted aerial-mount snow sensor switch. This sophisticated, yet rugged, device detects precipitation and temperature to automatically trigger the system when needed. (Customers also have the option of installing an in-ground snow sensor.) When weather conditions warrant, the sensor signals the ClearZone snow melting system controller, and then power is sent to the radiant heating cable embedded in the driveway. The sensor has an adjustable temperature trigger point to activate the system as the first snowflakes begin to fall. The adjustable set point is typically set at 39°F. Smart system compatible, the aerial-mount snow sensor also features an adjustable delay off cycle and upgradeable remote activation. The system can also be manually activated if needed.
The pavement-mount snow sensor is available for all snow melting systems as well, and is often used in large commercial snow melting applications. ClearZone snow melting systems are fully automated and virtually maintenance free. The compact control unit features a 4-hour timer that serves as a manual backup to melt snow drifts or ice that may have formed on the driveway due to wind or shade.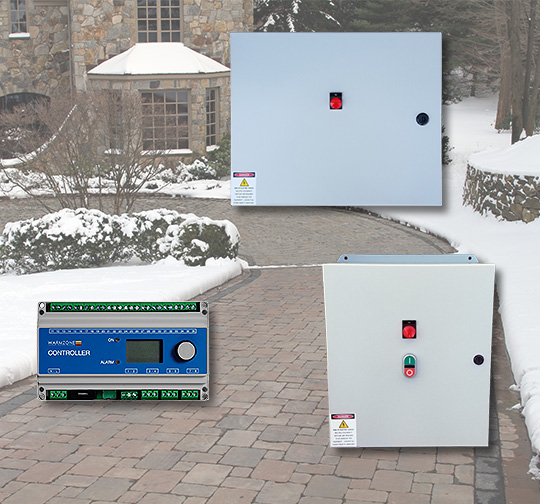 Warmzone
Snow Melting System Controls
Used in conjunction with the pavement-mount snow sensor, the Warmzone snow melting system control units are small, NEMA 1, wall-mounted control panels. These efficient controllers are approximately 6 x 3.5 inches in size. The units have even been designed so that they can be controlled remotely from an external signal (day/week timer, GSM-module or other signal source). The compact snow melting control unit can be switched on/off (standby), and the heating system can be manually turned on for times when wind may cause snow drifts to cover portions of the driveway, or melting snow pools in shaded areas where it turns into "black" ice.
Despite the compact control unit's advanced technology and ease of use, it also represents a breakthrough in that it is significantly cheaper than most other industry controllers. The Warmzone master controller offers maintenance-free, UL listed snow melting for residential and commercial business applications. The controller provides energy-efficient, under-pavement heating to safely and effectively deliver reliable snow and ice melting for sidewalks, driveways, ramps, and all other types of outdoor applications.
To learn more about automated snow melting systems and heated driveways, call us today at 888-488-9276. We'll be happy to answer any questions you may have or discuss your snow melting project.
---