Warmzone provides detailed layouts of the system to install. Produced by experienced professionals, this document is invaluable to you and should be referred to throughout the installation process. The design clearly shows the layout, materials and dimensions of the system as well as the proper load calculations, breaker sizes, number of breakers and system performance expectations before one foot of heat cable is installed.
Examples of How NOT to Install Radiant Heat
Never Allow the Heat Cable to Cross or Touch. Always perform OHM tests of the cable before and during the installation process. Prior to applying the concrete, asphalt or pavers, lay your heat cable out in the area to be heated and make sure you have the right amount of cable. Also, in concrete applications, always secure the heat cable to the remesh at regular intervals.
In addition to following the instructions listed in the installation manual, refer to the snow melting system layout provided by Warmzone as well. NEVER lay the cable out like that as shown in the large photo on this page. The cable should never touch or overlap. In fact, the heat cable should never have a spacing of less than two inches. To turn the mats, simply cut the tape backing and then turn the mat accordingly.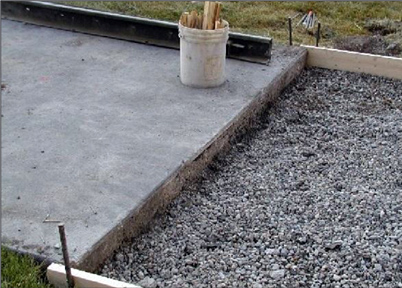 Make sure the splice and at least 6 inches of the power lead is embedded in the paved surface.
When installing an aerial snow sensor, make sure the sensor is mounted above the roof line and that it has an unobstructed 360 degree view of the sky. If there are obstructions nearby they will prevent snow from falling onto the sensor and the system will fail to activate.
Never run heat cable (or mats) through an expansion joint. All heating cable should be isolated to a single pour area.
Never use sharp metal trowels and shovels when tamping or spreading the concrete over the radiant heating cable. Great care must be taken to avoid damaging the outer jacket of the snow melting cable.
Never cut the heat cable.
Do not allow the heat cable to rest on the ground prior to your concrete or asphalt pour. The cable should be elevated about two inches from the driveway surface. Small plastic Mesh-Ups® (pictured below) can be used to support the remesh and prevent the heat cable from being pushed to the ground.
Whether you are installing a concrete, asphalt, or paver driveway, you can install radiant heat in your driveway. And for homeowners who have already built their home and driveway, but did not install radiant heat, it's still not too late. If you are facing a new construction project, or looking to modify an existing driveway, you can still enjoy the benefits of a radiant heated driveway. Call a radiant heat professional today to learn more about retrofitting your driveway or other areas with radiant heat (888-488-9276).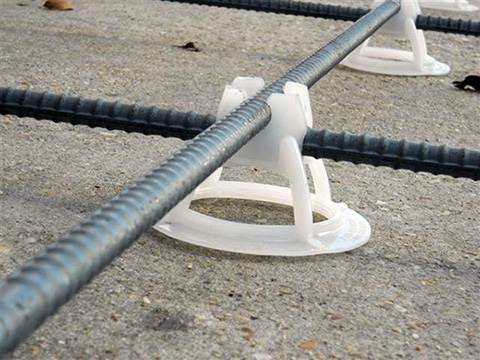 When it comes to installing a radiant heated driveway or floor, there are several do's and dont's. But the key thing to remember is that Warmzone is one of the few providers that offer legitimate, personal installation support and training services. Don't guess or assume when it comes to installing radiant heat. If you have a question during the installation process, you can consult the detailed layout provided as well as call one of our dedicated professionals on the support staff. It is in our best interest to ensure that your system is installed correctly, so we are happy to field your calls and help you address any concern regarding the installation of your heated driveway snow melting system. Call us at 888-488-9276 for more information; or visit our installation training course page and call 801.948.7545 to sign up for your free training today.
If you live in a cold region and you're growing tired of manual snow removal duties, call a radiant heat expert at Warmzone to discuss the many snow melting options that are available. Warmzone offers a variety of different radiant heat solutions and products, as well as complete radiant heat system engineering and design services. You'll also receive the best customer service and support in the business. Radiant snow melting systems can be easily customized to best meet your specific needs, so call a radiant heat professional and learn about the different products and layout options. Invest in your property by reviewing the custom snowmelt options available to you to ensure years of reliable, worry-free snow removal.
ClearZone® Electric Radiant Snow Melting Systems
Adding a radiant heated driveway to your home or commercial business enhances safety and adds value to your property. Please browse through our website to learn more about our nationally acclaimed radiant heat systems. You can also contact one of our radiant heat specialists by phone (888-488-9276) or submit your information to REQUEST A QUOTE.
Warmzone makes heating driveways a realistic option for today's consumer. Affordable, fully automated, simple to operate and remarkably effective, radiant heated driveways, sidewalks and walkways are energy-efficient, cost-effective options worth exploring. Contact one of our experts today at 888.488.WARM (9276), or send us the details of your project by email for a FREE QUOTE.