Hydronic Snow Melting Systems
Hydronic Radiant Heat Overview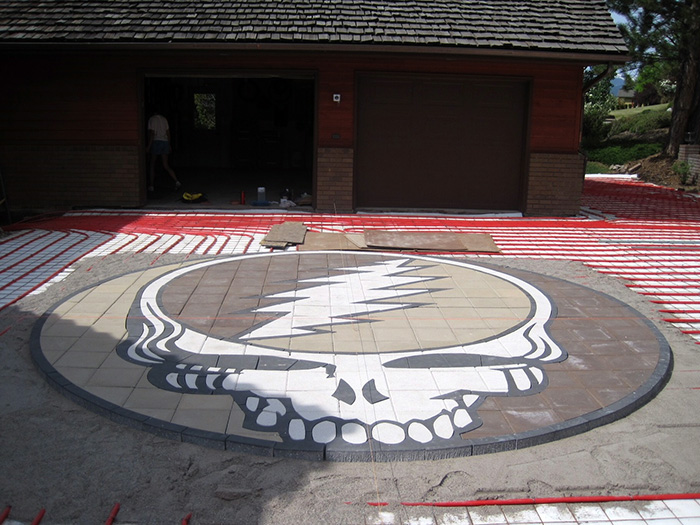 Hydronic radiant heat systems can often be installed to use the existing boiler or water heater. The liquid used for hydronic radiant heating systems consists of a special mixture of water and propylene glycol (anti-freeze). After being heated, the specialized liquid is then pumped through a network of specially manufacturered PEX tubing installed beneath the surface. (The tubing for hydronic snow melting systems can be installed in just about any medium, including concrete, asphalt, and brick or stone pavers, etc.) Ranging in diameter from ½ to ¾-inch, the flexible tubing can be curved to accommodate the various layout patterns needed. This unique tubing is designed to resist chemicals and corrosion without becoming soft at high operating temperatures or brittle at low outdoor temperatures. (NOTE: In many cases you can use the same water heater for your radiant heating system that you use for producing your domestic hot water.
A designated "mechanical room" is typically used to house the boiler (water heater), pump(s), manifold, valves, and controllers that form the complete hydronic snow melting system. Homeowners need to be aware of this as they consider their radiant heating options. And although the installation costs of a hydronic snow melting system can be considerably more than that of an electric radiant heat system, the operating costs can be lower. A hydronic radiant heat system's boiler / water heater can be found that uses the most economical souce for your area. Boilers can use propane, natural gas, oil, electricity, etc. For this reason large hydronic radiant heat systems may operate at a slightly lower cost than large electric snow melting systems.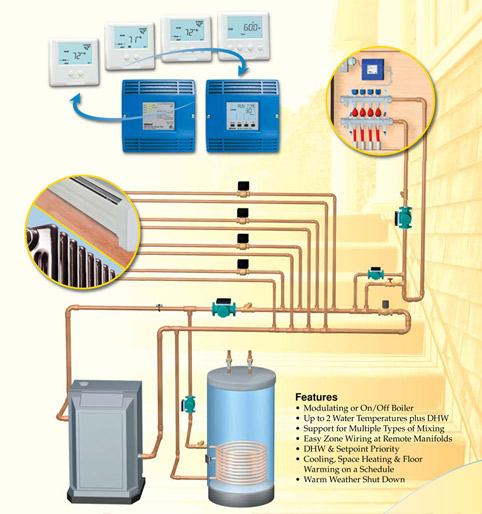 Snow Melting System Options
Warmzone snow melting systems can be designed to heat specific shapes and areas. You can install radiant heat to warm entire driveways or just heat two 24-inch wide tire tracks. Some customers choose to heat an 8-foot strip in the middle driveway, or a 2-foot wide path in the center of a sidewalk.
Whether you are looking to install a large driveway heating system or simply needing to install a minimal radiant heat system to melt snow in troublesome areas (such as a steep incline) so you can get in and out of your driveway on stormy winter days, Warmzone has the flexibility to meet all of your radiant heating demands.
The custom options are virtually unlimited, and we are happy to work with you to find the best, most affordable and efficient solution. Contact a Warmzone representative and discuss your snow melting needs, space requirements, and budget. You'll find our customer service is second to none, and you won't have to deal with high-pressure sales people. We've become a trusted leader in radiant heat solutions, so whether you're looking to install a system immediately, or just considering the options, the experts at Warmzone can help you make the best, most informed decision for your home or business.
For more details, call a radiant heat expert today at 888-488-9276.