Hydronic Snow Melting Systems
Overview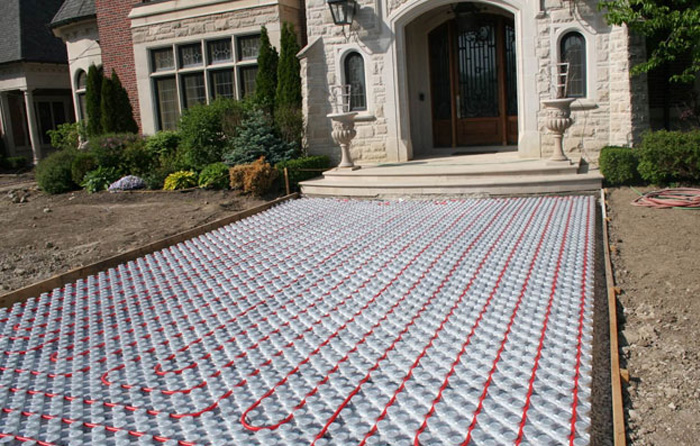 Hydronic snow melting systems utilize a mixture of hot water and propylene glycol (to prevent freezing) that is circulated by a series of pumps through a closed-loop of flexible polymer (PEX) tubing that is installed in the pavement (concrete, asphalt, or just about any medium). The liquid mixture is heated by a centrally located water heater (boiler) prior to being routed through the embedded PEX tubing to warm the driveway or sidewalks.
Because this hot water and anti-freeze mix retains heat for a long time after the boiler shuts down, the hydronic heating system can optimize energy usage, adding to its efficiency and making it environmentally friendly. Warmzone systems also feature highly efficient condensing boilers with an Energy Star Rating as well as industry-leading pumps, valves, tubing, and controls. The condensing boiler (water heater) can be powered by any energy source, including natural gas, electricity, oil, propane, wood, or even solar collectors. Because of this, large hydronic radiant heat systems may have a lower operating cost than equally sized electric snow melting systems.
Premier Quality Components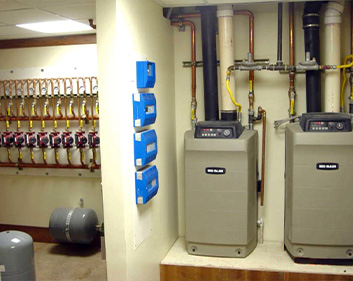 Hydronic snow melting systems from Warmzone feature the highest quality components and are fully automated. An aerial or pavement-mounted snow sensor detects precipitation and temperature conditions to activate the snow melting system only when it is needed.
Warmzone also provides a comprehensive engineered drawing of your system – prior to installation – to ensure that you not only receive the highest quality products, but that your system is designed to be the most efficient snow melting system that satisfies all of your custom demands.
When it comes to customer service and support, Warmzone is an industry leader. Our customer services include free installation training courses that can be taken via online video conference with an instructor. All aspects of your installation are covered, and you can stop at any time and ask questions. The course usually takes less than an hour. Warmzone also includes professional system design and engineering, and technical support during the installation. For more details, call a radiant heat expert today at 888-488-9276.