Self-regulating Roof De-icing Cable
Self-regulating heat cable is the optimum solution for heating roof gutters and drainpipes. The heat cable can also be installed along the roof's edge to help eliminate ice dams - the number one reason behind roof damage, and water damage inside homes.
This product should only be installed in accordance with local and national codes, ordinances, trade practices and manufacturer's instructions.
NOTE: In all locations, route and secure cable to avoid possible mechanical damage from equipment such as ladders, shovels, etc.
THE INFORMATION ON THIS PAGE IS NOT INTENDED TO TAKE THE PLACE OF THE INSTALLATION MANUAL. To ensure proper installation, carefully read and follow the instructions provided in the product documentation.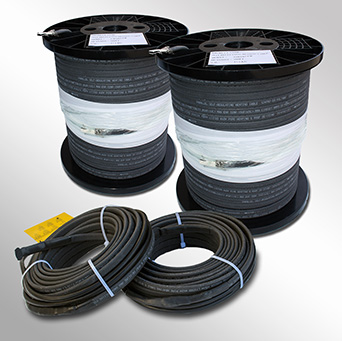 Self-regulating heat cable is one of the most affordable and recommended roof de-icing solutions available. The heating cable is easily installed in gutters, downspouts, and along roof eaves to help prevent ice dams and dangerous icicles from forming.
Self-regulating heat trace cable is effective and energy efficient. All Warmzone heat trace cable meets strict safety and performance standards. Warmzone's self-regulating heat cable features a rugged, durable outer construction to cope with harsh winter weather. The self-regulating properties allow the cable's irradiated conductive core to increase the heat output as the outside temperature falls and decrease the heat output if the temperature rises. This unique construction makes the heat cable durable, safe, and very energy efficient. Self-regulating heat trace cable is also used with other systems, such as Warmzone's roof de-icing panels. (See the information below.) For more details about self-regulating heat cable, or Warmzone's many custom roof de-icing solutions, call and speak with a friendly roof heating expert today at 888-488-9276