Different Types of Radiant Heat
Hydronic Radiant Heating Systems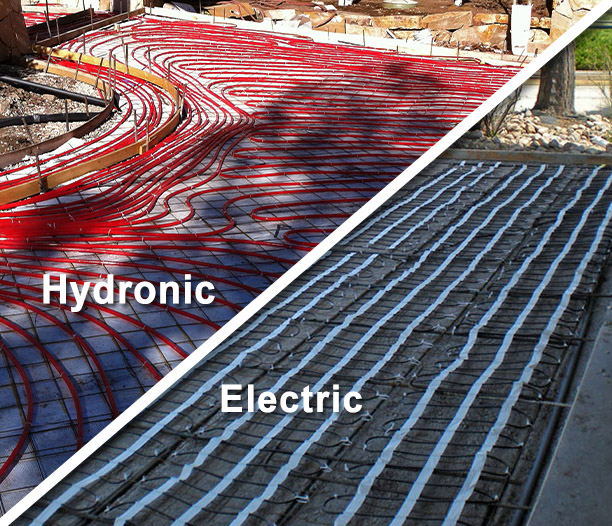 Hydronic systems utilize specially treated water that is heated and then circulated through a closed loop of tubing embedded in the driveway. The systems require a "mechanical room" that houses a boiler (water heater), pumps and manifold. The boiler heats the mixture of water and propylene glycol (anti-freeze) and then a series of pumps circulates the water through PEX tubing. The tubing is designed to resist corrosion and does not become soft at high operating temperatures or brittle at low outdoor temperatures. (Learn more about how hydronic radiant heating systems work.)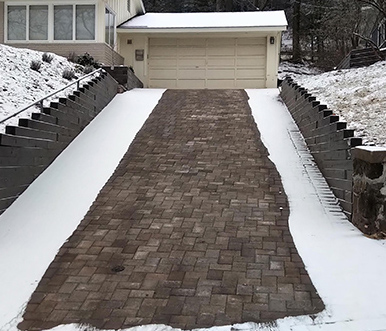 Electric Radiant Heating Systems
Electric radiant heat systems are maintenance free, operate silently, and feature rapid response times to efficiently heat surfaces quicker than hydronic heating systems. Hydronic snowmelt systems are usually a little more expensive to purchase and install; however, the operational costs can sometimes be lower, depending on the local fuel and utility rates.
Since both radiant heat systems have specific features and benefits, it is important for you to talk with an unbiased radiant heating expert to learn which system would be best suited for your home or business. In recent years, electric radiant heating systems have gained popularity because of their price, efficient operation and ease of installation. While hydronic heating systems may boast a lower operating cost, the uncertain future of non-renewable fossil fuels and local rates are issues that should be addressed prior to making any purchase.
For more information about automated, electric or hydronic heated snow melting systems, call and speak with a friendly Warmzone representative today at 888-488-9276.
Installing a Heated Driveway can be a Smart Investment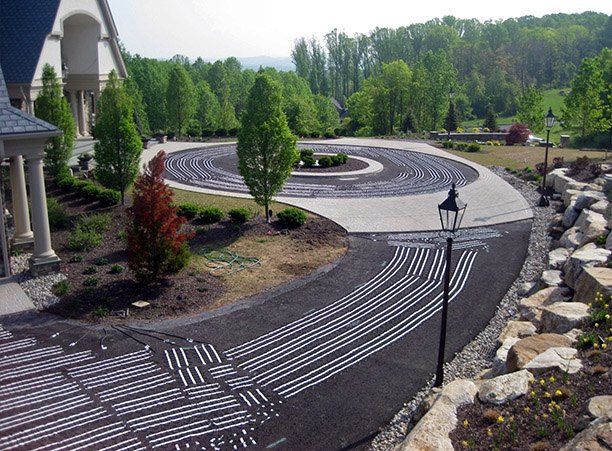 Installing a radiant heated driveway / snow melting system can benefit homeowners and businesses in many ways. Snowmelt systems eliminate the need for manual snow removal and the use of salt and harsh snow melting chemicals that cause environmental damage to the bordering landscape. The systems also enhance safety by keeping areas free of snow and ice 24/7. (For businesses, this is a particularly attractive feature.) Installing a radiant snow melting system can also add value to your property. In addition to raising the value of your home, the automated snowmelt system can also increase the lifespan of your driveway's concrete because there's no need for plows, shoveling or corrosive snowmelt chemicals. Radiant heat can also be instrumental in reducing the chances of spalling on concrete driveways.
Where, When and How do You Install a Radiant Heating System?
Warmzone heated driveway systems are highly customizable and can be installed in almost any configuration and medium, including concrete, asphalt, under pavers, etc. The most popular time to install a radiant heated driveway system is during the new construction phase. However, existing driveways and walkways can also be retrofitted with radiant heat systems. Grooves are cut into concrete or asphalt, using saw-cut technology. Radiant heating cable is then placed in the grooves and sealed into the cement (or asphalt) using an epoxy topcoat. Weather permitting, there are no limitations as to when a snowmelt system can be installed. For more installation information, view our Installation Tips web pages.
NOTE: While installing electric radiant heating cable in your driveway is surprisingly simple, it is important that all the electrical connections to the control unit be performed by a qualified electrician. Call us today at 888-488-9276 for more information, or to discuss your snow melting project.
Control Units and Sensors for Heated Driveway Snowmelt Systems
Electric snow melting systems utilize three components: the heat cable, contactor panel, and the snow sensor / activation device. The radiant heat systems that utilize an in-ground snow sensor feature a compact snowmelt controller, which is typically mounted on a wall in the garage. The advanced controllers offered by Warmzone are only 6-inches by 3.5-inches and feature an easy-to-use interface. Warmzone offers a manual timer in case you choose to pre-heat an area before a large storm to curb potentially high snow and ice accumulation, or melt snow or ice afterwards that has occurred as a result of wind (snow drift) or shade, etc.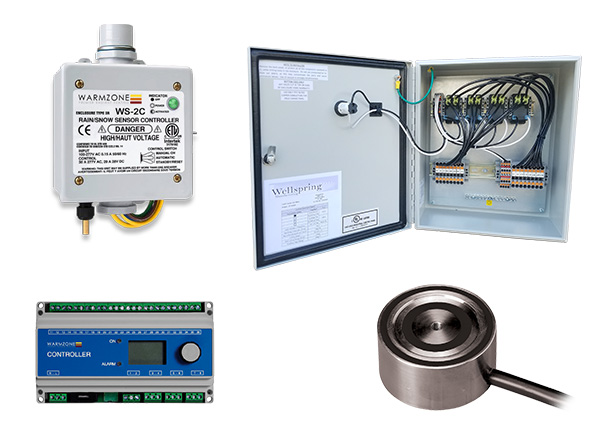 The automatic activation devices (sensors) include aerial-mounted or pavement-mounted snow switches. These sensors detect temperatures and precipitation, activating the system only when needed. When moisture is present and the temperature is below the set point (39°F.), the sensor signals the contactor panel, which then sends power to the heating element. Both aerial and pavement-mount sensors feature adjustable temperature set points.
What to Look for When Buying and Installing a Radiant Heated Driveway System
Radiant heat system components and driveway heating systems are available from several vendors; however, it is important to consult with and buy from an established leader that provides COMPLETE radiant heat systems and services. In addition to providing you with the best valued solution, your provider should also design the system (complete with a detailed layout) so that you know all the specs and power requirements prior to any installation taking place. The top radiant heat system providers will also offer expert technical support before and during the installation process. As part of its industry leading customer service, Warmzone also includes free installation training for installers.
Because Warmzone works with the top radiant heat manufacturers, we are able to offer a wide selection of products without bias towards any one system. This, coupled with unmatched customer service, is why building professionals consider Warmzone as a trusted partner, and a leading consumer and contractor advocate. The experienced professionals at Warmzone will identify the benefits and challenges of your project and recommend the system and layout that is best suited for the job. A detailed CAD drawing is provided with each custom radiant heating system that is customized for you. Check out some of Warmzone's residential and commercial snowmelt projects.
Warmzone has a growing network of experienced contractors across the country who are ready and willing to help, wherever possible. Contact us, or call us toll free at 888-488-9276.
---