Outdoor Heating Lends to Eating Atmosphere
Are you one of the many restaurant owners asking yourself "How can I improve my restaurant business in a struggling economy?" Many business owners are watching their once bustling eatery dwindle in happily paying customers. Consumers are tightening their own belts as a crummy job market and low economy hit many where it counts. This is leading to the dreaded trickle down effect that comes in a recession. Business owners everywhere are trying to find creative ways to convince spenders who want to spend more wisely, do so at their establishments. We are all fighting for customers so finding an extra edge is important when it comes to drawing them in. Outdoor portable heaters add ambiance and outdoor seating to diners craving fresh air without a "chattering teeth" sort of feeling.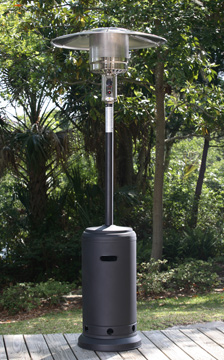 Walking around southern California recently, I was reminded again how valuable an outdoor heater could be to a restaurant. Many of us had flocked from our own wintery, white home towns, hoping to escape a bit of winter. While California isn't blanketed in snow it still cools down significantly at night, but those willing and eager to spend their money on a warm meal at someone else's table also want a bit of outdoor dining luxury. Especially if you are near the ocean. Listening to the waves crash and watching the sun set while sipping a nice drink is pure heaven in the winter months. As the sun sets and the cool air settles over the night sky, an outdoor heater creates a small glowing bubble of warmth around your outside dining area. Patrons seem to flock to these places that had created portable pods of outdoor heat, allowing people to soak in the beauty surrounding them but staying warm while doing it. As a restaurant owner, portable outdoor heaters set at key spots around your patio are likely to become your best friend.