The housing market across America is booming, and many homeowners are finding this to be the perfect time to add luxurious updates like radiant heat to their homes. Radiant heat's versatility makes it a perfect upgrade for many common household issues. Are you tired of shoveling snow from slick walks and driveways? Are forced-air heating systems aggravating your allergies or leaving you cold? Radiant floor heating systems can change that.
Warmzone is an industry leader with one of the largest selections of radiant heat products and services available. Warmzone's industry-leading products can be used to create a custom heating or snow melting solution for any home or business.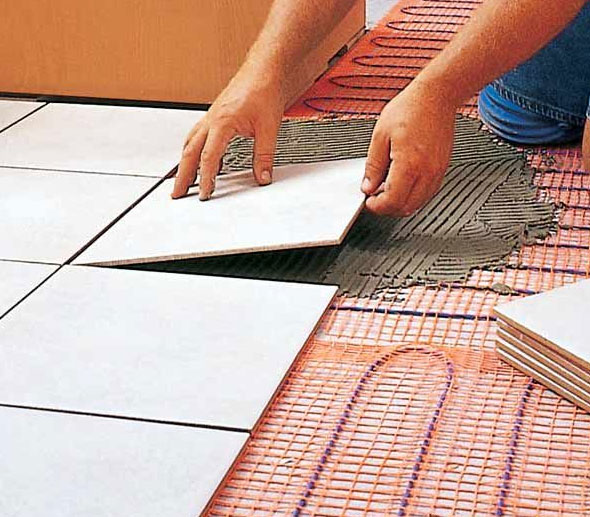 Warmzone's diverse selection of floor heating products makes it possible to heat any room in the home. Warmzone's ComfortTile heating cable is a trusted system found in homes across America. ComfortTile heat cable is available in spools or mats and is a popular choice for many installations. Heat cable off spools makes a great choice for odd-shaped areas or custom applications. If installing radiant heat in bathrooms or other spaces exposed to water, using the Prodeso membrane with the ComfortTile heat cable is an outstanding option. The Prodeso uncoupling, crack isolating, and waterproofing product has pre-engineered channels for the heating cable. It is ideal for indoor and outdoor applications.
Warmzone's floor heating product lineup also includes RetroHeat, a thin heating element for installing under existing floors. The heating panels are simply stapled up between the floor joists, and batt insulation is then applied to direct all of the heat upward, warming the floor. Warmzone offers many other efficient floor heating systems, assuring that every customer finds the perfect product to fit their specific flooring and heating needs.
Warmzone's extensive product lineup also includes solutions for harsh winter weather. Snow-melting and roof de-icing systems are easy, efficient ways to prevent snow and ice on driveways, sidewalks, or roofs and gutters. Damage from snow and ice buildup is a liability for home and business owners, and can lead to costly repairs. Installing a radiant heat system for your outdoor needs is easy and enhances safety, and helps to eliminate labor and wintertime stress.
Warmzone has multiple energy-efficient, easy-to-install products to meet the roof de-icing needs of any home. Two of the most popular roof heating options are self-regulating heat cable and the unique low-voltage RoofHeat STEP system. Self-regulating heat cable is available in a variety of standard and custom lengths. RoofHeat STEP features thin, flexible panels (available in multiple lengths) that installers simply roll out to install. These de-icing products will assure rooftops, gutters, eaves, valleys or any troublesome areas of the roof are clear of snow and ice. Self-regulating heat cable can be routed through gutters and downspouts, or zig-zagged along roof eaves to prevent ice dams by creating channels for runoff. The low-voltage RoofHeat STEP system's polymer heating elements can be installed directly under roof shingles or metal roofs to prevent snow buildup. Warmzone's roof de-icing systems can also be combined to create a custom de-icing solution for each situation.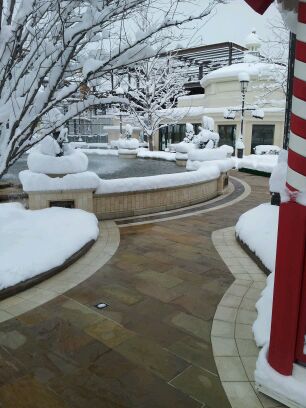 Snow-melting systems can also easily be customized. Warmzone's ever-popular ClearZone snow melting system is available in cables or easy to roll out mats. This proven snow melting system can be installed under almost any medium, including concrete, brick or stone pavers, or even hot asphalt. ClearZone electric heating cable's rugged, energy-efficient construction and reliable performance make it an industry leader. ClearZone heating cable is ideal for any snow-melting needs, and the option of cable or mats makes customization and installation easy. Warmzone's trusted snow-melting products will ensure reliable, maintenance-free, automated snow melting on driveways, ramps, steps, and more. An expert from Warmzone can help determine which products and design best suits the application. Warmzone also offers hydronic radiant heat systems. Depending on your needs, Warmzone will recommend the best solution for your heating and snow melting needs. No matter what radiant heat solution you're searching for, Warmzone has one of the largest selections of trusted products to choose from.
With Warmzone you also receive exceptional, industry-leading customer service. From the minute you first speak to a Warmzone expert to after the installation is finished, Warmzone offers customer support. Professional designers provide a custom layout of each system, which also includes all of the technical and electrical information for your installers. These custom designs allow for quick and efficient installation. Once the design is ready, installation support services are available. If an installer is needed, Warmzone can help find a certified installer in your area. Free installation training can also be taken online or in-person. A staff of experts also remains on hand should installers need to call during the installation. Even after the thorough training, sometimes questions arise during the installation. Warmzone is happy to stand beside you throughout the process to help ensure your installation goes smoothly.
As a leader in customer support services, Warmzone is committed to helping its customers and ensuring that every installation is completed quickly and correctly. Home and business owners can feel confident that every radiant heat system will perform as intended for years and years to come. Warmzone's customer support services and state-of-the-art products make it an easy choice. Warmzone assures that all the groundwork is complete so that adding radiant heat to any home is simple, easy, and worry free. Warmzone's extensive product selection and outstanding customer service simply can't be found anywhere else. Everything a home or business owner needs is available at Warmzone. If you would like to learn more about Warmzone's comprehensive radiant heat offerings, call and speak to a friendly representative today at 888-488-9276.