It's that time of year to dig out the coats, snow boots and Halloween costumes again. But there is still time to decide how you want to spend your time this winter season. Are you going to be laboring with your snow shovel to keep your walks and driveways clear, or are you going to relax and let a heated driveway do all the work?
A driveway heating system may seem like a luxury you can't afford, but Warmzone is making it easier than ever. Whether you want to heat an existing driveway or create a stylish new brick paver driveway, Warmzone offers the industry leading ClearZone snow melting cable to keep your driveway free of snow all winter long.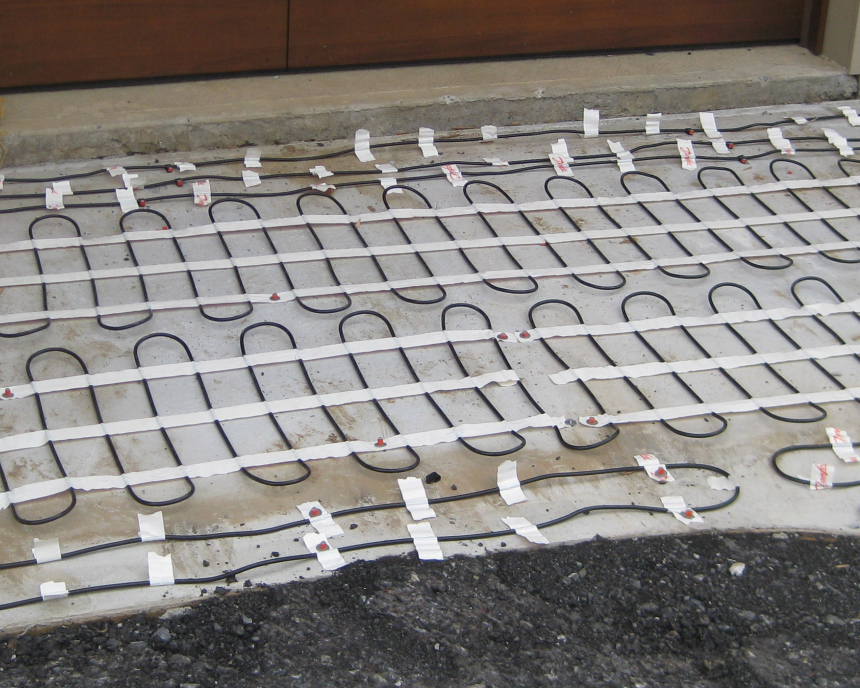 The ClearZone cables are ideal for melting snow in just about any outdoor area, including the growing trend for building outdoor living spaces for recreational and entertainment purposes. Past newsletters have highlighted outdoor living space projects, such as outdoor parlors, each of them using the CZ cables to ensure the ultimate in comfort, longevity and ease of use. An outdoor space is a great way to add value and comfort to your home, while still staying within your means.
ClearZone cables are made specifically to withstand the harshest construction applications and extreme weather conditions. Durable CZ snow melting cables can be embedded in concrete and asphalt, as well as under brick pavers.
Using concrete saw cutting technology, existing driveways, walkways, ramps and commercial areas can be easily retrofitted with a CZ snow melting system. Advancements in electric radiant snow melting systems have made these systems more energy efficient than ever (99 percent of power consumed goes to snow melting).
A ClearZone snow melting system is available in two different forms: cable on spools and pre-spaced in mats. The cable gives you added freedom when dealing with projects that involve odd shapes, or when installing a system into an existing concrete slab. The ClearZone snow melting mats are ideal for new projects because installation is quick and easy. Simply unroll the mat and continue standard install for concrete, asphalt and brick pavers.
Many snow melting systems on the market cannot withstand the harsh temperatures of new asphalt, and low-voltage systems do not pass the ASHRAE standard for snow melting systems. Warmzone offers the most comprehensive warranty on the market – 10 years and up to five times the cost of the original installation to repair any problems that may occur. Warmzone is a trusted manufacturer and provider of radiant heat solutions and has a worldwide reputation for making top quality radiant products.
Installing a snow melting system eliminates the need for harsh chemicals and snow removal devices, and will increase the life span of your driveway and the value of your home. Whether you're looking to install a heated driveway or create a new, warm outdoor space, Warmzone can help you plan a system that keeps within your budget and provides a lifetime of benefits.
For more information about CZ heat cable and snow melting systems, visit www.warmzone.com, or call 888-488-9276 today.
Project Spotlight – Heated Driveway in Pennsylvania
is newsletter is all about getting ready for winter snow storms with outdoor snow melting systems, so it seems fitting for our Project Highlight to feature a residential heated driveway installed by one of our longtime customers and veteran contractor, Nathan Moyer, from Accent Radiant Heating. This heated driveway turned out so beautifully, we've even featured photos from the project on our website.
The Riley family home is located in Milford, Pennsylvania, in a rural neighborhood that receives icy precipitation all winter long. The 1300-square foot driveway required constant maintenance, which became a problem for the Riley's, of whom suffer from back problems. The house sits on the top of a small hill, making their driveway incline at an approximate slope of 15 degrees. The incline and size of the driveway, combined with the physical challenges of shoveling the snow, made installation of a snowmelt system a necessity.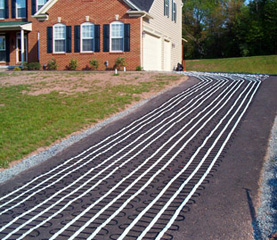 Prior to winter, the Riley's gave Accent Radiant Heating a call to explore their options for snow removal systems. Because their existing driveway was built of asphalt, Nathan recommended laying the heating cables on top of the old asphalt. The ClearZone snow melting system was recommended because of its' unique ability to withstand the high temperatures of the new asphalt.
Using the ClearZone mats snow melting system (with the cable rows pre-spaced and woven into a flexible mat), laying the cables for the driveway was simply a matter of unrolling and connecting four rows of CZ mats. Nathan installed the entire 1300 square feet of radiant cables in about three hours.
After the cables were installed, the new layer of asphalt was shoveled over the cables, using the standard steps for laying asphalt. The installation and wiring of the heating cables to the automatic sensor and control units took Nathan approximately five hours to complete.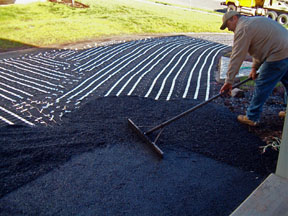 The end result was a beautiful new asphalt driveway and automated snow melting system that added only one day of work to a standard asphalt driveway repave.
If you are in the Pennsylvania area and are looking for indoor and/or outdoor radiant heat systems, Accent Radiant Heating offers expertise and outstanding service. Contact Nathan Moyer at 267-312-5099 for more information.
If you are out of this area and are interested in learning more about a snowmelt system, contact a Warmzone representative today or call toll free at (888) 488-WARM (9276).
Our knowledgeable staff of radiant heat experts will help you with all your questions and put you in contact with a qualified installer in your area.