Snow melting systems are popular options for both home and business owners in cold weather climates. Warmzone's ClearZone snow melting systems are energy efficient, and easy to customize and install in almost any area. Each system has a heating element, a contactor panel, and an activation device. These three components work together when cold weather hits to prevent ice and snow buildup. The activation device senses the ambient temperature and precipitation, and when conditions warrant, it triggers the controller and power is sent to the embedded heating cable, ensuring the heated area is clear 24/7. A ClearZone snow melting system will assure that winter is safe and hassle-free for any home.
ClearZone snow melting systems provide many benefits. Not only will driveways and walkways be clear, but time and money can be saved. There is no longer a need to shovel snow or pay to have snow cleared. ClearZone snow melting systems are also fully automated, so they only operate when necessary, and the system is designed so that operates until the snow is cleared. An "after run" function keeps the system on for a short time after a storm to dry the driveway or walks, and then it will shut down. ClearZone systems also have a rapid response time, so it heats the surface quickly to prevent snow from accumulating on the heated area.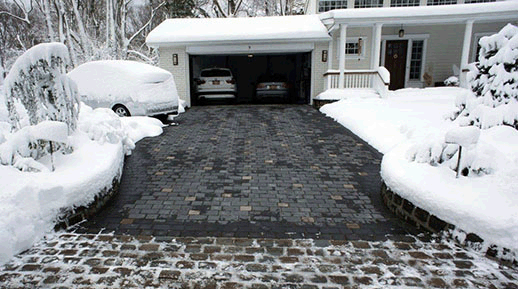 ClearZone systems are extremely versatile and can be installed in almost any application and medium. Whether you are looking to heat concrete, under pavers, or bricks, or even freshly poured asphalt, a ClearZone snow melting system is the best option available on the market. With its industry-leading heating elements (available pre-spaced in mats or individual lengths off the spool), ClearZone systems can be custom designed to fit any area, providing endless custom options that allow each customer's needs to be met. While the most popular choice is often to heat an entire area, custom installations are just as easy. Whether you want to heat two tire tracks, a strip in the middle of the driveway, a high traffic area, or even a small area such as an outdoor kennel, ClearZone snow melting systems can make it happen. Custom ClearZone systems can be installed in both residential and commercial applications. Here are just a few of the applications where ClearZone snow melting systems have been installed:
Driveways
Sidewalks
Outdoor steps
Wheelchair ramps
Shopping centers/malls
Churches
Winter resorts
Loading docks and ramps
Pedestrian bridges
Public transit stations
Runaway truck ramps
Warmzone also offers industry-leading customer service that includes professional design services that will ensure the system is designed for your specific snow melting needs and budget. Warmzone's customer service also includes free installation training and installation tech support to assure that each system installation is straightforward and painless.
ClearZone snowmelt systems also offer safety benefits that can't be beat, especially for business owners. An investment in a ClearZone system can protect customers from wet feet and slipping on ice, and help to protect business owners from costly litigation that can result from onsite injuries. Snow melting systems can also keep truck ramps, loading docks, and other areas of commercial businesses clear of snow and ice, keeping workers safe and assuring that business can continue operating at optimum levels, even when the weather gets cold. Clear walkways will help to keep your business steady and safe during the harsh winter months.
If cost is a concern, ClearZone's customization options can also accommodate the budget. A radiant heat expert will ensure that the perfect snow melting system is designed to meet snow melting needs in the most efficient way possible. Customers also wonder about operating costs of a snow melting system, but with an automated system operating only when needed, cost remains relatively low. The operating costs of a ClearZone snow melting system are often less than hiring a snow removal service, and 99 percent of energy used goes towards snow melting, making ClearZone systems extremely energy efficient. On average, an 800-square-foot area may be heated for around $3.55 for each hour of continuous operation. (This may vary depending on local utility rates.) Snow melting systems are also easy to install. ClearZone systems have a single-point connection, allowing for them to be installed quicker and cheaper than other available systems―without sacrificing quality. Electric snow melting systems from Warmzone also avoid costly maintenance, as they have no moving parts, making them reliable and virtually maintenance free.
With all the benefits of a ClearZone snow melting system, it's easy to see why home and business owners choose Warmzone. The perfect system can be designed to meet your snow melting needs and your budget to make sure your winter is easy and hassle free. Warmzone's experienced system designers will help you find the best products and layout to accommodate your needs, and provide real-time installation support and training. If you are looking for an electrician for your project, Warmzone also maintains relationships with top rated installers all over the country and may be able to recommend a reputable installer in your area. A snow melting system from Warmzone ensures that an affordable, durable, top-of-the-line, energy efficient system will be installed and operating at peak efficiency in no time at all.
If you have questions about customizing a snow melting system for your home or business, call Warmzone today at 888-488-9276.