Each spring, it's a good idea for homeowners to check their roofs and make sure they survived winter's icy barrage intact.  Look for damaged, loose and missing shingles, loss of granules on asphalt shingles, deterioration of the sleeves and flashing at vent pipes, and corrosion or damage of other roof flashing. ("Flashing" helps direct the flow of water around openings.) Also, take a look after any severe weather event.
Most roofs are designed to take the beating delivered by Mother Nature, but like everything else, roofs have an effective lifespan, so to prevent possible leaks and costly water damage it is recommended to inspect your roof twice a year. (Ideally, homeowners should inspect their roofs in the fall as well as in springtime.)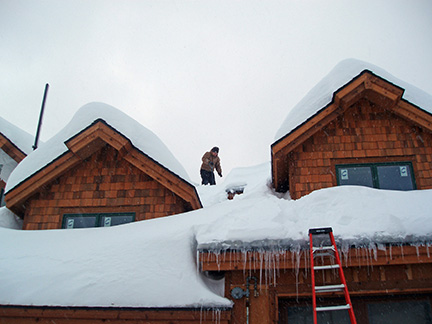 Roofs in cold climate areas are susceptible to gradual deterioration over the years as a result of repeated freezing and thawing of snow in areas where pockets of ice accumulates. Roof damage can be very subtle, but tiny problems can grow into large, costly problems that not only affect the roof, but the inside of the home as well. That's why careful inspection of the roof is so important.
The origins of roof problems and likely "leak points" are at its flashings (such as the drip edge, valleys, and wall-to-roof flashing). Penetrations such as plumbing vent pipes, chimneys and skylights are also more vulnerable to leaking. This means that a home with an elegant roof line that has multiple intersecting planes, a chimney and maybe a couple of dormer windows is more likely to leak than a simple gable roof on a rectangular-shaped house.
Most roof leaking is the result of an event, such as a strong storm followed by a threshold of deterioration after which the material begins to fail. Failure points can also be a result of manufacturing or installation defects. Also, ice dams are a common culprit when it comes to roof damage and water intrusion.
Snow and ice buildup occurs when runoff reaches the colder roof eaves and refreezes. Over time, the buildup increases, resulting in large rims of ice near the roof's edge that cause water to pool behind it. The pooled water seeps under the shingles and refreezes at night, which can threaten the roof's integrity and eventually lead to costly water damage inside the home.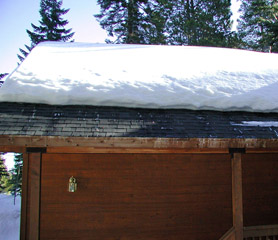 Self-regulating heat cable and low-voltage RoofHeat STEP systems are two leading solutions for heating roof edges and preventing ice dams. These automated systems keep roof edges clear of snow and ice, and the heating elements can also be installed in the roof gutters to further facilitate runoff. Ensuring that water and ice are never trapped on your roof offers peace of mind, knowing that ice dams are not threatening your home. View more information and options for heating your roof.
The Importance of Taking Care of Your Roof
Helpful Roof Information
A quality roof is the key protective element of your home. A poor quality roof can wreak havoc with the interior once it starts to leak. Staining, mold, and rot can be the results of water intrusion. So when it comes to installing your home's roof, keep these factors in mind:
Multiple-layer roof – A roof installed over an existing roof will have a shorter life.
Quality of roofing material – You get what you pay for. "Economy" roof materials have a shorter life
Installation – Sloppy or improper installation shortens roof life
Attic ventilation – An unventilated or poorly ventilated attic reduces roof lifespan.
Trees near the roof – Tree branches rubbing on a roof or the acidity from the accumulation of leaf debris on a roof can shorten the life of roof shingles.
Harsh climate – Severe weather, including hot summers as well as harsh winters. Dramatic temperature swings within a 24-hour period also shorten lifespan because of the rapid expansion and contraction of the roof materials.
Common Causes for Roof Leaking
Poorly installed or missing flashings
Incorrect installation of the roofing material
Temporary repairs with mastic or caulk
Ice and debris in gutters
Improper deck over roof or low slope roof used as a deck
Bolted-thru satellite dishes, solar systems
Damaged plumbing boots
Trees scraping or impacting the roof
Ice dams
Roofing material deterioration
To protect your roof from winter related damage, view our roof heating options page and contact a roof heating expert at 888.488.9276.
Additional Information
What is the Life Expectancy of a Roof?
The life expectancy of a roof varies, depending on the type of roofing material, the weather, and quality of the installation. With this is mind, here are some lifespan averages for the different types of roofs (based on "average" conditions).
Three-tab Asphalt Shingles: approximately 15 years
Architectural Asphalt Shingles: 24 to 30 years
Metal (Galvalume): 30 to 45 years
Concrete Tile: 35 to 50 years
Built-Up or Modified Bitumen: 10 to 16 years
EPDM (rubber): 10 to 16 years
Many factors contribute to the lifespan of a roof. Here are a few conditions that affect roof longevity:
Color of Roof – A dark roof absorbs more heat, which shortens the lifespan.
Angle of Roof Slope – Higher pitched roofs tend to last longer.
Orientation of Roof Surface – A roof slope facing south is exposed to more UV rays than other roof facings, and therefore results in a shorter life.