Roofs are an integral part of any home or business, but maintenance during the hazardous winter months can be difficult. Cold weather, snow, and ice can lead to many dangerous liability issues for homes and businesses. Dripping water can cause icicles and black ice on walkways, leading to injuries and liability issues. And ice dams along roof eaves can eventually lead to roof damage.
An ice dam is a ridge of ice that forms when snow and ice melt and then refreeze on a roof. Heat from the attic can warm the roof and melt the bottom layer of snow. The runoff trickles toward the roof's edge where it hits the cold eaves that cause it to refreeze. As it freezes, it forms a small ridge of ice. As addition water reaches this ridge, it also freezes, resulting in an ice dam that prevents water from draining properly. Once the dam is formed the melted snow is trapped, and pools behind the dam. The water can seep underneath your shingles and freeze again, threatening the integrity of your roof. Over time, roof damage can result, which may lead to additional problems inside the home. Seepage can find its way into the house where it may bring about costly problems, such as mildew or mold.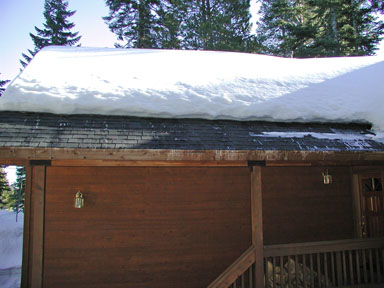 The most efficient solution for ice and snow problems on any property is a roof de-icing system. Warmzone offers two of the industry's most efficient and trusted de-icing solutions: the RoofHeat STEP low-voltage roof de-icing system and the RoofHeat self-regulating heat trace cable. Both systems are operating in residential and commercial structures throughout the country.
When looking for roof de-icing options, determining the best products depends on the size, type, and construction of the roof, as well as regional weather conditions and performance requirements of the system. Taking these factors into consideration will help to ensure that correct components are used and installed correctly.
Warmzone's self-regulating heat trace cable is an industry-leading product that is an affordable option for any home or business. Its superior construction makes it safe, effective, and energy efficient—the three key qualities of any roof de-icing system. Warmzone's self-regulating heat trace cable is UL recognized under appliance classification file E 76498 and meets NEC codes section 426a, and also comes with 10-year warranty against manufacturer defects. The self-regulating cable features a durable UV stabilized outer casing built to withstand harsh winter weather conditions. The heat cable has an irradiated conductive core that regulates the heat output, increasing output as the outside temperature falls, and decreasing output as the temperature rises. Roof de-icing systems with self-regulating heat trace cable offer homeowners an affordable solution for heating roof edges, gutters, downspouts, and more. Installing a heat trace cable system is the ideal choice for those with a tighter budget.
Each self-regulating heat trace cable system consists of cable, a thermostat, and an activation device so that owners can operate the systems manually or set them to be fully automated. Running the heat cable along gutters and downspouts provides an excellent means for facilitating runoff, while keeping gutters free from the damaging effects of heavy snow and ice buildup. Using heat trace cable to heat specific trouble spots and roof valleys is also a cost-effective choice that will facilitate proper drainage. Warmzone's roof heating cable is also consistently recommended for heating roof edges to prevent damage from ice dams and frost erosion. Heat cable is easily installed on roof edges. It is attached with special roof clips in a zigzag pattern along the entire edge of the roof eave. To create drip channels, the cable is installed to overhang an extra 5-inches on roofs with gutters, and 2-inches for roofs without gutters. Heat trace cable is also a great choice for pipe tracing in commercial or industrial applications to prevent pipes from freezing.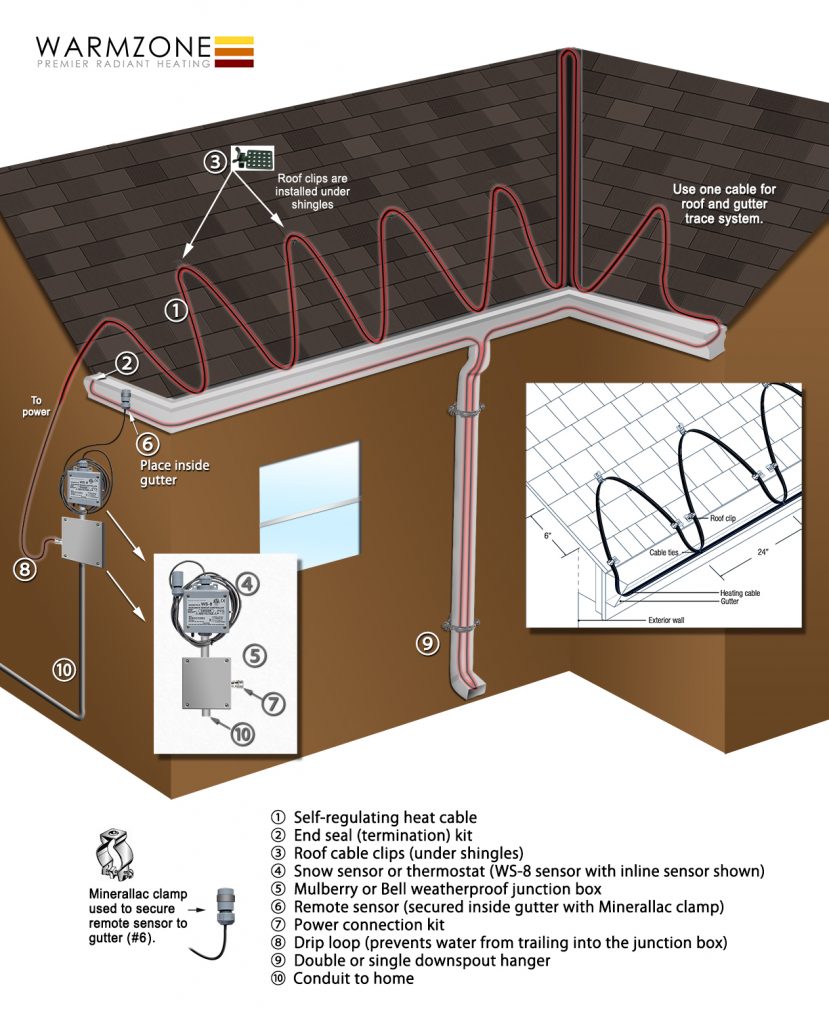 The RoofHeat STEP low-voltage system from Warmzone is the premier roof de-icing solution for almost any application – including metal roofs. Not only is it one of the most trusted and comprehensive roof heating systems available, but it is a perennial favorite of roofing professionals. Rather than cable, RoofHeat STEP's heating element is a thin (3/64-inch thick), semi-conductive, polymer heating panel that is polypropylene fused during fabrication to increase its durability, making it waterproof and protecting it from alkaline or salt damage. The element is a discreet, flexible panel that is installed directly under shake, asphalt shingles, or even metal roofs. The lightweight (.23 pounds per foot) heating element can also be cut onsite, nailed and stapled through, and is also available in multiple widths (3, 6, 9, and 12 inches). All these factors make installation quick and easy for any rooftop. RoofHeat STEP also comes with a 10-year warranty against manufacturing defects.
The low-voltage system is also self-regulating, and utilizes transformers to operate the system. Each section of the roof is connected to a transformer that will step down from high to low voltage (60 volts or less), and monitor the heat output to the self-regulating heat element to allow for optimal performance. An automatic sensor will detect precipitation and temperature to trigger the control panel, which then sends power to each section. This system setup will assure any roof is heated accurately, evenly, and cleared of snow and ice, while being extremely energy efficient. RoofHeat STEP is a great choice for any home or business, but is better at clearing snow from large areas or entire sections of the roof than self-regulating heat trace cable. It is especially effective at preventing ice dams, and will also keep roof eaves, valleys, or trouble spots completely clear of snow and ice.
The preferred activation device for this de-icing system is the advanced STEP Touch Thermostat. This industry-leading advanced thermostat has a beautiful, modern design sure to please any homeowner. Simple to use with only two-control functionality, it is maintenance free and will work perfectly with the low-voltage system, or any radiant heat system from Warmzone. It has a 3-digit LED display, interfaces with smart-home systems, and has a permanent memory that will recover all settings in the event of a power failure.
An automated roof de-icing system like RoofHeat STEP is key for effective and efficient roof de-icing and preventing hazards at homes and businesses. When working with Warmzone, each de-icing system is custom designed to meet the customer's budget and de-icing needs. Professionals will consider each aspect of your roof, such as layout, roof medium, budget, and other factors to find the solution that gives you the best roof de-icing system.
In addition to providing a professional layout/design of the roof heating system, Warmzone also offers free installation training and technical support during installation. Customer service professionals from Warmzone are available to assist with any questions to assure installation goes off without a hitch.
If you would like more information about Warmzone's roof de-icing systems, reach out to us today and speak to a customer service professional at 888-488-9276.