Installing a snow melting system is one of the best ways to give any home or business a much-needed upgrade this fall. An industry-leading snow melting system from Warmzone is an investment that will enhance safety and convenience each winter. Without the hassle of back-breaking shoveling, any homeowner can stay warm and toasty during winter storms, while pedestrian traffic remains safe.
With multiple options suitable for any application or medium, making the right choice can be tough. At Warmzone, exceptional customer service means anticipating questions and concerns that customers have. If you're thinking about adding a radiant heated driveway to your home or business, please call a friendly radiant heat expert today at 888-488-9276. Also, check out these frequently asked questions about snow melting systems.
How do heated driveways work?
Heated driveways are an energy-efficient, environmentally friendly way to keep any driveway free of snow and ice. Warmzone's heated driveway systems are fully automated, and include a heating element, activation device, and controller. This means that the snow melting systems only operate when weather conditions warrant. When the activation device (either a pavement-mounted snow sensor or an aerial-mount sensor) detects moisture, and the temperature is below the set point (usually 39°F), it signals the system controller. The controller then sends power to the heating element that is embedded in the driveway. The heated area will begin to warm, preventing any snow accumulation.
What are my layout options?
Warmzone has an array of trusted products and endless customization options to suit the needs of any home or business owner. Based on your budget and performance needs, Warmzone's professional designers will create a custom configuration, utilizing the best components for your project. ClearZone heat cable is the trusted option for keeping driveways, sidewalks, ramps, steps, and more clear of snow and ice. The versatile heat cable is available off spools or pre-spaced in mats for quick and easy "roll-out" installation. ClearZone snow melting systems are proven systems that have been installed in residential and commercial applications throughout the country.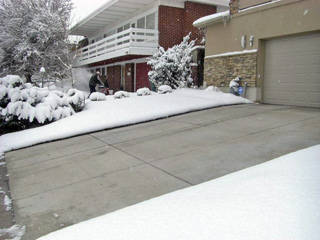 Warmzone professionals can customize your snowmelt system to meet virtually any layout requirement, as well as accommodate your budget. When working with Warmzone, you have a wide range of options for your snow melting needs. For example, instead of heating your entire driveway, you may prefer heating only an 8-foot wide strip in the middle of the driveway. Or you can install two 24-inch wide tire tracks for the length of the driveway. You may also choose to only heat trouble areas, such as inclines, or a section of the driveway that is always shaded, or areas with high-traffic. Warmzone professionals have decades of experience designing custom radiant heat systems that meet the specific requirements of our customers. Whatever your snow melting needs and budget are, Warmzone professionals will create the ideal system for your project.
Is installation difficult?
Snow melting systems are not difficult to install, but it is vital to have a qualified electrician wire the system (to ensure that the warranty remains valid). Keep in mind that a snow melting system is only as good as its installation, so take advantage of Warmzone's industry leading customer support services, such as the free installation training and technical support. Radiant heat experts are available anytime for questions, and instructional videos are also available online to assist you during installation. Taking advantage of these services will prevent stress and save time during installation.
Following proper installation techniques help to ensure that radiant heat systems perform as intended. Here are some basic guidelines when installing a snow melting system:
Never cut or alter the heating element.
ClearZone snow melting mats may be cut to size and trimmed on-site, but do not cut the actual cable. If there is extra cable, utilize it by decreasing spacing (minimum spacing is 2-inches) or routing cable around the perimeter within the heated area. To make turns, cut the tape backing of the mat (not the cable) and then route the cable accordingly.
Heat cables must never touch, cross, or overlap.
Touching cables will cause cable burnout due to excessive heat. Always maintain a minimum spacing of at least 2 inches.
Use special care when working around the heating cable.
Tools such as trowels, shovels, or rakes can damage cable. If possible, avoid using steel trowels, and take care when using shovels during concrete or asphalt installations.
When working with concrete, heat cable must be attached to remesh with zip ties or cable strapping.
Use Mesh-Up support chairs for the remesh and then secure the heat cable to the remesh. This helps to prevent the cable from being pushed down by the weight of the concrete pour. The heat cables should be about 2-inches below the driveway surface for optimum performance.
Heating cable should never pass through or cross an expansion joint.
Heat cable must be ¾ to 1-inch from the bottom of a control joint and isolated to a single pour area. When installing in concrete, never run the cable through an expansion joint.
What are the power requirements?
Warmzone's automated snow melting systems only run when conditions warrant, so they are very efficient. Prior to the installation, have a qualified electrician evaluate the available power. Typically, homes have either a 100 or 200 amp breaker panel. For most snow melting systems, one 30-amp breaker is enough to heat a 170 square-foot area. That means heating 350 square feet requires two 30-amp (or one 60-amp) breakers. If the power at your home is insufficient, it is still possible to reap the benefits of a snow-melting system.
Warmzone designers can employ a technique called zoning. The area to be heated is divided into individual zones. Power is sent to each zone separately to optimize available power. Warmzone also offers a new sequencer that will "bounce" power from zone to zone. This sequencing allows larger areas to be heated almost simultaneously with a minimal increase in melt time. This technology is far more efficient than traditional prioritized zoning. With Warmzone's industry-leading technology, any home or business can enjoy an automated snow melting system.
How much do heated driveways cost, and what are the operating costs?
Warmzone designs snow melting systems according to ASHRAE standards, whereby the average temperature and snowfall of each location is taken into consideration. This ensures that Warmzone snow melting systems are effective and cost-efficient. For an average snowstorm, the operating cost of a radiant heat system is usually less than what you'd pay for a professional snow removal service. Keeping areas free and clear of snow each year is no longer a chore, and can save you a great deal of time and stress. Radiant heat for snow melting also extends the life of concrete driveways and walkways. Abrasive snow removal methods, chemicals, or salt are no longer necessary, keeping concrete looking new for years to come. Determining approximate operating costs can also be done with a simple calculating operation costs formula.
What kind of support services does Warmzone offer?
Warmzone prides itself on its premier customer service offerings. Working with Warmzone starts with professional design services for every client. An experienced radiant heat system designer will work hard to consider every aspect of your project in order to meet your snow melting needs and your budget. Customers will receive a detailed AutoCAD that provides all the necessary information needed before installation. The layout, materials, and all electrical information such as load calculations, number of breakers, and breaker sizes are all included.
Warmzone also offers free installation training and technical support for installers. Professionals are available to answer questions anytime and training is available online via web conference, or in person. You can also access the wealth of online resources Warmzone has available. Whatever you need, Warmzone's dedicated and trusted experts will provide superb customer service through every step of the process.
For more information, call a friendly radiant heat expert today, at 888-488-9276.