Radiant Snow Melting System for Heating Asphalt Applications
Radiant heat is one of the most popular amenities on the market for home and business owners. Warmzone's industry-leading products allow any homeowner to heat their home or keep their driveways and walkways clear of snow and ice.
Snow-melting systems are one of the most popular home upgrades today. These state-of-the-art systems are smart investments and help to make winters safer and hassle-free. Warmzone's ClearZone snow-melting systems eliminate the need for shoveling and applying salt or ice-melt chemicals. Snow-melting systems are exceptionally versatile. Specially designed products are available for installation under any medium, including concrete, pavers, and even fresh asphalt pours.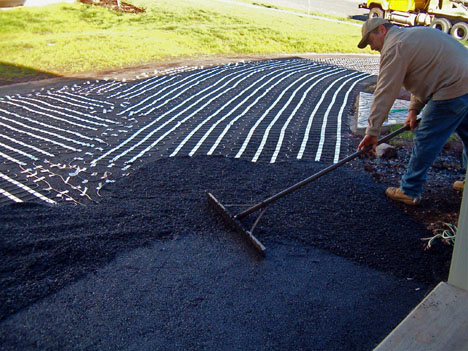 Warmzone's ClearZone heating cable for asphalt is an industry-leading product that's designed specifically for the rigorous demands of hot asphalt applications. The asphalt heat cable is rated for a temperature of 464 degrees Fahrenheit (for up to 10 minutes), making it capable of coping with the extreme temperature as well as the compression aspects of hot asphalt installations.
For added versatility, ClearZone heating cable for asphalt is available in pre-spaced mats or can be custom ordered in coils. Mats are effortlessly rolled out onsite and make a first-rate option for heating an entire surface or any standard-sized area. Customers often use mats to install two 24-inch wide tire tracks as well. Another popular option for heating the entire driveway is to install mats to heat an 8-foot strip in the center of a driveway. Using coiled cable gives installers the flexibility to heat any uniquely shaped areas. This flexibility makes it the best choice for heating small or odd-shaped spaces where snow and ice may be a pressing problem – such as shaded areas, inclines, or areas prone to run-off.
ClearZone heating cable for asphalt is part of a fully-automated snow-melting system. When precipitation is detected, and the temperature is below the designated set point, aerial or pavement-mounted sensors will automatically engage the cable to warm the surface and prevent snow from accumulating. The system remains on for a short time after the storm to dry the surface, keeping the area safe from dangerous "black" ice.
Installation is a simple process, but any snow-melting system is only as good as its installation. Regardless of the medium, installers should follow a few basic rules during installation. It is critical to take advantage of Warmzone's industry-leading customer support services. One of the most valuable services is Warmzone's free installation training. Installers can take the training course in person or online via web conference. The training is typically completed in less than an hour, but installers can stop and ask their instructor questions at any time.
Even after receiving the installation training, installers may still encounter questions during the installation. That's way Warmzone's technical support staff is on hand. Radiant heat experts are available to answer any questions you may have during the installation. Utilizing these services can help prevent stress and save time during installation. Because Warmzone maintains a list of experienced installers and electricians in your area, our customer service specialists may also help you find a qualified, favorably reviewed electrician to wire your system.
Warmzone also provides a detailed AutoCAD design and layout of the system. This layout includes all information needed for your electrician to complete the installation. Each layout contains the number of breakers, their sizes, and proper load calculations, as well as the configuration of the heating elements, components. Referring to your AutoCAD layout often will help to ensure a successful installation.
When preparing for installation, be sure the area is clear of any debris that may damage the heat cable. Once your surface is ready, lay the cable or mats on the area to be heated. To make turns with the heating mats simply cut the tape backing of the mat and route the cable accordingly. (NEVER CUT THE ACTUAL HEAT CABLE.) If there is excess cable, you can decrease the spacing slightly, but remember that the minimum spacing between cables is 2-inches. The cables must never touch, overlap, or cross. It is also essential that heat cable or mats never run through an expansion joint. Once the cable is laid-out, the medium can be applied directly on top. Asphalt often requires tools such as shovels, rakes, or trowels. When using a shovel to spread asphalt, never dig straight into the asphalt. Carefully skimming the top will help avoid damage to the heating cable. The cable should be embedded under at least 2 inches of asphalt.
If you have an existing asphalt driveway, and want the benefit of a snow melting system, don't despair. Retrofitting the asphalt surface with ClearZone heating cable is easy. Simply lay the cable out over the original layer of asphalt and secure it, then apply new asphalt over the cable. Retrofitting concrete and paver driveways with heat cable is also possible. Call a Warmzone radiant heat expert to learn more.
Following the installation instructions is crucial, but the most important recommendation is to take advantage of Warmzone's free installation training course. Courses taught by skilled instructors will help to ensure that your project goes smoothly. The training covers all aspects of your installation. Learning from an experienced instructor with valuable knowledge will help you avoid costly mistakes that will affect the longevity of your system.
Warmzone's array of products and superior customer service make installing snow melting systems a realistic option for homeowners. Materials like specially designed ClearZone heating cable for asphalt make Warmzone an industry leader with options for any customer. No matter what area, medium, or budget, Warmzone has you covered. If you're ready to learn more about asphalt heating cable or other specialty radiant heat solutions from Warmzone, call and speak to a customer service professional today at 888-488-9276.