No Need to get Cold Feet over a Chilly Winter
For the drought-stricken West, the record-setting winter of 2022-23 is just what the doctor ordered. California reservoirs are finally filling up to respectable levels, and "extreme" drought conditions in most areas have almost been completely eliminated. An abundance of snow and rainfall has saturated much of the dried-out country, but Old Man Winter still isn't done yet.
While the cold, wet winter weather may not be fun to drive in, a snow-covered landscape sure can be a pretty sight. For those times when you don't have to be outside, what better way to enjoy the white winter scene than from the warmth of a home with radiant heated floors? With the exception of the beautiful view, the enveloping warmth provided by a heated floor may almost make you forget that it is still winter.
Radiant heated floors offer luxurious heat that starts at the soles of your feet and gently bathes the entire room in comfortable warmth. The comfort provided by heated floors far surpasses that of traditional forced-air systems. In addition to offering uniquely rich warmth, radiant heat is also the most energy-efficient technology for heating homes today.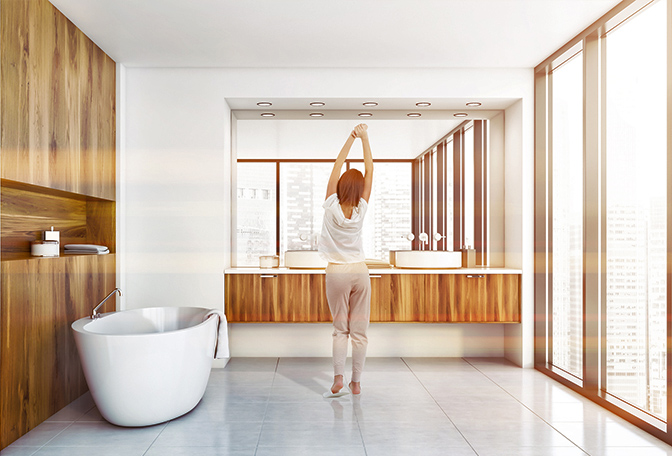 When it comes to heating your home with radiant heat, homeowners have many options to choose from. While many install radiant heat as their primary heating source, another popular option is to install radiant heat in select rooms as a supplement to the existing heating system. Homeowners often heat kitchens, children's playrooms, and bathrooms with radiant heat. Floor heating systems are easily customized, giving home (and business) owners precise control over what areas to heat.
Warmzone offers one of the largest varieties of radiant floor heating systems on the market. Each system is specially designed to accommodate specific floor types and user needs. Whether you have hardwood, tile, luxury vinyl, laminate, or any other floor type, Warmzone can match you with the ideal system to meet heating needs as well as your budget.
For heating tile, marble, and other stone floors, the most popular system is ComfortTile. This floor heating system consists of thin heat resistance cable that is available on spools or in mats. The mats feature pre-spaced cable that is affixed to a flexible mesh with an adhesive backing. The mats can be rolled out and secured to the subfloor quickly and easily.
ComfortTile heat cable can also be combined with the Prodeso underlayment membrane. The waterproof membrane is placed over the subfloor, and the heat cable is installed in the channels provided by the series of reliefs in the waterproof membrane. Thinset is applied and the tile (or other flooring) is then installed over the membrane and cable. The Prodeso membrane can be used with most types of flooring, in all types of indoor and outdoor applications. installation of ComfortTile with the Prodeso membrane is fast, easy, and accurate.
The most popular system for heating floating floors is Warmzone's FilmHeat system. This unique system features an ultra-thin heating element. The heating panel is just 0.016-inch thick, which is thinner than a credit card, and has proven to be one of the best values for heating laminate and floating floors. No alarms, no special tools, and no self-leveling compounds are needed, and installation results in no floor buildup.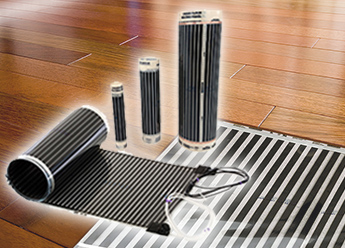 Another type of floor heating system featuring this same type of thin heating panel is the RetroHeat system. This system allows homeowners to heat existing floors, without the need of major remodeling. If you have access to the floors from a basement or crawlspace, the RetroHeat system can be installed. The heating panels are stapled up between the floor joists and then batt insulation (also known as blanket insulation) is installed over the element to direct all of the heat upwards to warm the floor.
Warmzone also carries the low-voltage FloorHeat STEP system for heating hardwood floors. The low-voltage system utilizes thin, flexible polymer heating panels. Because these panels are so thin, there is virtually no floor buildup.
In-Slab heat cable is also available. This durable cable is designed for installation in concrete slabs. This is an ideal system for heating basement floors, or other floors over concrete. The system is extremely efficient, affordable, and highly effective.
Warmzone offers other floor heating options, including hydronic systems. These systems use specially treated water that is heated and pumped through a closed loop of PEX tubing in the floor. While the installation cost of hydronic heated floors can be considerably higher than that of an electric system, because the water heater can use natural gas, the operational cost may be lower – depending on your local utility rates.
Warmzone is one of the largest providers of floor heating systems, as well as heated driveway and roof de-icing systems. For more information about radiant heat, and the many custom options that are available, contact a friendly Warmzone representative today, at 888-488-9276.