Unmatched Support and Design Services – Reasons why Warmzone Heated Driveway Systems are Better than any Other
When shopping for a radiant snow melting, floor heating, or roof deicing system, there are several factors to take into consideration to ensure that you install the best system for your needs and that it will perform the way that you want it to. With so many options out there, it can be difficult for homeowners to narrow down the field of potential system providers. So when it comes to installing a heated driveway or floor, what are the key factors to look for? What factors distinguish one system over another?
Certainly you'll want reputable, proven system components. For a heated driveway / snow melting system this includes the heating element (cable), snow sensor, and the contactor panel or controller. A quality system begins with quality components. This is an area in which Warmzone excels.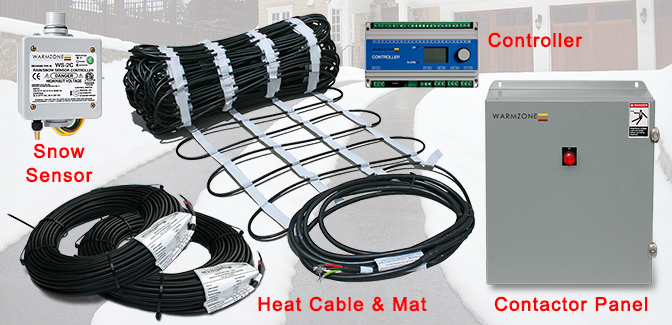 But a few providers may offer some components of similar quality. So, to further separate the "great" from the "good", we need to take some other factors into consideration. If you're sure that you've found the highest quality system components, you'll next need to find out what services are included with those quality components. What role will your provider play in regards to the installation of those top quality components?
Genuine Customer Service versus Customer Service Hype
When it comes to service, too many radiant heat system providers deliver lip service rather than genuine customer service. Few businesses have a trained, dedicated support staff, so installers often end up speaking with sales people or whoever else happens to be free at the time of the call. But radiant heat customers deserve better. Great customer service not only means friendly, technical installation support, but includes accurate system design and layout services.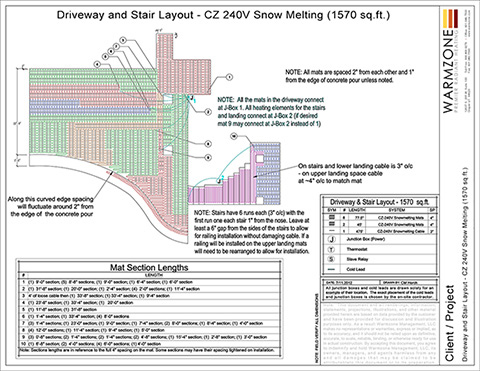 It is vital that you have a detailed layout of your system. This not only includes a "road map" of how your heating cable is laid out, but also where and how it is wired to the contactor panel and activation device (snow sensor). The system layout must be created by an experienced designer and electrical expert. Professional system designs should also contain all the technical information for your electrician. Every aspect of the snow melting system should be included so that your electrician and installer know every detail prior to installing any heat cable.
Warmzone offers an AutoCAD drawing of the layout with all the technical information necessary to move forward with the installation. System layouts should include proper layout and materials, proper load calculations, breaker sizes, number of breakers, etc. We make sure that your installer and electrician have all the information necessary to begin the install with confidence. And that includes free installation training.
Honestly, what makes Warmzone Different? 
Warmzone's pre- and post sales support is unmatched. We won't abandon you after the sale. We answer your questions, evaluate your project needs and then assist you before, during, and after the installation. Here are some specifics that identify why we're so different:
Pre-sales system design – Warmzone provides pre-sales system design services. This is offered to ensure that the system meets all of your requirements. There's no need to purchase a system and then worry whether it will perform adequately for your specific application and layout. If you choose to move forward with the purchase, Warmzone will include an AutoCAD layout at your request.
Free Installation Training – Knowing how vital the proper installation is, Warmzone provides free installation training for installers and electricians. We'll cover all the aspects of your specific installation, and we'll be available if you have any questions during the install. This training is invaluable for installers and a great benefit to homeowners.
Technical Support – While installing a radiant heating system is relatively easy, and the installation manual covers all aspects of the install, sometimes it still helps to talk with an expert. Warmzone has a dedicated staff of support personnel available to answer your call. If an installer or electrician has questions during the installation, he/she can call and speak with an expert who will work with them to resolve the issue at hand.
Programming the Controller – We assist in programming the controller based on ASHRAE standards. (The settings depend on the ASHRAE standards mandated for the specific area where your system is installed.)
Commissioning Large Systems for Service – Warmzone support experts are also available to assist customers in the startup and commissioning of large systems for service. For example, for a heated runaway truck ramp in the Northeastern U.S., a Warmzone expert not only provided technical support onsite, but commissioned the system after the installation to ensure optimum performance.
Special Equipment – On rare occasions, an installer's helper may accidentally damage the cable during the installation, but then not mention it so as to avoid repercussions. Then the concrete is poured but the system doesn't perform as it should. Warmzone has the equipment to locate and repair the cable fault, so there's no need to tear up a large portion of the driveway. This is a service that few – if any – other providers offer.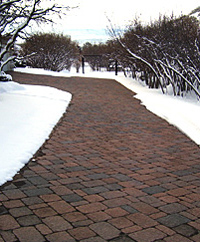 Warmzone installation experts are available to walk installers through the installation process, and they continue to be available after the system is installed. This ensures that all the customer's questions are answered and the automated system is ready for the first snowfall.
Warmzone focuses on the long term goal of making customers happy rather than just selling snow melting systems. For customers to be satisfied, they need to be treated with respect and work with a friendly support staff that goes the extra mile. With our staff, we can provide consumers with expertise and genuine, personal support services that make them feel more like a partner than a customer.
For details about our products and services, contact a friendly professional today at 888.488.9276.