Warmzone Sets the Gold Standard When it Comes to Customer Service
Tis' the season for construction and home improvement projects, but finding the right provider and installer for your radiant heat installation can be tricky business. That's why you should work with experienced pros who emphasize COMPLETE solutions and unparalleled customer services – like Warmzone. So, what's Warmzone got that the others haven't?
Knowledgeable Experts who Actually Listen. If you're on the fence about an installation, no worries. Warmzone professionals are always available to answer your questions. If you're interested in a radiant heat solution, Warmzone can work with you to determine which system and design is best for your specific radiant heat needs.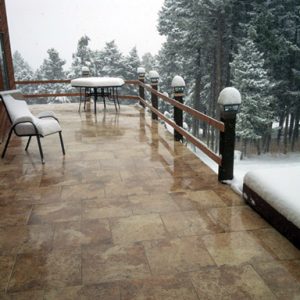 Lots of Choices. Awesome Prices. Warmzone's selection of radiant heat systems and products represent a wide variety of the best solutions in the industry. Offering more than one brand gives Warmzone the flexibility and freedom to dial in a system that's just right for your home, and your budget.
Inclusive Design Services. All Warmzone custom radiant heat solutions come with a professional system design at no extra cost to you. You'll know all the technical specs and power requirements before any heat cable is laid out. Warmzone designers are experienced pros when it comes to designing the most effective and energy efficient system possible for each unique installation. This ultimately saves you time and money, and eliminates any costly "surprises" during the installation.
A resource of Qualified Installers. No matter what system you purchase, a radiant heat system will only be as good as its installation. Warmzone understands that finding the right installer can be a bit of a crap shoot for homeowners. Despite having the best radiant heat system components, it can all be for naught if your contractor isn't up to the job.
Warmzone can help take the guesswork out of the hiring process. In addition to maintaining relationships with professional installers throughout the country, Warmzone also provides free installation training. This means that Warmzone can recommend contractors in your area who are trained in radiant heat installation. This is just one more service in Warmzone's long list of comprehensive customer services.
Excellent Follow-up. Ever get the feeling that your contractor steps into a project with one foot out the door? At Warmzone, your customer service experience doesn't end with your purchase. They'll stay with you throughout the installation process to ensure that your system is installed correctly and performing as it should.
Lots of Support. When you call Warmzone the voice at the other end of the phone is an expert in radiant heat solutions who can answer questions regarding your installation. Installation support is included with every system Warmzone sells.
With any big home improvement purchase comes some serious homework. If you're shopping products and/or contractors, add Warmzone to your list of possibilities by simply calling 888.488.9276.
Warmzone's Industry Leading Product Line
Warmzone Offers a Wide Variety of the Industry's Most Proven Radiant Heat Solutions
When it comes to selection, you'll find products, products and more products are what makes Warmzone excel in delivering outstanding radiant heat system quality. Unlike many radiant heat providers, Warmzone is not locked into selling customers ONE brand or type of system or heating element. Warmzone offers a wide variety of the industry's top radiant heat solutions for interior and exterior applications.
Just how vast is their product selection? Warmzone offers a great opportunity to shop brand names and systems that can be installed under virtually any type surface, for virtually any type of application, indoors or out. Consider, for example, Warmzone's impressive selection of proven, radiant floor heating applications:
Floor Heating Solutions
ComfortTile – Designed specifically for heating ceramic tile floors, this proven industry leader is compatible with all standard sub-flooring materials and can effectively heat virtually all types of floor surfaces.
FloorHeat – This thin, low-voltage polymer heating element can be installed directly under laminate and hardwood floors to deliver luxurious warmth without any floor build-up.
Heatshield Panels – Insulated aluminum panels that reflect heat with remarkable efficiency to optimize floor heating system performance.
In-Slab Heat Cable – Designed for installation in new concrete slab applications to efficiently store and distribute heat.
RetroHeat – Allows you to heat existing floors. By accessing the floor joists from below, the thin heating element is stapled up in the floor joist and then insulation is applied to efficiently direct the heat upwards to warm your existing floor.
FilmHeat – This paper thin heating element can be cut on site to deliver moderate heat to laminate surfaces without buildup.
FoilHeat – Incredibly thin and efficient floor heating mats for use under laminate, wood, glued hardwood and other types of floating floors.
Hydronic – Lightweight aluminum Rau panels with flex tubing is the premier hydronic radiant heat solution, and is easy to customize for your specific project needs.
To address your needs outside, Warmzone offers industry-leading products designed for concrete, paver, and even hot asphalt installations, as well as the top roof deicing and gutter melt solutions. Warmzone snow melting systems are second to none, and you can take your pick from heat cable off the spool or preconfigured in easy-to-install mats. In addition to its embedded snowmelt systems, Warmzone also offers portable snow melting solutions.
Regardless of your situation, be it time, budget or application, Warmzone has a product and design to best meet your requirements. For more information on their complete line of radiant heat solutions, call 888.488.9276.