Warmzone has Gained Industry Leader Status Through Superior Customer Service
If you're in the market for a radiant heat solution for your home, you'll want to bookmark Warmzone. Committed to providing the industry's best products and customer service, Warmzone has truly set the gold standard for radiant heat solutions. Doing business with Warmzone means dealing with the most knowledgeable, experienced staff  in the business.
In addition to providing what may be the most informative radiant heat website available, Warmzone offers a vast selection of the industry's leading products, complete system design services and expert installation support. Plus, Warmzone engineers and designers are among the very best in the business, and they are committed to maintaining Warmzone's position as the leader in customer service. In recognition of their outstanding products and service, Warmzone was recently named "Vendor of the Year" by the National Association of Custom Home Builders.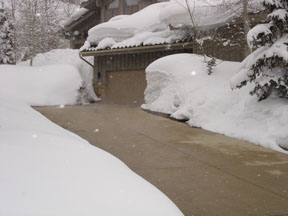 Unlike much of the competition, you'll find Warmzone takes a comprehensive approach to radiant heat solutions for your home. Knowing that every radiant heat project comes with its own unique requirements, Warmzone strives to provide the ideal solution for your individual heating – and budget – needs. That is the main reason why Warmzone offers one of the biggest selections of "best-in-class" systems. Instead of taking a "one-product-fits-all" approach to every radiant heat application, their experienced staff will match you up with the best product for your home at the best price.
The highest quality products at the best possible prices; plus unmatched customer service and complete design and layout services creates the trifecta of radiant heat solutions—courtesy of Warmzone. Warmzone's professional designers evaluate your project and provide a detailed Computer Aided Drawing (CAD) or design of your system layout. This helps to ensure proper installation, and you'll know the exact power needs and performance expectations prior to any installation taking place.
Warmzone customer, Eric G, was so impressed with what he called Warmzone's "old school" approach to customer service, that he recently blogged about it. Most significantly, Eric felt the added pressure from his wife to install radiant heat, and was intimidated by the size and scope of this particular home improvement project. "After talking to them [Warmzone], the anxiety quickly subsided." Warmzone told Eric he could, in fact, do much of the heat cable installation, and leave the wiring and other technical aspects of his home improvement project in expert hands.
And Eric was equally appreciative of the personalized technical support he received once the installation process began. From initial installation through final system testing, a Warmzone technician was readily available and incredibly patient, taking time to explain things while making sure the system was installed correctly and that Eric was completely satisfied with the new system. Of his experience with Warmzone Eric concluded, "Now that was 'old school' customer service."
Eric isn't the only "happy radiant heat customer" to do business with Warmzone. Visit Warmzone's Customer Comments web page and you'll discover an entire legion of similarly satisfied Warmzone customers. Of course, experience is the best teacher. Call Warmzone today at 888.488.9276 and find out how they can help you with your radiant heat project.
Investing in Your Home with Radiant Heat
Remodeling Trends
Twelve trends in home remodeling were recently identified by CBS Moneywatch.com. Bathrooms, must-do remodeling and warmer interior design projects were the top three projects, while "green living" was number nine. Given the sluggish economy and rising fuel prices coupled with the demand to reduce carbon footprints, increasing numbers of homeowners are investing in their homes to cut fuel consumption. From converting to LED lighting to installing radiant heated floors, there are some great solutions to make homes more efficient – and comfortable – while recouping the costs of home improvement projects.
Heated floors radiate heat from the floor up, unlike forced air systems that blow warm air, which rises quickly to the ceiling of the room. Naturally, to better feel the heat, it's natural to keep cranking the thermostat up to get warm. But radiant heat starts from the floor up, providing a truly luxurious warmth that must be experienced to be fully appreciated.
The two types of floor heating systems are electric and hydronic. Both of these technologies efficiently heat your home. And each room (or zone) has its own thermostat, so you can warm your home precisely. With the help of sensors and a programmable thermostat you can heat one room, or heat them all quickly and efficiently, saving money on your monthly gas bill. Unlike forced air systems there is no wasted heat escaping from closed vents. Radiant heat also eliminates dust and allergens from being blown throughout the house.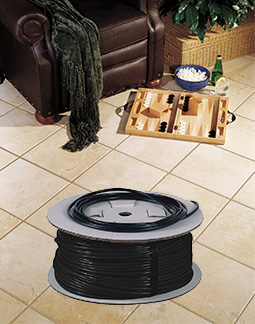 A radiant heated floor installation is a great investment in your home. Heated floors give your home an impressive level of comfort and customization with minimal investment. Warmzone offers a variety of floor heating systems that can be easily installed under virtually type for floor surface, including tile, hardwood, laminates, and even carpet.
If you are considering radiant heat, why not start by trying it out by installing under a bathroom or kitchen floor? Warmzone offers the industry's leading retrofit floor heating systems, RetroHeat and FloorHeat. The thin heating elements of these systems are designed to be stapled up between the floor joists. So, if you can access your floor(s) from below, then one of these systems is ideal for you.
Unlike other "one-size-fits-all" radiant heat providers, Warmzone offers an array of radiant heated flooring solutions designed to better match your individual project, and your budget. The good news is that much of the installation can be accomplished by any do-it-yourself homeowner. However, it is important that a qualified electrician perform all the system wiring to ensure proper installation.
Contact Warmzone today to learn about the many floor heating options that are available. Call 888.488.9276 for free consulting or email sales@warmzone.com.
Warmzone also offers free radiant heat quotes.