Spring is finally here, and that means spring cleaning, which is a great time for small in-home projects. There's no better way to spruce up your home than adding some amenities to keep it warm and welcoming all year long, especially when the weather gets cool. At Warmzone, there are more radiant heat options than heated flooring, and they can be used to enhance your comfort in any area of your home. Warmzone offers useful state-of-the-art bathroom and kitchen amenities that make a spring update or DIY project. Warmzone's amenities are not only simple to install but can add luxurious comfort to your home life.
One of Warmzone's popular amenities, especially for kitchens, is the FeelsWarm® Stick-on countertop heaters. This discreet, elegant heating solution keeps any countertop area warm, comfortable and inviting. Warmzone's FeelsWarm countertop heaters can be installed on kitchen islands, counters, vanities, overhangs, office desks, bars, or even office applications such as reception desks. The thin heating element (only .025-inch thick) sticks to the underside of the counter making install painless, and the perfect day project for any homeowner.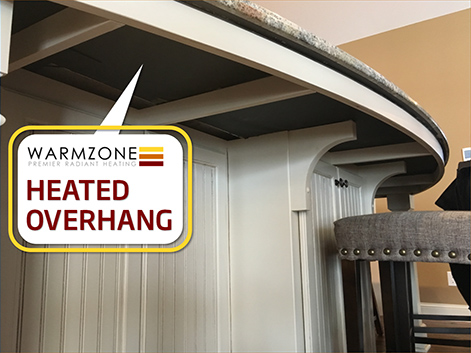 Each system includes a thermal controller and low-voltage heating element. These heating mats operate with a passive warming system, which means once the heater is activated it slowly warms up the countertop. The heaters are designed to gradually warm the countertops about 20-25 degrees over a period of about 90 minutes. This slow warming process – and lack of temperature pulsing – is a safety feature that prevents shocking the stone.
The countertop heaters with FeelsWarm technology are also very efficient. The cost to operate a 4-square foot countertop heater continuously is about the same as using a 75-watt light bulb, keeping operating costs at a minimum – about 20-25 cents a day.
The heating mats are available in several standard sizes, but customers can also custom order a countertop heating system to fit their unique counters or island. No matter the size or shape of your countertop, these heating mats can be configured to fit angles, curves, or any shape you may need.  Warmzone FeelsWarm Technology is a great way to add safe, comfortable heat to any stone countertop surface.
If your bathroom could use a refresh, another great amenity offered by Warmzone are the Runtal towel warmers and bathroom radiators. These attractive units are energy efficient and aesthetically pleasing, adding luxury and convenience to the bathroom. There are multiple model types and sizes to ensure customers find the best match for their bathroom.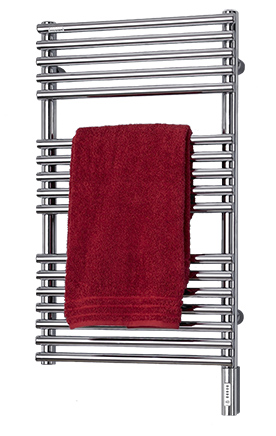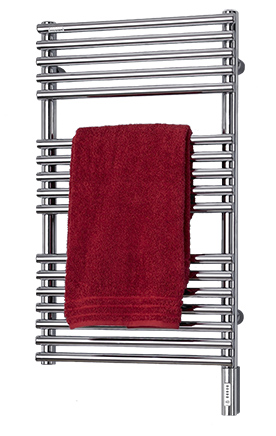 These efficient towel warmers are also designed to provide warmth for bathrooms as well. These radiators are 120 volts, and come with a direct wire installation, or a plug-in version that has a unique five-setting digital control, including a timer for up to 3 hours. Not only do these radiators keep your bathroom and towels warm, but they also offer the benefit of keeping the area dry, reducing the risk of mold and mildew in bathrooms.
Another great option for bathrooms are Warmzone's ClearMirror™ fog-free bathroom mirrors. These heated mirrors come with a low voltage transformer and a thin, low voltage pad that is mounted on the reverse side of the mirror. These panels slowly heat your mirror to prevent mist and fog from forming, so you can go through your morning routine hassle free. These mirrors also have the option of adding panels of built-in LED lights to add more light to your bathroom. Warmzone's ClearMirrors are made in the USA, and are designed for installation in vanities, bathrooms and showers.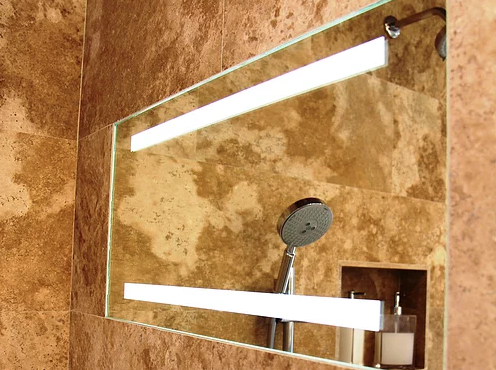 When it comes to shower installations, there are options available for any need. Warmzone's Shower ClearMIrror is a beautiful, simple, practical fog free mirror that is perfect for facial grooming and shaving. This model mounts flush with the shower tile and comes in various sizes. The mirrors are typically wired directly to the bathroom light switch for convenient use. For an even more elegant touch, Warmzone also offers the ShowerLite ClearMIrror. In addition to the mist-free operation, these stunning mirrors include the added benefit of LED light panels built into the sides of the mirror that simulate natural daylight and are rated for 70,000 hours.
Warmzone's Body ClearMirror or The Grand Body ClearMirror measures at 20×36, with a heated area of 16×30 inches, while the Grand Body ClearMirror is 5 feet tall and 2½ feet wide. Both mirrors include LED lighting and add a luxurious feel to any bathroom. All shower mirrors are mounted flush to the shower surface to ensure a professional look and feel. These mirrors can also be custom modified if homeowners have special requests.
If heating a vanity mirror is a better option, Warmzone also offers the Original ClearMIrror Vanity Mirror, ClearLite Vanity Mirror, or the Studio Series ClearMIrror. The original ClearMIrror is a 120-volt mirror with the defogger attached, and an excellent, affordable option for any homeowner. Warmzone's ClearLIte Vanity Mirror is perfect for those looking for a more modern look and is installed in high-end hotels all over the world. This unit includes side or top mounted LED panels, and comes in a standard 24×36 size, or can be custom designed. Warmzone's Studio Series ClearMirrors are a beautiful top-of-the-line option that includes full low-iron glass matting and a surface mounted 18"x 30 x ¼-inch beveled mirror. This mirror can be ordered in multiple colors, and each is custom made to specifications.
If you're refreshing your home this spring, any of these great home amenities are a quick way to give your home comfortable, stylish warmth. If you have questions, or need help deciding which product is best for your home, call us today at 888-488-9276.