Surviving the Heavy Hand of Winter's Atmospheric Rivers
Old man winter has awakened with a vengeance this year. The early weeks of the 2022-2023 winter have socked the West with more precipitation than many of the previous winters combined. Of course, we can't overlook the recent bombardment of snow that Buffalo, New York received as well. Meteorologists attribute the massive volumes of snow and rain in the western U.S. to atmospheric rivers. Essentially, these airborne rivers are flowing columns of condensed water vapor (tropical moisture) that produce high volumes of rain and snow. Needless to say, atmospheric rivers such as those experienced during the early winter of 2022-23 can be a Godsend to drought stricken areas.
For those living in the higher elevations receiving snow, these "rivers" can dump copious amounts of snow. This year, it seems that as soon as the driveway is shoveled from one storm, another delivers a second round of snow, and then a third, and so on. During winters like these, business owners struggle to keep their parking lots clear and storefronts accessible. Instead of relying on employees or hired snow plows to keep the areas clear of snow and ice, many are turning to automated snow melting systems.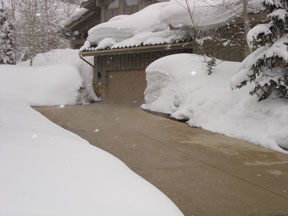 Warmzone radiant snow melting systems feature the industry's top components, and are designed by professionals to provide the best results possible. The systems are fully automated, so there is no need to manually activate the system at odd hours of the night.
One of the components of an automated snow melting system is the snow sensor (activation device). The sensor detects temperature and precipitation, and is installed in an area where it is exposed to the elements. When precipitation is detected and the temperature is below the adjustable set point (typically 38 or 39 degrees Fahrenheit, the sensor sends a signal to the controller. The control unit (typically mounted on a wall in the garage) then sends power to the embedded heat cable, warming the area and preventing snow from accumulating. The system also features an "afterrun" function. This allows the system to remain on for a short time after the storm to dry the surface, eliminating the moisture so that thin sheets of ice do not form. After all, walking to and from the car shouldn't be like skating on banana peels.
Sometimes "convenience" and safety are the most appealing aspects of a business. When the snow is falling and slush is piling, nothing offers a more enticing invitation to customers than a clear parking lot and snow-free walkways. Let's face it; if Grandma – or anyone else for that matter – doesn't feel safe about negotiating a snow-packed parking area or icy sidewalk, she's likely to forego that shopping experience in favor of a more inviting establishment.
Benefits
Automated snow melting systems keep areas clear of snow and ice around the clock. There is no need for any manual snow removal. Radiant snow melting systems are also very versatile, and can be installed to heat ramps, steps, and a variety of custom shaped areas. Its applications are virtually limitless.
Having a radiant snow melting system installed assures business owners that accessibility is assured for customers throughout the height of winter – atmospheric storms and all. There's no need to worry about employees forgetting to shovel or apply rock salt to the sidewalks, ramps, or stairs. Automated snow melting systems will keep areas clear throughout the day and night.
In addition to being fully automated, electric snow melting systems can also be manually activated. Sometimes the wind may create snowdrifts, or melted snow may drain from nearby inclines and pool in trafficked areas. The system can be manually triggered to clear the snowdrift or dry the runoff.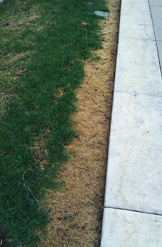 Radiant heat systems are very energy efficient and operate only when needed. Nearly 100 percent of the energy used translates directly into the heat that melts the snow. And because the systems eliminate the need for salt or other harsh snow melting chemicals, the surrounding landscape is better off. Runoff containing salt or other snow melting chemicals can kill nearby grass and vegetation. Snow melting systems operating on renewable energy can help to eliminate threats to the surrounding landscape.
Warmzone offers custom snow melting solutions for customers, and unmatched customer support services. In addition to custom designing each system, complete with a detailed layout consisting of the best components available, Warmzone also includes free installation training and support. Installers can receive free installation training online with an instructor who covers every aspect of the installation.
If installers have a question, or encounter an unforeseen issue during the installation, they can call and talk with an installation expert. Our friendly professionals are happy to assist installers in any way they can. For more details about Warmzone's custom snow melting system options or free training, please give us a call today, at 888-488-9276.