Most people agree that technology provides our world with convenience and a host of other benefits. For the most part, it can help to organize and simplify our lives. Granted, there are times when the learning curve can dish out some frustration, or we encounter a few potholes in the technology superhighway, but overall, we love our technology, and it's here to stay.
One popular technology that has proven itself – and continues to grow in popularity – is that of radiant heating. Radiant heat systems are used to keep driveways, sidewalks, and roofs clear of snow and ice, as well as provide the most energy efficient means for heating homes and businesses.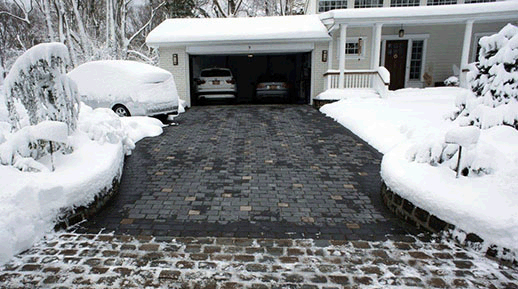 Snow Melting Systems
Maintenance Free and Fully Automated
Radiant driveway heating systems are maintenance free, exceptionally versatile, and also fully automated. The systems utilize a small activation device (snow sensor) that detects temperature and moisture, so when weather conditions warrant, the sensor signals the control panel, and power is then sent to the embedded heating element. The driveway begins warming to prevent snow and ice from building up. After the snowstorm, the system shuts off automatically. However, it remains on for a few minutes after snow has stopped falling to dry the surface to keep thin sheets of dangerous "black ice" from forming. This is another safety feature provided by radiant snow melting systems. Heated driveway systems also feature manual override capability, so if wind blows snow on your driveway you can activate the system to melt the snow drift.
Easy to Customize
Automated snow melting systems can be installed to heat virtually any type of layout and application, including concrete, pavers, and asphalt. Each heated driveway system is carefully tailored so that it best meets the precise needs of the business or homeowner. In addition to matching each system with the layout and performance needs of the customer, Warmzone systems are also designed to accommodate the customer's budget. The custom options of radiant heat are virtually limitless.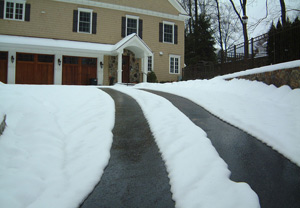 While each snow melting system is unique, some popular general configurations include the following:
Heated tire tracks – Instead of heating the entire driveway surface, many homeowners choose to install two 24-inch wide heated tire tracks. This option not only can result in lower installation costs, but because less area is being heating, the operational costs are also reduced.
Heat an 8-foot wide strip – Some homeowners also choose to only heat an 8-foot wide strip in the middle of the driveway.
Heat specific areas – Some homeowners opt to only heat the problem areas of their driveway. For example, there may be a small section that is mostly shaded, where packed snow and ice may remain for months. Or perhaps the driveway has a section with a steeper incline. Electric radiant heat systems can be easily installed in these specific areas to enhance safety and convenience.
In addition to offering superior systems and components, Warmzone also includes industry-leading customer support and services. Perhaps the service most appreciated by contractors is that of FREE installation training.
Each training course covers the specifics of the installers' project. The training is typically completed in less than an hour, but attendees can ask questions and proceed at their own pace. This is a valuable service that ultimately saves time in the long run.
Although the training covers all aspects of the installation, sometimes unforeseen problems or questions may arise during the install. That's why Warmzone's dedicated support staff is on hand. Our experts are available to field calls from installers and answer any questions they may have.
In addition to the personal training and support services, Warmzone also provides professional system design and layout services. The detailed AutoCAD drawings cover every aspect of the layout and electrical plan, so the installation laborers and electrician have all the information they need at their fingertips.
Radiant Floor Heating Systems
As a leading provider of radiant heat systems, Warmzone offers one of the largest selections of radiant floor heating systems in the business. Instead of offering just one or two floor heating systems, Warmzone carries a wide range of proven solutions for all types of floors. Our large selection assures homeowners that they will be able to find the ideal system for their flooring. Warmzone heated floors are the most trusted systems on the market.
For more information about floor heating systems, or radiant heated driveways or roof de-icing systems, contact a friendly radiant heat expert today. We'll work closely with you to match you with the system that best meets your radiant heat needs. Call 888.488.9276 today.