Zoning Your Driveway Heating System
Radiant heat is one of the most efficient ways to keep any driveway or walkway free of hazardous snow and ice. When considering installing a heated driveway, many wonder if they have enough power to run the radiant heat system. For most situations in homes or businesses, the answer is yes, as most have more than enough amperage to operate an average sized radiant heating system. However, in the cases where amperage may be lower, or the driveway larger, Warmzone has options to ensure that a radiant heat snow melting system can still be installed, and effectively provide the snow melting performance you expect, safely and efficiently.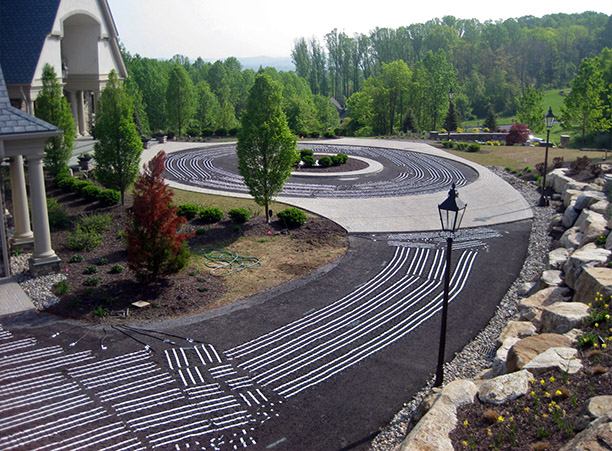 The first step when purchasing a snow melting system is deciding the area needs to be heated. At Warmzone, professional design services are included top help you. Warmzone representatives can even assist you in determining the square footage of the area you want heated. By using a special software program, they can view your property and help you determine an estimate of the square footage of your driveway. After determining your snow melting needs and available budget, Warmzone designers will design the system that best meets your needs. Each snow melting system is designed according to ASHRAE standards, taking into account the average winter weather conditions in your area. Your system layout will not only include the ideal layout of the system components, but also include all the electrical information necessary for your electrician, such as proper load calculations, breaker sizes, number of breakers, as well as the power requirements of the system.
If you want to get an idea of available amperage in your home, power can be checked by accessing your home's main breakers. In most homes, there is either a 100 amp, or 200 amp breaker panel. When considering a snow melting system, there are few basic guidelines that homeowners should consider when checking the power in their home. One 30-amp breaker typically supplies enough power to heat a 170-square-foot area. That means to heat a driveway that is 350 square-feet, two 30-amp (or one 60-amp) breakers will be needed. If you have questions, it is always best to have a qualified electrician come out and asses the power at your home.
If the power requirements at your home or business are insufficient, you may still be able to enjoy the benefits of a snow melting system when working with Warmzone. The heated driveway can be designed to use a technique called "zoning". The principle behind zoning is simple: the area to be heated is divided into zones, and power is sent to each zone separately. For example, if you only had two 30-amp breakers available but wanted to heat your driveway, front sidewalk and parking apron, the snow melting system could be divided into 3 zones. Power would be used to heat each zone separately, thereby optimizing the available power. Warmzone now offers a new sequencer that allows the system to "bounce" power from zone to zone, allowing a large area to be heated almost simultaneously. While this technique requires slightly more time to heat the entire area, it also ensures that snow is melted from the driveway, sidewalk and apron.
Old zoning systems relied on zones being heated separately in their entirety. Separate sensors were installed in each zone to enhance the efficiency of the system, and each zone was prioritized. After zone 1 was cleared, zone 2 would then heat, and then zone 3 would heat, and so on. However, the new sequencer eliminates the need of melting snow from one zone before moving on to melt snow from the next zone. "Pulsing" the power from one zone to another makes the system much more efficient – and gives homeowners with minimal power the opportunity to heat larger areas.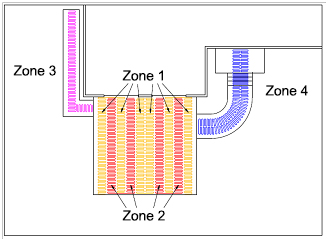 Snow melting systems from Warmzone are designed for optimum efficiency and cost-effective operation. Installing a radiant snow melting system is a great investment in your home, and systems typically clear the area during a storm at a cost less than hiring a snow removal service to clear your driveways and walkways. An automated snow melting system can help to ensure safe access to your home or business for years to come.
Zoning is a great way to make your dreams for a safe, efficient snow melting a reality – even when dealing with low amperage. Warmzone's design professionals will help create the ideal system to operate within the power requirements of your home or business. If you have questions and would like to discuss the options that are available, contact Warmzone today at 888.488.9276.