Radiant heated driveways offer a range of benefits for home and business owners. Certainly, the most obvious is the elimination of manual snow removal. Instead of donning the coat and gloves to attack a snow-packed driveway first thing in the morning, homeowners can relax with a steaming cup of coffee in the warmth of their home. For business owners nothing beats the feeling of arriving at the facility and seeing the sidewalks, ramps, and/or parking areas completely clear of snow and ice. When you install a radiant snow melting system there's no need to hire a plowing service or ask employees to come in early to shovel and salt the sidewalks.
Automated snow melting systems operate only when needed. The systems utilize an advanced snow sensor that detects temperature and precipitation. When moisture is detected and the temperature is below the adjustable set point (usually set at 39°F), the sensor signals the controller and power is then sent to the embedded heat cables, warming the driveway as the first snowflakes fall.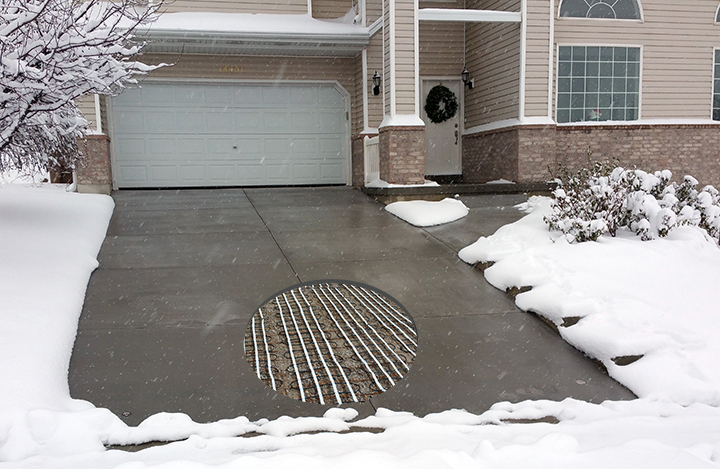 A radiant heated driveway with cutout showing the embedded heating cables.
The convenience of automated heated driveways can't be beat, but in addition to not having to shovel, plow, or salt your driveway during the winter, the systems also provide a tremendous safety feature. While heated driveways operate only when snowstorms hit, the systems include an "after run" function that allows the system to remain on for a short period after the storm. This dries the surface to eliminate any melted snow from turning into thin sheets of dangerous "black" ice.
An Added Benefit
Perhaps a surprising benefit of radiant heat is that a snow melting system can extend the life of your driveway. Concrete driveway surfaces tend to last longer when they're not exposed to sub-zero temperatures. In cold weather climates with ample snowfall, many concrete driveways fall victim to spalling. Concrete is naturally porous, so water from melted snow can seep into every tiny crevice, and refreeze. The damage can occur when the ice expands. As this process repeats, it is known as spalling, and it can slowly deteriorate the finished driveway surface. Over time, the spalling can eventually lead to cracking in the cement.
While seal coating your driveway is one method for helping to extend your pavement's life span, for those living in cold climates with abundant snowfall, adding an embedded radiant heat system is also a smart move. You'll enjoy the convenience and enhanced safety provided by radiant heat, and perhaps you'll even add a few years to the life of your driveway.
Installing a radiant snow melting system can also boost the equity of your home. It's not only a labor-saving, safety-enhancing, driveway-protecting tool, it's also a smart investment. Many upscale homes nowadays feature interior radiant heat (heated floors) as well as a heated driveway. Adding radiant heat to your home will likely increase the resale value of your property.
Take time today to learn more about the benefits of radiant heat. The systems can be easily customized to meet your specific performance needs, as well as your budget. Instead of heating your entire driveway you can install two heated tire tracks (24-inches wide), or if you're on a tight budget, you can simply heat the area that's on an incline, or other troublesome spots. The choice is yours and the options are unlimited.
Warmzone includes free installation training as well as technical support and complete system design and layout services. We're available to your electrician and installers throughout the installation process. Warmzone takes pride in leading the way when it comes to customer service.
Start the year off by learning a little more about radiant heat. Call a friendly Warmzone representative today to discuss your project and the many options that are available. In addition to offering industry-leading snow melting systems, Warmzone also carries the largest selection of radiant floor heating (and roof de-icing) solutions on the market. We're happy to answer any questions you may have. Call 888.488.9276 today.