ComfortTile, In-Slab, HeatShield, FloorHeat, RetroHeat and FilmHeat all share several commonalities. They're not just radiant floor heating systems, they're proven, industry-leading floor heating systems that offer the fit, flexibility and quality along with a solid reputation for outperforming the rest of the industry's competition.
With so many radiant heat options from Warmzone, customers are sure to find the ideal system for their specific needs. Heated floors are truly a practical home improvement project. Whether you want to heat a small area or an entire home, there are a wide variety of products available to choose from. Some of the best include:
You can pair these options with Warmzone's advanced, fully interactive thermostat with touch technology and energy monitoring for radiant heating. The innovative controller features a display that allows you to view a graph of your recorded energy consumption with actual costs.
This advanced energy monitoring feature tells you exactly what you are paying for your radiant floor heating system, and helps you save money by periodically recommending ideal temperature adjustments. So you can monitor your consumption as you go, making adjustments by adding rooms to changing traffic patterns from room to room.
Besides these great products, there are numerous benefits to radiant heat. The biggest one, of course, is the precise nature of radiant heated floors. Unlike traditional forced air systems, you can set the desired temperature in each room or zone, making radiant floor heating extremely energy efficient.
Also obvious, the health benefits that come with radiant heated floors. They don't blow dust and allergens from vents through your home. Reliable, maintenance free radiant heated floors can be installed discreetly and easily under a variety of surfaces. And they can be easily customized to heat hard to reach areas efficiently, whether a small isolated area or your entire home.
Of course there's more. Check out how Warmzone's great radiant heat products, including the all new fully interactive thermostat, can warm up your home more efficiently. Call 888.488.9276 to explore the options of installing radiant heat in your home.
Making the Installation of Radiant Heat Easy
"Old School" Customer Service from the Pros at Warmzone
Every time I walked across my cold kitchen floor, I reminded myself to check into the possibilities of radiant heat. I kept hearing wonderful things about how affordable and comfortable radiant heated floors are, but I'm a procrastinator. I was content to search for my slippers or brave the chill of the kitchen linoleum and tiled bathroom floors for one more winter.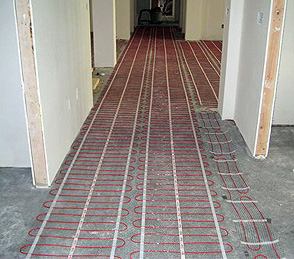 Unfortunately, the decision to install (or not to install) radiant heat is not mine to make alone. I'm married. Now most of us guys like to pretend that we can endure a little discomfort and survive with the bare minimum in terms of home amenities, but a part of us would also like our homes to feel like a luxurious castle. And let's face it; we want to keep our wives happy!
I'm not saying that every wife out there is a proponent of radiant heated floors, but I know that mine was constantly pushing to have heated floors installed. So finally I relented, and told her "I'd check it out." (I figured that would buy me some more time to procrastinate.)
But it didn't take long to find some unbiased information online. I did a few searches on the Internet and found some good information, which I read. Soon, I narrowed down a list of top radiant heat providers, and I finally ended up dealing with a company called Warmzone. Three things stuck out for me that helped me make my decision. Warmzone's wide product selection, their customer service and installation support were big selling points for me.
The intimidation of taking on such a home improvement project was daunting, but the anxiety quickly subsided after talking with them. I wanted to leave the design and all the technical stuff in the hands of experts. I was assured that I could do much of the heat cable installation, but experts would take care of the wiring and other technical aspects. (I sure wasn't about to take on the whole project by myself.) I felt confident with the installers and the Warmzone team. They've been around a long time, and I knew they wouldn't leave until my system was up and running as advertised.
After receiving a detailed CAD design of my floors from Warmzone, I learned exactly what to expect from the system and what the power requirements would be. Then, as the installation process began, a support technician from Warmzone was on the phone, helping us every step of the way. He took his time explaining things and made sure that the installation was done properly. Warmzone personnel even stayed with us as we tested the system to make sure we were completely satisfied. Now that was "old school" customer service. Having them provide us with the most trusted system, customized for our needs, and then assisting us every step of the way after the sale was reassuring. They stayed with us from beginning to end.
It's nice to know there are still companies out there like Warmzone. These guys care about getting the job done right. Thanks to them, my wife is happy and we're thrilled with the warm floors. Perhaps the best part of all this is that I was able to stay within budget on this project. Thank you Warmzone.
 Erik G. – a happy radiant heat customer.
Call Warmzone at 888.488.9276 or visit www.warmzone.com for more in-depth information and professional consulting, all free of charge, of course!