Summer is finally here, and warmer weather means more time for home improvement projects. Taking time during the summer to increase convenience at your home will pay dividends this winter. One of the best products available to increase convenience at your home is a roof de-icing system. Roof de-icing systems grow in popularity each year because of the many benefits they offer home and business owners. Roof de-icing systems can protect the roof from damage.
During the winter months, issues like ice dams or gutter blockage can impact the "health" of your roof, and in some cases, decrease its lifespan. Homes with poorly insulated attics can fall victim to ice dams. These ridges of ice develop at the roof eaves, where runoff trickles down the roof before refreezing at the colder roof edge, resulting in standing pools of water trapped behind the ice dam. Over time, as water seeps into tiny cracks in the shingles or substrate, it refreezes and expands, threatening the integrity of the roof. Ice dams are the single most costly issue when it comes to maintaining a roof because they can ultimately result in water seepage into the home. This moisture can lead to issues like mold and mildew.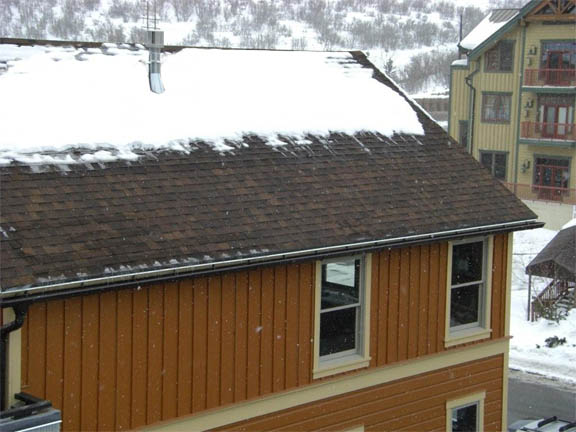 Some areas along the roof edge can also be prone to icicles. Some icicles can be hazardous to pedestrian traffic below. Melting icicles can drip on the sidewalk and create slick patches of "black" ice, or sometimes heavy icicles can detach from the roof, becoming dangerous projectiles to those below. Needles to say, this is a nightmare scenario for business owners. To protect your home or business, and enhance safety, there are several, affordable roof de-icing options that are available. As an industry-leading provider of radiant heat solutions, Warmzone carries a wide variety of roof de-icing solutions that can be tailored to suit your needs.
Warmzone's most popular option is self-regulating heat cable. Warmzone carries several variants of self-regulating cable, and each roof de-icing solution can be customized to meet the specific de-icing and budget demands of the customer. The systems are maintenance-free, effective, and energy-efficient.
The cable features rugged outer construction that houses an irradiated conductive core. This self-regulating core allows the heat output to increase as the temperature drops, and decrease when temperatures increase. The roof heating system can be activated automatically or manually.
The flexibility and versatility of self-regulating heat cable make it an ideal choice for heating problem areas of the roof. These areas may include north-facing roof edges, gutters, valleys, and even downspouts. Lining a gutter or the edges of the roof can prevent heavy snow and ice from damaging these areas by providing channels for the runoff. Self-regulating heat cable along gutters, eaves, or edges can also prevent heavy icicles from forming. To prevent ice dams from forming, heat cable can be installed in a zigzag pattern along roof eaves, creating channels whereby the runoff can reach the gutter. Heating roof valleys with self-regulating heat cable also clears the way for roof runoff.
One of the most effective, hence, most popular roof de-icing options is Warmzone's low-voltage RoofHeat STEP® system. This premier de-icing system features a thin, self-regulating polymer heating panel. This semi-conductive heating element is versatile and can be nailed, stapled, or cut onsite, facilitating easy installation.
The flexible panels are polypropylene fused, which makes them waterproof and protects them from alkaline and salt damage. The thin panels can be discreetly installed under the roof shingles, and can also be safely installed to heat metal roofs. Each section of the de-icing system is controlled by an individual power unit (transformer) that steps down from high voltage to low voltage (60 V or less). This system is typically installed along roof eaves and roof valleys. The low-voltage heating element is available in 3, 6, 9, or 12-inch wide rolls.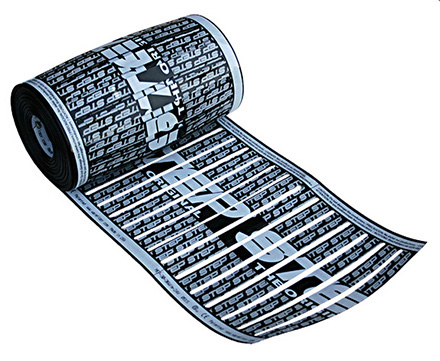 Warmzone also offers RoofHeat panels, which feature self-regulating heat cable routed through durable, attractive aluminum panels. RoofHeat panels are extremely efficient, and available in different colors to complement the design of any home. This proven system is another excellent choice for keeping roof eaves and valleys clear of snow and ice.
Existing roofs can also be fitted with roof de-icing. The innovative RetroRoof de-icing system features thin panels that can be installed under roof shingles. The panels have an adhesive on each side so they can be positioned and secured in place under the existing shingles. These panels are an excellent solution for those looking to retrofit their roof, without having to tear out the existing shingles. The system can be installed anywhere on the roof, but is typically installed along the roof edges to prevent ice dams.
Warmzone's roof de-icing systems can also be combined. One popular custom solution is that of installing the RoofHeat STEP system along the roof eaves while running self-regulating heating cable in the gutters or small trouble spots on the roof. With so many options, you can work with the roof heating professionals at Warmzone to create the perfect custom solution for any home or business.
When working with Warmzone customers receive unmatched support services. Representatives are always available to assist you and answer any questions you have. Professionals will evaluate your de-icing needs and budget to recommend the solution that best suits your needs. Each system is carefully designed, and this professional layout is provided for your installer. This detailed AutoCAD contains all the electrical and layout information needed for installation.
Warmzone also offers free installation training, technical support, and online resources available at any time. The training is a valuable resource that can be completed online via web conference with an instructor. Warmzone may also be able to connect you with a trained electrician or installer in your area. With the largest selection of products and top-notch customer service, Warmzone is the first choice for savvy homeowners. If you're looking to install a roof de-icing system, contact a friendly roof heating professional today, at 888-488-9276.