Warmzone Moves Headquarters to Larger Facility
Salt Lake City, Utah – March 2, 2012 – Warmzone, a leading provider of radiant heat solutions has announced that it is moving its corporate headquarters from downtown Salt Lake City to a much larger facility in Draper, Utah on March 5, 2012. Located just 18 miles south of the old Warmzone headquarters, the new facility boasts greater office space and increased warehouse capabilities.
In spite of the sluggish economy and recent economic challenges, Warmzone has continued to experience growth, necessitating the move into a larger building. The new facility will allow Warmzone to significantly increase the amount of inventory it has in its Utah facility, which will ultimately translate into even quicker service for Warmzone customers.
"We feel fortunate that we've been able to grow our business in these difficult times," stated Executive Vice President, Brandon Weaver, "and we attribute the growth to our superior customer service and support. In today's economy, people are demanding more in an effort to stretch their dollars, and it's not enough to just offer competitive pricing. Businesses have to earn customers' trust and provide expert service from beginning to end."
In addition to Warmzone's preeminent customer services, the company offers a wide variety of proven radiant heating solutions. This allows Warmzone to offer the ideal solution for the unique needs of each customer. Every project is carefully evaluated and designed prior to any installation. Given the wide product offering and renowned customer services, Warmzone's growth seems a natural progression.
"We're looking forward to settling into the new building," Weaver added. "The move will certainly benefit our customers. One thing's for certain," he concluded, "we will continue to focus on what got us here, and that's our superior products and our industry leading service."
Make a Heated Driveway Work for You
The Days of Manual Snow Removal are Over
Seriously consider a life without back breaking snow removal. Can you picture it? Are you smiling? Well, having a radiant snow melting system right outside your front door makes that snow-removal-less life possible. If you put a heated driveway to work for you, chances are you'll enjoy winter a whole lot more.
It doesn't take much effort or upfront cost to make a radiant heated driveway possible either. Radiant snow melting systems are a simple addition to any new driveway as they can be installed before the concrete, pavers or asphalt goes down. But if you have an existing driveway you don't need to lose heart because heated driveways can also be retrofitted in your current asphalt or concrete driveway.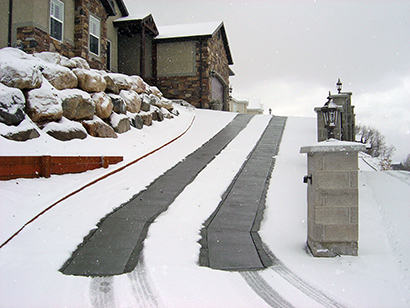 Radiant heated driveways eliminate the back breaking, hand shoveling, sweating work of manual snow removal. Heated driveway systems are fully automated, so feel free to sleep in or enjoy your morning coffee from the warmth of your living room. When temperatures are below a set point (usually 39°F) and the snow sensor (pictured right⇒) detects moisture, it signals the controller which then sends power to the heat cables, outputting a steady stream of warmth to keep your driveway clear of snow and ice. Once the snow flakes hit the warmed surface they don't have a chance to accumulate as they melt on impact, leaving you with a heated driveway constantly clear of snow. The snow is left to accumulate where it is more appreciated, like your front yard (for optimal snowball fights and snowman building) or even your next door neighbor's driveway.
If you've told your neighbors about your heated driveway and they still haven't installed a radiant snow melting system of their own, you have every right to silently snicker at them as you watch from the warmth of your front window as they huff and puff to remove their snow by hand. If you make a heated driveway work for you, your snow removal days are over. Forever.
Outdoor Radiant Heat Systems
As radiant heated floors have gained new popularity, so too have heated driveways and radiant snow melting systems. Homeowners are discovering the advantages of automated snow melting systems and ditching their snow shovels and bags of salt. And businesses are getting in on the act too.
Radiant snow melting systems have proven to be invaluable for ramps, loading docks and pedestrian walkways. Employees can focus on their jobs instead of taking time out to shovel snow during the winter months, and liability for slips and falls on icy sidewalks is greatly diminished. The increased safety and productivity far outweigh the costs, as businesses continue to seek out radiant heat snow melting solutions.
Home settings like steps, patios or sidewalks that lead to a hot tub are popular applications for snow melting systems. Hydronic or electric snow melting systems can be installed for both heated sidewalks/driveways or heated floors. While radiant snow melting systems are typically installed in new construction applications, radiant heat can also be installed in existing driveways and sidewalks.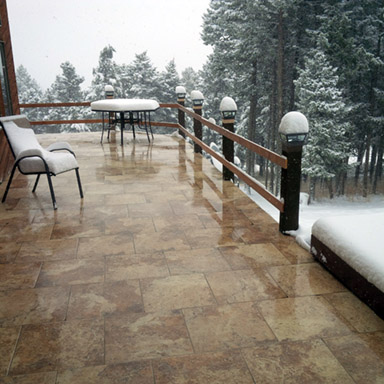 Using saw-cut technology, grooves can be cut into concrete or asphalt surfaces and heat cable can then be placed in the grooves. An epoxy topcoat is then applied to seal the heat cable in the grooves. A sand broadcast can be applied to the surface before the epoxy cures if you want additional traction and safety.
Heat cable can also be placed on top of an old asphalt driveway and then a new layer of asphalt is then applied on top of that and compacted. (ClearZone heat cable is designed to withstand the extreme temperature and stress of asphalt applications.)
Radiant snow melting systems can be customized and installed in countless numbers of snow melting applications. Call a Warmzone radiant heat expert to learn more today, 888.488.9276.