Premier Floor Heating Options
Radiant heat is one of the cleanest and most efficient ways to heat your home or business. Warmzone's vast selection of industry leading products ensures an ideal solution for any application – from bathrooms and basements to garages and outdoor steps. Warmzone has one of the largest product selections in the industry, helping to ensure that the best system is matched with your specific heating needs.
When considering floor heating, one of Warmzone's most versatile products is ComfortTile heating cable. Whether used alone or in conjunction with the Prodeso membrane system, you can be sure that your home will be heated efficiently and safely.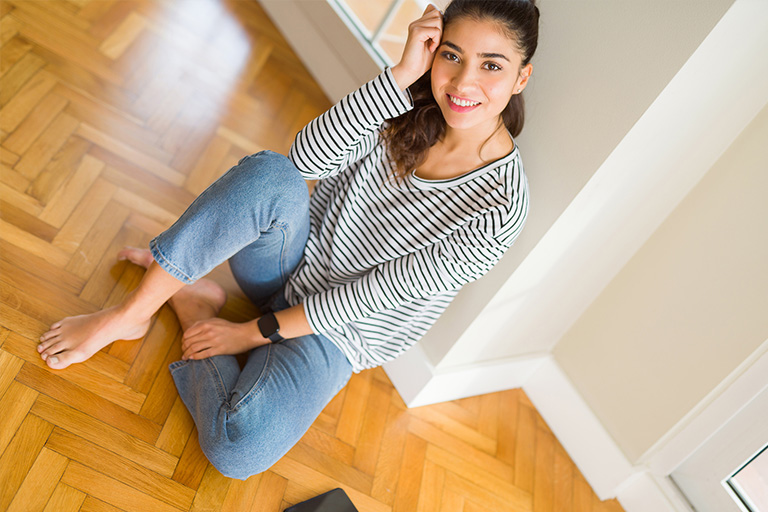 The ComfortTile floor heating system is UL listed, and features a single-point connection, twin-conductor cable that is rated at 120 or 240 volts. This cable is durable and safety approved for wet locations. ComfortTile heat cable is flexible and can be used in almost any application, as it is available on large spools or pre-spaced in mats. ComfortTile mats are 18-inches wide, but heat a 24-inch wide area. These mats come with an adhesive on the mesh backing, so they are easily installed onto the subfloor, making them a quick and efficient way to install radiant heat for most types of flooring. To ensure your cable or mats keep your floor warm for years to come, ComfortTile heat cable also comes with an industry leading 25-year warranty.
ComfortTile heat cable can also be used in conjunction with Warmzone's innovative Prodeso membrane system. The Prodeso membrane is a polypropylene uncoupling crack isolation waterproofing membrane that is used for heating floors or other surfaces that do not have movement or expansion joints in the screed. These unique qualities make it possible to install floor heating over what can be difficult substrates, such as plywood. The membrane has rounded square shaped reliefs that create channels that are specifically spaced and designed to embed ComfortTile heat cable. Prodeso membranes are a great choice for ceramic tile or other flooring surfaces that are prone to cracking, or areas such as a bathroom that have high levels of moisture. The Prodeso membrane is also extremely low profile, with a thickness of only ¼-inch, making it ideal for any application. The flexible, lightweight Prodeso membrane makes it a good choice where the load bearing capacity of a sub-floor may be a limitation.
Installing the Prodeso membrane is easy. The membrane comes on rolls, and is laid directly on top of the subfloor. Once the membrane is laid out, the ComfortTile heat cable is installed through the channels of the membrane. The flooring can then be installed directly on top of the membrane. The unique design of the Prodeso membrane makes it extremely versatile. It can be used simply as a membrane to protect flooring, or cable can be installed into the membrane to heat specific areas. The ability to customize heating zones makes Prodeso a great way to ensure your radiant heated floors are energy efficient. Prodeso membrane can also be used on areas such as walls, and in outdoor applications, as it is safe under all weather conditions.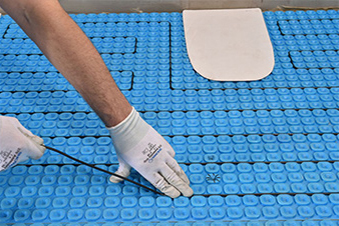 ComfortTile heat cable is one of the most popular floor heating options on the market. Customers love the convenience of the pre-spaced mats, as well as cable off the spool. The system is efficient, reliable and versatile, which is why it remains a top floor heating choice for home and business owners today.
If the ComfortTile or Prodeso membrane system isn't the right fit for your project, another popular option is Warmzone's FilmHeat system. This system utilizes an ultra thin heating element that is UL approved and includes a 10 year warranty. FilmHeat is a great value for any home, especially when installing under floating or laminate flooring. FilmHeat is simply cut to size on site, laid out directly under the laminate, and then the electrical connections are secured before finally installing the flooring directly over FilmHeat. FilmHeat has no floor build up and efficiently heats any area. The RetroHeat version of the FilmHeat floor heating system is also a great choice for those looking to install radiant heat under existing flooring. If you can access the joists from below, heating panels are stapled between the floor joists. After the FilmHeat is stapled, Batt insulation is installed over the element to ensure that all the heat goes upward. FilmHeat is a great, affordable choice for any home – and a favorite of those installing floating floors.
Warmzone has many other radiant floor heating options available as well. Warmzone's low-voltage FloorHeat STEP system features a unique, self-regulating polymer heating element to provide even, energy-efficient, comfortable warmth for hardwood or laminate floors. If your project involves concrete, In-Slab heat cable is an exceptional choice that can be installed directly in the new concrete slab. This durable cable is embedded in the concrete about 1 to 2-inches below the surface to distribute heat evenly across the entire area. FoilHeat is another trusted floor heating option. This system has thin cables that are sandwiched between two layers of reinforced aluminum foil. If you're looking to heat a large area, a hydronic system that pushes heated liquid through special tubing may be a good choice because of its potential for lower operating costs.
Whatever your floor heating project may be, Warmzone has a proven product to fit your needs and your budget. Customer service specialists are available to help you pick out the perfect product and answer any questions over the phone. Warmzone also has profession system designers who will layout your system and provide all the information needed for your electrician to assure that your system operates efficiently and safely. Free installation training is also available online with an experienced instructor.
If you're ready for a radiant floor heating system or have more questions, please call Warmzone today at 888-488-9276.