Monthly Archives: September 2019
Warmzone Expands Offerings to Include FeelsWarm® Countertop Heaters
Salt Lake City, Utah (PR WEB) August 22, 2019 – Warmzone, a leading radiant heat provider offering one of the industry's largest selections of radiant heat solutions adds FeelWarm® countertop heaters to its vast selection of premier products. In keeping with its commitment to provide customers with a wide selection of the latest proven radiant heat products, Warmzone has added this innovative, state-of-the-art counter and desktop heating solution. Warmzone's FeelsWarm heating panels provide an easy and effective means for heating kitchen counters, islands, bars, and overhangs as well as other marble or stone surfaces.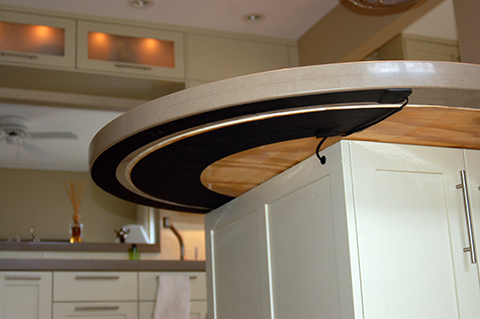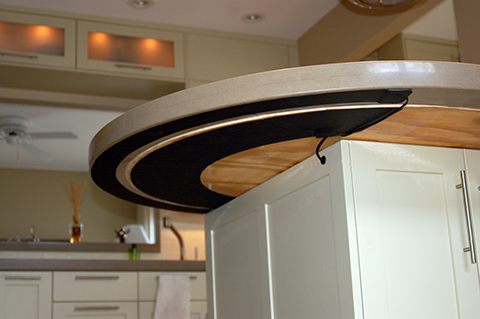 Homeowners can add an elegant upgrade to their home or office with the easy-to-install heaters. The low-voltage countertop heaters can be discreetly mounted to the bottom of counter overhangs (or under countertops) to provide safe, comfortable warmth to the most popular gathering place in homes today –the kitchen.
The countertop heaters feature easy peel and stick installation. Because they are under 0.024-inches thick they can be discreetly mounted under the counter near the edge to provide warmth to the most commonly touched areas.
FeelsWarm countertop heating technology utilizes a passive warming system to slowly warm the stone, taking 90 minutes to raise the temperature about 20-25°F. This slow warming approach and lack of temperature pulsing protects your beautiful counters by eliminating shock to the stone.
View the Countertop Heater with Overhang video
View the Countertop Heater with no Overhang video
The innovative heaters are designed for counters with or without overhangs, and are available in several standard rectangular shapes as well as custom sizes and shapes. In addition to being custom designed to accommodate the unique shape of your stone counters, the heaters can also be custom-engineered to accommodate your wattage and electrical input location.
For customers who are installing a new countertop where the top of the cabinet has a solid substrate, Warmzone offers a customized heating mat that compresses between the substrate and the stone. The compressed heaters are designed to withstand the weight and compression of any stone countertop, which can be as high as 30 pounds per square foot. Plus, the mats are designed to comply with uneven compression forces due to variances in the wood such as gaps, raised cabinet edges, embedded supports and non-smooth bottom surfaces. The workmanship of Warmzone's FeelsWarm heating mats is second to none. The ductile', or soft/pliable construction of the heaters further enables them to bend and conform instead of breaking during a compression action.
No matter what your countertop heating needs are, Warmzone now offers an effective warming solution. The thin, low-voltage, plug-and-play heating mat installs in minutes and can be plugged into standard outlets without the need for special wiring. Simply peel off the backing and then stick the thin panel to the underside of the countertop.
For more information, contact a radiant heat expert today at 888.488.9276.
Customer Comments
"Our nice expensive granite would remain cold all the time so we decided to install a FeelsWarm heater just under where my keyboard sits. Now I am happy I don't have to deal with a freezing work surface." – Dan D., Waterloo, Ontario
"We eat at our granite countertop most of the time and our arms and hands were always cold. Now we are warm! Loved this product from the beginning." – Patricia F., Cresco IA
"Worked like a charm. Installation was easy and the mat was thin enough to fit in our 3/16-inch gap. Hate to say it, but I can't wait for winter." – Carmen V., Cinnaminson, NJ
"When we remodeled our home office with quartz desktops, we were extremely concerned about the cold of the stone. FeelsWarm heaters exceeded my expectations." – DJM, Apex, NC
FeelsWarm® technology is a registered trademark of Heated Stone Products, patent pending.
Introducing Innovative Stick-on Countertop Heaters
Add a new level of elegant comfort to your home's most popular gathering place – the kitchen. Warmzone's countertop heaters with FeelWarm® technology feature flexible low-voltage heating panels that conveniently stick to the bottom of your countertop. The countertop heaters adhere to the underside of the stone or they can be placed on a support substrate (compressed) prior to the countertop being placed.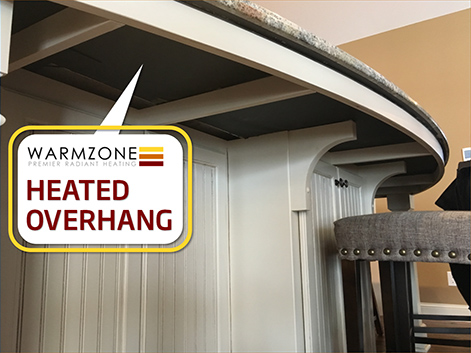 The innovative countertop heating system uses a passive warming system to slowly warm the stone by 20-25 degrees. This measured warming approach and lack of temperature pulsing prevents any shock to the stone. These heating panels are designed specifically for warming stone countertops without introducing a risk of cracking the stone. Warmzone's countertop heaters are also easy to install. While contractors installing new countertops are typically involved with installing the heaters, most homeowners install the panels for their existing countertop. The simple peel-and-stick heating panels can be installed by homeowners with basic "handyman" skills.
View the Video: Heating Countertops with Overhang
View the Video: Heating Countertops with no Overhang
The low-voltage countertop heating mats are ultra thin (between .015″ and .025″ thick) and are custom-engineered for each stone including shape, wattage, and electrical input location. The heating mat is designed to overcome the poor thermal characteristics of stone so that an even heated surface is created and that the front edge is the same temperature as the center of the heated zone. The system is also very economical. Most homeowners leave their heated countertop running at all times, resulting in a cost of less than $0.20 a day.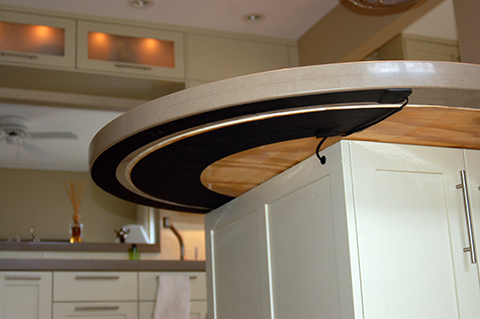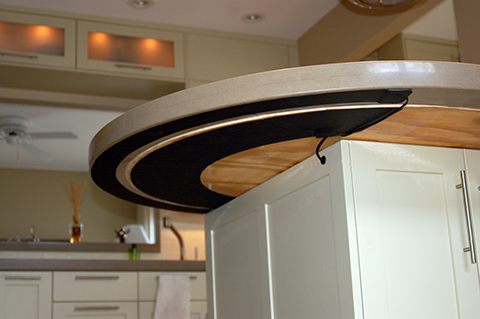 Countertop Heaters – Features and Benefits
Discreet: No physical changes to the cabinet or counter
Easy Installation: Peel-and-stick application
Low Voltage: Utilizes 12-24 volts for complete safety (no special wiring)
Convenient: Utilizes a standard 120 volt outlet
Easy to Customize: Can accommodate all corbels and support beams
Cost Effective: Heats only commonly touched areas
Ultra Thin: Only 1/32-inch thick
Temperature Adjustment: Controller included with heater
Versatile: Works well with all stone surfaces
Applications
Warmzone's FeelsWarm countertop heaters are commonly installed to warm kitchen countertops and islands and bars (with overhang), desks, bathroom counters, bars, vanities, reception desks and any indoor application where stone is being considered. The ideal heating solution is to only warm the overhang, or edge of the counter where most people touch the counter. Therefore the most ideal placement for the heating panel is along the underside of the counter's edge to about 12-14 inches deep. The countertop heaters efficiently warm all types of stone, engineered stone and concrete countertops.
Designed for easy installation, the heater's shape and size is configured specifically for the customer's unique counter and corbels, whether overhanging or resting on framework, angled or curved. The heating mats are an easy do-it-yourself installation that safely and effectively warms the stone.
The heaters are available in four popular sizes and can also be custom-designed to fit your layout needs. The gentle warmth safely adds luxurious comfort to kitchens, bathrooms, offices and more. To learn more about your countertop heating options contact a radiant heat expert today at 888.488.9276.